In another edition of THW's Fantasy Findings, we'll look around the web for some of today's biggest fantasy hockey news and break it down for flustered fantasy owners.
It's Waiver Wire Wednesday over at Sportsnet and Steve Laidlaw of Dobber Hockey has some of the best pick ups for fantasy owners looking to make a push.
"If your league counts hits he is a stud. The league's #2 hitter (behind only Matt Martin) is landing nearly five per game and is on pace for a gaudy 390 hits," writes Laidlaw.
"Komarov is not all brawn, however. With 10 goals already, Komarov is flashing a deft touch as a net-front presence. He is like a poor man's Wayne Simmonds."
As Laidlaw points out, Komarov is just 20 percent owned and could be a solid pick up for those deeper fantasy leagues. But Uncle Leo is just one of six players offered up in this week's waiver wire breakdown.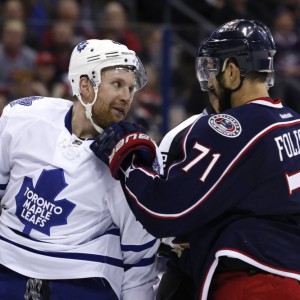 From Mikkel Boedker to Rasmus Ristolainen and right on over to Thomas Greiss, this Wednesday's edition is jam packed with those unsung heroes who've managed to make a difference for their team's this season. If that's what you're looking for on your fantasy club, it might now hurt to take a look at Laidlaw's list.
Fantasy News: Risk It With Leo
If his start last year wasn't enough to impress you, Uncle Leo Komarov is at it again as he's notched a career high 10 goals in just 25 games this season. Along with his four assists, Komarov has 12 penalty minutes and plays on both the powerplay and the penalty kill for the not-so-deep Toronto Maple Leafs.
Still not enough? Well as Laidlaw mentions in his weekly breakdown, if your league counts hits, Komarov is a must-have. He averages five per game and shows absolutely no sign of slowing down.
He's playing on the Leafs top line and clears up a lot of room for his linemates – Nazem Kadri and James van Riemsdyk. That might also start paying off in the assists column if he can start freeing up the puck and the other two can find ways of putting the puck in the net. Don't be afraid to take a risk on this intriguing fantasy pickup.
---
Ben Hutton's out and Colin Miller is one defenceman to keep your eye on (if he hasn't already been grabbed in your league), according to Brian Metzer's list of top 60 defencemen.
For the most part, his overall list stayed the same with Erik Karlsson still leading the way and John Klingberg right behind him. While most only dropped one or two spots, Toronto's Dion Phaneuf was actually the biggest gainer jumping seven spots to number 29.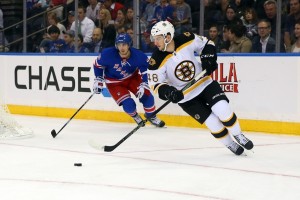 Only only player was new to the list and that was Miller who debuted at 51 – not bad for the Boston rookie. And only one player dropped off the list of top blueliners and that was Hutton.
But Metzer's list is a pretty good barometer for who you should keep an eye on if you need to fill in your blueline. Past that, you're on your own (at least for now).
Fantasy Advice: Waiting Game With Hutton
Look, I dropped Hutton in my league. Aside from his injury that has kept him out the last little while, the Canuck defenceman hasn't really seen consistency in his game this season. That's not to say it isn't there.
Your best bet might be to keep him on your bench – if you have the room – as he could have a good stretch later in the season. In keeper leagues, he's a definite interest as his age and the direction of the Canucks could both be factors in what you do (or don't do) with Hutton.
For more fantasy news, visit THW's fantasy homepage and follow Andrew on Twitter at @AndrewGForbes.