"Whether it be the Boston Bruins going off the board to take Zachary Senyshyn, the rapid rise or fall of a Swedish blueliner's stock, or Nikita Korostelev free-falling to the seventh round, a mock draft can go off the rails quicker than Auston Matthews can execute a dynamic, game-changing play. This draft class, though maybe not as heralded as the 2015 McEichel special one, possesses great depth."
The Order
*NHL Draft Lottery Order determined by team points per game and simulation ran on Tankathon; visit this link to see how the NHL lottery is to be ran in 2016.
The Winner
Columbus Blue Jackets: Auston Matthews, C, Zurich (SUI)
Were he born two days earlier, Auston "Powers" would have given Jack Eichel a run for his money for the 2nd overall pick in the 2015 Draft. Team USA and is eventual NHL team hopeful he develops into an American version of Jonathan Toews.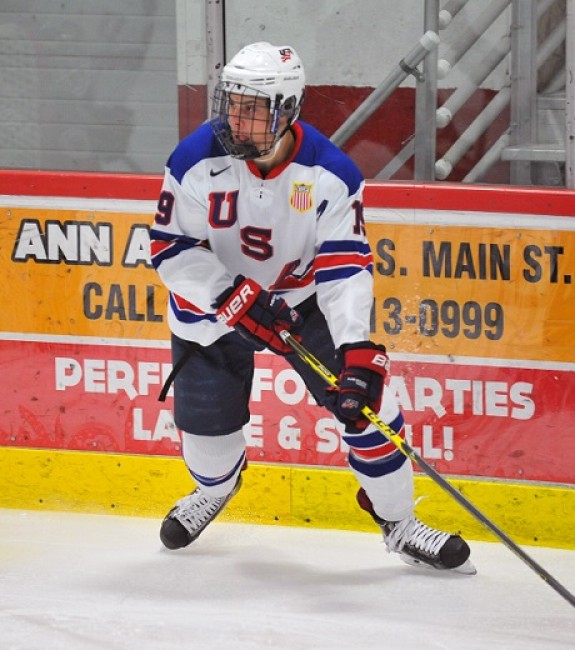 Carolina Hurricanes: Matthew Tkachuk, LW, London (OHL)
Son of Keith is a chip off the old block and is currently torching the OHL.
Calgary Flames: Jakob Chychrun, D, Sarnia (OHL)
Tantalizing combination of size, skating ability, skill and hockey smarts.
Edmonton Oilers: Jesse Puljujarvi, C/RW, Karpat (FIN)
Our scout in Finland, Toni Rajamäki, joined @TPS_Guy last Saturday to talk #2016NHLDraft prospects from Finland https://t.co/Asm9s7gCcZ

— HockeyProspect.com (@ScoutingService) November 17, 2015
Colorado Avalanche: Julien Gauthier, C/RW, Val-d'Or (QMJHL)
Size. Shot. Skating. A offensive power forward's hat trick of goodness. 23 in just 27 games played thus far.
Toronto Maple Leafs: Alexander Nylander, LW/RW, Mississauga (OHL)
Alex's brother is indeed Maple Leafs prospect William Nylander.
Alexander Nylander (William's brother) of the @OHLSteelheads leads all #OHL rookies with 39 pts in 28 games. Second place has 20 pts.

— Rob Leth (@RobLeth) December 2, 2015
Buffalo Sabres: Logan Brown, C, WIndsor (OHL)
The son of veteran NHL blueliner Jeff Brown is a mammoth 6'6" centre who can skate and possesses enticing skillset.
Anaheim Ducks: Patrik Laine, LW, Tappara (FIN)
Gifted Finnish forward can certainly finish, but does possess some red flags.
Tweeted Laine this morning, here's 2 more goals + you get to hear the goal song Live is Life by Opus. #2016NHLDraft https://t.co/IQq13DVsea

— Mark Edwards (@MarkEdwardsHP) December 1, 2015
Winnipeg Jets: Mike McLeod, C, Mississauga (OHL)
ISS has the relentless centreman as a top 5 pick.
Tampa Bay Lightning: Dante Fabbro, D, Penticton (BCHL)
Dante Fabbro (@17Fabbro) of the @PentictonVees is seeking some extra hardware in his #NHLDraft season ~ https://t.co/LYWk2VgtZx

— FCHockey (@FCHockey) December 2, 2015
Philadelphia Flyers: Max Jones, C/LW, London (OHL)
https://twitter.com/joshweissbock/status/658390908648316928
Vancouver Canucks: Pierre-Luc Dubois, C/LW, Cape Breton (QMJHL)
Dubois possesses desirable size, outstanding compete level, and is simply a well-rounded forward overall.
Florida Panthers: Kieffer Bellows, C/LW, USA U-18 (USHL)
American Sniper, the hockey prospect.
New Jersey Devils: Clayton Keller, C, USA U-18 (USHL)
Slightly undersized centreman is an adaptive, explosive offensive catalyst with a marksman shot.
Arizona Coyotes: Olli Juolevi, D, London (OHL)
https://t.co/XjymQcv3NG
#14 Olli Juolevi @OlliJuolevi
Poised rear guard who plays strong defensively & makes smart decisions with the puck.

— ISS Hockey (@ISShockey) November 18, 2015
Chicago Blackhawks: Mikhail Sergachyov, D, Windsor (OHL)
Talented two-way Russian defender surging up the draft rankings.
Boston Bruins (via San Jose Sharks): Jake Bean, D, Calgary (WHL)
Super-poised blueliner is an apprentice to Philadelphia Flyers' first rounder Travis Sanheim, and himself looks more than capable of running a NHL powerplay QB.
New York Islanders: Libor Hajek, D, Saskatoon (WHL)
Multi-faceted minute-munching defenseman.
Detroit Red Wings: Vitali Abramov, LW, Gatineau (QMJHL)
Undersized dynamic forward is lighting up the QMJHL.
Ottawa Senators: Brett Howden, C, Moose Jaw (WHL)
Brett Howden looks like total pro. Big, mobile winger that uses his smarts to compliment his linemates and keeps things simple with the puck

— Zenon Herasymiuk (@ZenonHerasymiuk) October 16, 2015
Minnesota Wild: Tyson Jost, C/LW, Penticton (BCHL)
Tremendous speed and hockey IQ.
Boston Bruins: Sam Steel, C, Regina (WHL)
One of the best names of this draft class.
#2016Draft: Watch a nice assist from 2016 draft-eligible C Sam Steel (1998), whose Regina Pats lost to Moose Jaw, 3-1 pic.twitter.com/SKnHkLzLdA

— The Draft Analyst (@TheDraftAnalyst) September 25, 2015
Nashville Predators: Chad Krys, D, USA U-18 (USHL)
Undersized, puck-moving, two-way defender makes up for size concerns with his high hockey IQ and the way he processes the game.
Toronto Maple Leafs (via Pittsburgh Penguins): Alex DeBrincat, RW, Erie (OHL)
Scoring at over 2 points-per-game clip in OHL. If he was 5'11'', we're talking top 5 pick.
Carolina Hurricanes (via Los Angeles Kings): Samuel Girard, D, Shawinigan (QMJHL)
Sublime skating, savvy blueliner is undersized, but another with the ability to overcome.
https://twitter.com/Jerome_Berube/status/668826359712477184
St. Louis Blues: Tyler Benson, LW, Vancouver (WHL)
Has been highly touted since he was a 14-year-old. His game is really seeming to come together after some difficulties, and could be a riser as the season progresses.
Arizona Coyotes (via NY Rangers): Kale Clague, D, Brandon (WHL)
Don't let the stat line fool you when it comes to this smart, two-way defender.
Washington Capitals: Charlie McAvoy, D, Boston University (H-EAST)
Mature, confident two-way defenseman with good hockey instincts.
Dallas Stars: Rasmus Asplund, C, Färjestad BK (SHL)
https://t.co/XjymQcv3NG
#27 Rasmus Asplund @raasmusaasplunf
One of the youngest players in Sweden Elitserien league – tremendous hockey IQ.

— ISS Hockey (@ISShockey) November 28, 2015
Montreal Canadiens: Luke Kunin, C, University of Wisconsin (BIG 10)
Luke Kunin, still with the Badgers, popping the water bottle in the second period pic.twitter.com/HrTGP2e8zZ

— Jashvina Shah (@icehockeystick) November 21, 2015
1st Round Traded Draft Picks
as per MyNHLdraft
Boston receives San Jose's 2016 1sts round pick and Sean Kuraly for Martin Jones.
Toronto receives Pittsburgh's 2016 1st round pick (conditional – lottery protected) and a 3rd round pick, Kasperi Kapanen, Scott Harrington and Nick Spaling for Phil Kessel, Tyler Biggs, Tim Exiron and Pittsburgh's 2016 2nd round pick (previously acquired, and is conditional).
Carolina receives Los Angeles's 2016 1st round pick and Roland McKeown for Andrej Sekera.
Arizona receives the NY Rangers 2016 1st round pick (lottery protected), a 2015 2nd round pick, Anthony Duclair, and John Moore for Keith Yandle (50 percent of his salary retained by the Coyotes), Chris Summers and a 2016 4th round pick.
_________________________________________