Whether it be the Boston Bruins going off the board to take Zachary Senyshyn, the rapid rise or fall of a Swedish blueliner's stock, or Nikita Korostelev free-falling to the seventh round, a mock draft can go off the rails quicker than Auston Matthews can execute a dynamic, game-changing play. This draft class, though maybe not as heralded as the 2015 McEichel special one, possesses great depth.
Why even bother  go through the futile task of mock draft creation? Given there is a complete season yet to be played, eligible players' stocks will rise and fall, as will NHL teams placement in the standings. It is admittedly intriguing this far out to where teams may slot in for the 2016 draft and which prospects are potentially available when they are on the clock to select.
2015 NHL Mock Draft Performance
I published a series of mock drafts this past season, capped off by a mega three round final version. Well, all was swell for precisely five picks. And then the Devils got all caught up in the tantalizing combination of size and skill that is Pavel Zacha instead of opting for Mathew Barzal, who I add cleverly penciled them in for. Seven other GMs also passed over The Cerebral Catalyst, Barzal, as well – the Bruins' Don Sweeney and crew inexplicably three times. I did get eight of the top ten bang on.
All 91 selections guesstimated ultimately got drafted and many of them not far off where they actually were picked. The lone wolf – second year eligible diminutive, but uber-talented, defenseman Sebastian Aho. The Swedish one. Yes, the Finnish forward Sebastian Aho did get selected. Actually, only 5 other prospects from The Next Ones Final Top 120 Rankings failed to get selected – the others:
Tyler Soy – attended Edmonton Oilers summer development camp
Nathan Noel – attended Anaheim Ducks summer development camp
Veini Vehviläinen – WJC U18s all-star goalie
Frederick Forsberg – Filip's younger brother
The Mock Draft Order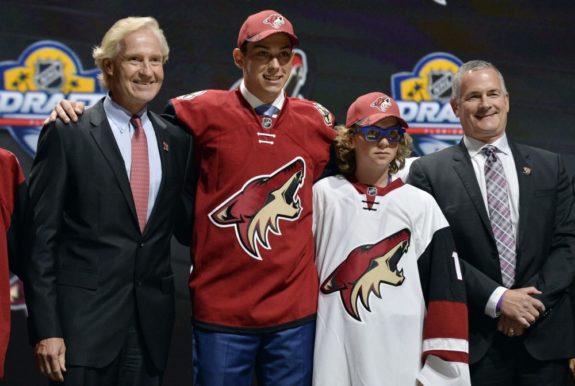 Perhaps surprisingly, the source of this mock draft order stems from power rankings published earlier this month by ESPN's Scott Burnside.  Teams who have traded their first round picks are noted in brackets by the respective pick. Interestingly, the Bruins end up with back-to-back picks in this mock, having attained the Sharks first rounder in the Martin Jones trade. Part of a Bruins wild 2015 draft weekend were three picks in a row in the first round.
As always, this is not my personal draft rankings (The Next Ones Preliminary Rankings published separately – here) – rather, this is a guesstimate (at this point a slapshot in the dark) at what might go down on June 24–25, 2016 at the First Niagara Center in Buffalo, New York.
The Picks
Scottsdale, Arizona native Auston Matthews is the frontrunner to go first overall in the 2016 NHL Draft. Could he save hockey in the desert?
2014-15 USHL Highlights: Auston Matthews (@A_Matthews34) of @usantdp scored 48 points in 24 games https://t.co/4BdoZdpYBa #USHL

— USHL (@USHL) May 29, 2015
| | | | | | | | | | |
| --- | --- | --- | --- | --- | --- | --- | --- | --- | --- |
| # | Team | Last Name | First Name | YR/MTH/D | LEAGUE | POS | S | HT | WT |
| 1 | Coyotes | MATTHEWS | AUSTON | 97-09-17 | USHL | C | L | 6'1.5″ | 194 |
| 2 | Leafs | CHYCHRUN | JAKOB | 98-03-31 | OHL | D | L | 6'2.0″ | 195 |
| 3 | Canes | PULJUJARVI | JESSE | 98-05-07 | FINLAND | RW | R | 6'3.0″ | 198 |
| 4 | Flyers | JONES | MAX | 98-02-17 | USHL | LW | L | 6'1.75″ | 189 |
| 5 | Canucks | TKACHUK | MATTHEW | 97-12-11 | USHL | LW | L | 6'0.5″ | 188 |
| 6 | Sabres | BEAN | JAKE | 98-06-09 | WHL | D | L | 5'11.5″ | 165 |
| 7 | Devils | SOKOLOV | DMITRI | 98-04-14 | RUS-JR | RW | L | 6'0.0″ | 203 |
| 8 | Stars | FABBRO | DANTE | 98-06-20 | BCHL | D | R | 6'0.0″ | 188 |
| 9 | Avs | JUOLEVI | OLLI | 98-05-05 | FIN-JR | D | L | 6'2.0″ | 185 |
| 10 | Oilers | BROWN | LOGAN | 98-03-05 | OHL | C | L | 6'5.0″ | 215 |
| 11 | Bruins (Sharks) | LAINE | PATRIK | 98-04-19 | FINLAND | RW | R | 6'4.0″ | 209 |
| 12 | Bruins | SERGACHYOV | MIKHAIL | 98-06-25 | RUS-JR | D | L | 6'2.5″ | 198 |
| 13 | Panthers | BENSON | TYLER | 98-03-15 | WHL | LW | L | 5'11.5″ | 198 |
| 14 | Sens | NYLANDER | ALEXANDER | 98-03-02 | SWE-JR | RW | R | 5'11.0″ | 156 |
| 15 | Canes (Kings) | BELLOWS | KIEFFER | 98-06-10 | USHL | C | L | 6'0.0″ | 189 |
| 16 | Jets | STEEL | SAM | 98-02-03 | WHL | C | L | 5'10.25″ | 167 |
| 17 | NYI | CLAGUE | KALE | 98-06-05 | WHL | D | L | 5'11.0″ | 185 |
| 18 | Leafs (Pens) | JOST | TYSON | 98-03-14 | BCHL | C | L | 5'10.5″ | 185 |
| 19 | Red Wings | GAUTHIER | JULIEN | 97-10-15 | QMJHL | RW | R | 6'3.5″ | 217 |
| 20 | Coytotes (NYR) | DAY | SEAN | 98-01-09 | OHL | D | L | 6'2.5″ | 222 |
| 21 | Canadiens | HOWDEN | BRETT | 98-03-29 | WHL | C | L | 6'1.25″ | 190 |
| 22 | CBJ | DUBOIS | PIERRE-LUC | 98-06-24 | QMJHL | LW | L | 6'2.0″ | 183 |
| 23 | Flames | LAJOIE | MAXIME | 97-11-05 | WHL | D | L | 6'0.5″ | 169 |
| 24 | Capitals | PASTUJOV | NICK | 98-01-21 | USHL | LW | L | 5'11.5″ | 195 |
| 25 | Preds | KRYS | CHAD | 98-04-10 | USHL | D | L | 5'10.75″ | 182 |
| 26 | Wild | ASPLUND | RASMUS | 97-12-03 | SWEDEN | C | L | 5'10.5″ | 176 |
| 27 | Blues | GRUNDSTROM | CARL | 97-12-01 | SWE-JR | RW | L | 5'11.25″ | 187 |
| 28 | Lightning | CEDERHOLM | JACOB | 98-01-30 | SWE-JR | D | R | 6'3.0″ | 176 |
| 29 | Blackhawks | MCAVOY | CHARLES | 97-12-21 | USHL | D | R | 5'11.5″ | 206 |
| 30 | Ducks | KELLER | CLAYTON | 98-07-29 | USHL | C | L | 5'9.25″ | 165 |
online surveys
_________________________________________