NHL Mock Draft: The Sunshine State, Future is Bright Edition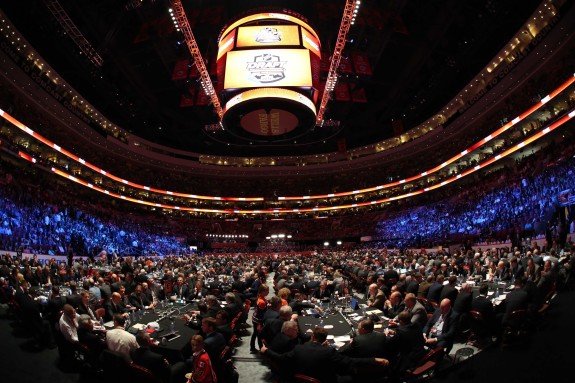 "Whether it be the Philadelphia Flyers going off the board to take Samuel Morin, the rapid rise of a Swedish blueliner's stock, or Anthony Duclair slip sliding to the third round, a mock draft can go off the rails quicker than Connor McDavid can execute a wraparound. This draft class could be one for the ages with many pundits comparing it to the revered class of 2003."
The 2015 edition of the NHL Entry Draft on June 26th–27th takes place in the Sunshine State at the BB&T Center in Sunrise, Florida. With the abundance of talent to be had, if it's not apparent already, the future of hockey is indeed bright.
This marks the last edition of my series of mock drafts for this season. For the Stanley Cup Edition of the mock draft I stepped it up to a two round in-depth version. With colleague Larry Fisher setting the bar with a three round monster mock draft, I've added another round as well.
I've reverted to spreadsheet and PDF versions of this mock draft. In this post, I'll present the picks with a subsequent post grouping the picks by team because of the abundance of picks mocked. The legend for the spreadsheet follows as well as a link to a concise, printable PDF version. Prospect Profiler Notes are included for each pick.
The remaining 29 prospects from The Next Ones Top 120 Final Rankings are at the end of the mock draft to show a sampling of other players who might have been considered and to highlight the talent that remains beyond the third round.
The Picks
Alternative Format
Concise printable PDF Version:
Legend
The table display approximately 35-40 of the prospects at a time; simply scroll down to view the other prospects.
Only a portion of the table displays by default; you can scroll over to see the rest of the player demographics and stats or select "View full-size workbook" option, which is the icon in the bottom right hand corner, to view the full table. You will still need to scroll over to see all the prospects' information available.
To search the rankings, click anywhere on the table, then press CTRL "F" to bring up the search option.
NHLCS column = NHL Central Scouting's Final Rankings Combined
TN1 column = The Next Ones Final Rankings: Chris's List – Top 120
Detailed prospect profiles in The Next Ones format have been compiled and published throughout the season leading up to the draft. Check in often at: The Next Ones 2015 NHL Draft Guide.
Other NHL Mock Drafts
50 #NHL mock drafts for the #2015NHLDraft http://t.co/CsqZ6PTIhr #NHLDraft #hockey #nhlmocks

— NFL Mock Database (@MockDatabases) June 6, 2015
Compiling NHL Mock Drafts: Who do experts think the #Habs will draft? http://t.co/yWwE6Wc3VS pic.twitter.com/4gawVQYXUY

— Eyes on the Prize (@HabsEOTP) June 12, 2015
2015 NHL Draft: The Writers' Mock Draft – Round 1 http://t.co/70yXGj0EHG #THW

— The Hockey Writers (@TheHockeyWriter) June 11, 2015
_________________________________________
Chris is THW's senior draft/prospect analyst and a Managing Editor. Watch for "The Next Ones" Prospect Profile series, exclusive rankings, mock drafts, as well as the annual THW NHL Entry Draft Guide. Follow @ChrisRalphYQ on Twitter as he infiltrates, dissects and analyzes all happenings of hockey prospects and the NHL entry draft. Email: cralph[at]thehockeywriters[dot]com