The Montreal Canadiens will be without defenseman Andrei Markov for the next three games, head coach Michel Therrien announced on Tuesday. He has missed the past three contests with a lower-body injury.
Therrien says Markov will not be joining the team on their current road trip. Thus, he will not play against Tampa, Florida and Pittsburgh.

— Canadiens Montréal (@CanadiensMTL) December 27, 2016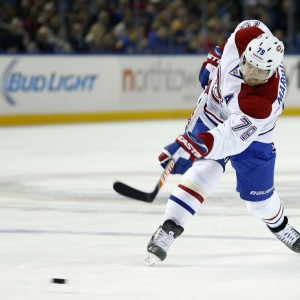 Markov, 38, last saw game action when he played just over 19 minutes in a 2-1 win over the Washington Capitals on Dec. 17. His 21 points are fourth on the team and lead all Montreal blueliners through 34 games this season. Markov has been averaging nearly 22 minutes of ice time per game and his 8 power-play points, all assists, are tied for second on the Canadiens with Alex Galchenyuk.
The Canadiens recalled blueliner Ryan Johnston from the American Hockey League's St. John's IceCaps. The 24-year-old is being called up to the Habs for the first time since being released from training camp on Oct. 2. He's tallied one goal and six assists in 23 games with the IceCaps this season.
The Habs are first in the Atlantic Division with a 21-9-4 record, despite having dropped four of their past six contests. They will pick up play in the 2016-17 season when they face the Tampa Bay Lightning to begin a three-game road trip on Wednesday.
Anisimov Activated, Hossa Placed on IR
The Chicago Blackhawks activated Artem Anisimov Hossa and placed Marian Hossa on injured reserve, retroactive to Dec. 20, the team announced on Tuesday.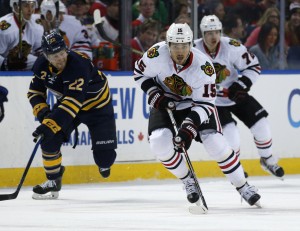 Anisimov slotted into his second-line center position between Artemi Panarin and Patrick Kane during the team's morning skate on Tuesday. The Blackhawks take on the Winnipeg Jets on Tuesday night as NHL regular season play gets back under way for the first time since Dec. 23.
Anisimov has missed the past three games with an upper-body injury. He's the third-leading scorer on the Blackhawks with 14 goals and 13 assists in 32 games this season. His plus-12 rating is second on the team to Kane (plus-14) and he's averaging just over 18 minutes per game.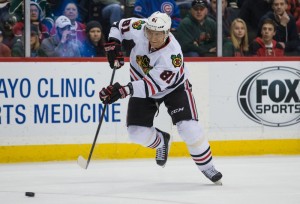 Unfortunately for the Blackhawks, they will be without Hossa, who leads the team with 16 goals in 34 games in 2016-17. He was out with an upper-body injury during a 2-1 overtime loss to the Colorado Avalanche on Friday.
Blackhawks head coach Joel Quenneville addressed the 37-year-old veteran's status on Tuesday.
"Hossa is probably out for the first part of the next road trip and we'll see how he is after that," he said. "I think that's how much time we are going to need for it. He should be ready to come back, hopefully for the outdoor game (2017 NHL Winter Classic)."
After Tuesday's game against the Jets, the Blackhawks begin a three-game road trip with matchups against the Nashville Predators (Thursday) and Carolina Hurricanes (Friday) before facing the St. Louis Blues in the Winter Classic on Jan. 2.
O'Reilly Undergoes Appendectomy
The Buffalo Sabres will be without forward Ryan O'Reilly indefinitely after he underwent an emergency appendectomy, the team announced on Tuesday. The 25-year-old had his appendix moved on Christmas Day at Buffalo General Hospital, according to Adam Stocker of Fansided.
Sabres forward Ryan O'Reilly underwent a successful appendectomy over the break & no timetable has been set for his return. pic.twitter.com/YSfCUKdpl2

— Buffalo Sabres (@BuffaloSabres) December 27, 2016
The news is a major blow to a Sabres team that's battled injuries to a number of key players early on in 2016-17 and was just getting back to being healthy. The Sabres are averaging just 2.1 goals for per game — 28th in the league — and have had Jack Eichel in the lineup for just 12 games after he returned from a high-ankle sprain he suffered before the season began.
O'Reilly has registered seven goals and 11 assists in 27 games after missing the beginning of 2016-17 with muscle spasms in his back and midsection that developed during the preseason.
The Sabres take on the Detroit Red Wings on Tuesday.
With #90's absence, the lines are juggling around.@duffersabres on what to expect tonight in Detroit – pic.twitter.com/i1nka5CgZ6

— Buffalo Sabres (@BuffaloSabres) December 27, 2016
Subban to Miss Fifth Consecutive Game
Nashville Predators defenseman P.K. Subban will miss his fifth consecutive game with an upper-body injury when they take on the Minnesota Wild on Tuesday, according to comments made by general manager David Poile on 102.5 FM Radio in Nashville.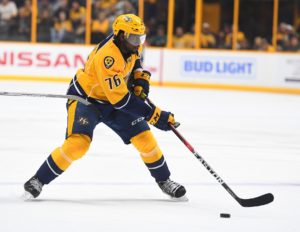 The first-year Predator has been sidelined since Dec. 15 with what was originally called an upper-body injury. However, there "there was a rumor going around that (Subban) had a herniated disc," according to a report by Sportsnet's Elliotte Friedman on Dec. 21.
Poile was given an opportunity to confirm or deny the rumor but did neither during his radio appearance on Tuesday.
"We do everything we can to protect the player," Poile said, according to a transcript of the audio from The Tennessean's Adam Vingan. "I say almost every team just announces their injuries as either an upper- or lower-body injury. That's because when a player comes back, he's not always 100 percent, and if you knew exactly what was wrong with the player, a player on another team might go after that body part to see if they could re-injure it. It's not nice to say, but that's usually what happens.
"I don't think anybody wants to be (overly) secretive, except for the fact that we're trying to protect the athlete as best (as) possible. That's what we have to do. That's what we're doing."
3 Things to Know for #MINvsNSH: https://t.co/AYFiIGOtO9#Preds Projected Lineup: https://t.co/japlxt18VO pic.twitter.com/w5bCZvOklg

— Nashville Predators (@PredsNHL) December 27, 2016
Odds and Ends
— Vancouver Canucks forward Jannik Hansen will be out the next four to six weeks with a knee injury, the team announced on Tuesday. The 30-year-old winger has tallied five goals and four assists in 18 games this season.
Coach Desjardins says Jannik Hansen is out with a knee injury and will be sidelined for the next 4-6 weeks.

— Vancouver #Canucks (@Canucks) December 27, 2016
— The New Jersey Devils recalled defenseman Yohann Auvitu from the Albany Devils of the American Hockey League. He participated in the team's morning skate but will not be in the lineup as Kyle Quincey is expected to return against the Pittsburgh Penguins on Tuesday.
New Jersey has recalled D Yohann Auvitu from Albany (AHL). He will be at today's morning skate. #NJDevils pic.twitter.com/iwL7SJxulL

— New Jersey Devils (@NJDevils) December 27, 2016
— Devils forward Jacob Josefson also participated in the morning skate but is still on the injured reserve with a concussion.
— The National Women's Hockey League (NWHL) unveiled new rules designed to protect transgender players. The guidelines were developed in conjunction with the You Can Play Project and were released on Tuesday.
Here's a look at the @NWHL policy on transgender athletes, created in collaboration with @YouCanPlayTeam pic.twitter.com/2sQzxsCztD

— Dustin the Exhausted (@dlukenelson) December 27, 2016
— The Toronto Maple Leafs recalled forwards Byron Froese and Frederik Gauthier, and goaltender Antoine Bibeau from the AHL's Toronto Marlies on Tuesday.
.@SportChek Player Alert: The Leafs have recalled Byron Froese, Antoine Bibeau and Frederik Gauthier from the @TorontoMarlies.#TMLtalk pic.twitter.com/6qSwK9gxD5

— Toronto Maple Leafs (@MapleLeafs) December 27, 2016
— The Minnesota Wild recalled forward Jordan Schroeder from the AHL's Iowa Wild. In 25 AHL games this season, he's tallied six goals and 12 assists. He's also skated in four NHL games and registered one goal.
— Former NHL enforcer Dan Carcillo offered some advice via Twitter on Tuesday, for players suffering from concussion symptoms. The Tweet comes just days after former NHLer Steve Downie's official social media account that were critical of the Arizona Coyotes, Dave Tippett and Don Cherry over how they handled concussion-related situations during his playing days.
@stevedownie23 my thoughts on why players keep falling through the cracks and seek help through @Ch5foundation #concussion #nhl #nhlpa pic.twitter.com/cH7bqz4MAe

— Daniel Carcillo (@CarBombBoom13) December 26, 2016
— The Tampa Bay Lightning recalled forward Matthew Peca from the AHL's Syracuse Crunch on Friday. The 23-year-old forward has tallied 17 points in 28 games this season.
We have recalled Matthew Peca from the @SyracuseCrunch.

📝: https://t.co/ajA5kssMkP pic.twitter.com/7FHPJhao0k

— Tampa Bay Lightning (@TBLightning) December 27, 2016
Steven is a lawyer and writer with a passion for the game of hockey. He's the Lead Writer covering the Tampa Bay Lightning with THW. He's also been press credentialed through the Lightning since 2016. His work has been published at The Fourth Period, LightningInsider.com, Bolt Prospects, The Sports Daily Network, U.S. College Hockey Online and College Hockey News. He's had radio appearances on TSN 690 in Montreal, Lightning Power Play Live and multiple podcasts to give insight and analysis on the team. He can be reached on Twitter @StevenDiOssi and by email at sdiossi@gmail.com.