For being a special shortened five-day fantasy hockey holiday week it was still an extremely exciting and impressive couple of days for the NHL. Two teams saw their win streaks reach double digits in the Minnesota Wild and Columbus Blue Jackets.
With a short fantasy week where most players averaged only two games, it was much tougher to choose these awards as there was a much smaller sample size. None the less, it was a great week for fantasy hockey and here are your Week 10 major fantasy hockey award winners.
Fantasy Hart Trophy – Jeff Carter (2)
GP:3 G:5 A:0 Pts:5 PPP:2 SOG: 12
The Fantasy Hart Trophy is awarded to the week's most valuable player.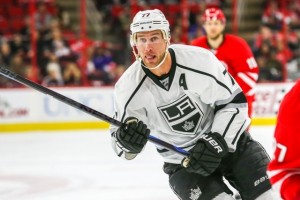 As mentioned earlier, this was a very hard week to determine awards due to the small amount of games per player. There were eight forwards who tied for the league lead with five points total.
Jeff Carter of the Los Angeles Kings stood out above the rest as he amassed his five points through five goals on the week. Two of the five tallies came via the power play, which made him a valuable multi-asset player. His goals were weighted above the rest of the players since in fantasy, they are harder to come by, rather than assists.
The first forward to win the weekly Fantasy Hart award twice, Carter has continued to put up steady numbers week after week for his fantasy owners.
He's enjoying a phenomenal season as the key offensive piece in the Kings lineup. The natural goal-scoring ability that he has shown for the past 10 years has continued, as he is enjoying one of his best seasons among what has been an extremely impressive career.
As Carter continues his elite period, expect him to continue to be a top end forward who produces very fantasy-friendly stats in the goal category. If he can continue to be the main source of offence, like he has been in L.A., do not be surprised if he is up for this award yet again in the upcoming weeks as Carter has brought himself back into the picture with some of the top fantasy talents.
Honourable Mentions: Charlie Coyle, Jonathan Drouin
Fantasy James Norris Trophy – Jeff Petry
GP:3 G:2 A:2 Pts:4 PPP:1 SOG:17
The Fantasy James Norris Trophy is awarded to the week's most valuable fantasy defenseman.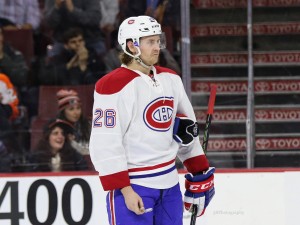 A surprising fantasy option this season, the Montreal Canadiens' Jeff Petry had far and away the best fantasy week among all defenseman for Week 10.
What really sticks out about Petry's week is his ability to get pucks to the net effectively. With 17 shots through his three games, Petry is an offensive weapon as he leads all defenseman in both shots and goals.
His increased time on the power play has led him producing his lone power-play point, a relevant stat category which could increase with his playing time.
The third Canadiens defender to this award in 2016-17, Petry has taken a large step into being fantasy relevant this season. Averaging 16.1 points per season in his six total years split between Montreal and Edmonton, Petry has really stepped up as the number two option for the Habs since Andrei Markov went down with an injury. He is more than comfortably on pace to eclipse his career high season from 2011-12 where he put up 25 points.
NHL single-season career-high 8th goal for #Habs Jeff Petry tonight; twice before he's had seven pic.twitter.com/EFVikUoOS7

— Dave Stubbs (@Dave_Stubbs) December 24, 2016
His added scoring touch this season has led to an impressive eight goals so far, making him one of the better scoring defenders this year. As long as Petry is playing extended minutes due to team-wide injuries he is completely worthy of rostering in most fantasy hockey leagues where owners need some defensive help.
Honourable Mentions: Justin Faulk, Victor Hedman
Fantasy Vezina Trophy – Frederik Andersen
GS:3 W2: L:1 GAA:1.36 SV%:.959 SO:1
The Fantasy Vezina Trophy is awarded to the week's top goaltender.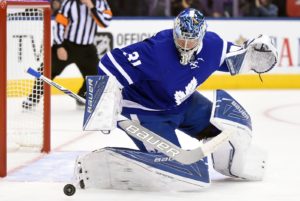 With the rare three starts in the shortened week and an extremely impressive showing through each of them, Frederik Andersen of the Toronto Maple Leafs was this past week's Fantasy Vezina winner.
Andersen not only started all three games but led all goaltenders on the week with two total wins, pushing him just a bit past the other top goalies in the week.
His .959 save percentage was good for seventh best among starters with more than one start and he even rewarded owners with the rare, yet extremely valuable, shutout. Andersen's impressive week was also highlighted by his lowly 1.36 goals against average through the three games as he barely edged out this award over the other deserving candidates.
After a slow start to the season and a few rough early weeks with his new team, Andersen originally had his fantasy owners worried they'd drafted this year's bust goaltender. Instead, he has gained comfort in his new home and locked in, reminding his owners of his fantasy talents that he's shown from his previous years with the Anaheim Ducks where he'd won 20-plus games every season since breaking into the NHL three years prior.
Andersen has not been a fantasy stud this year strictly due to the weak defensive team around him. On weeks when he is on top of his game, he can easily be a top tier fantasy goalie. While it is not expected that he will be up for this award every week, when he does perform at his highest level like the past week, he makes for a great second or third starter on any fantasy team.
Honourable Mentions: Sergei Bobrovsky, Braden Holtby