Coming into this season, the expectations around the Buffalo Sabres were different. The past three seasons in Buffalo were about losing and last season, in particular, was about improving from the historical losing.
The 2016-17 season, however, was finally back to focusing on winning. With those expectations comes more pressure on players, coaches, and management. The organization was expected to take a big step in being back in the playoff conversation — something Sabres fans haven't seen since 2011.
The main goal of this season appears to be on track to come up way short through 33 games. Entering play on Tuesday night, they sit in last place in the Eastern Conference and 27th in the entire league. A restless fan base with no more room for excuses seems to have focused the majority of their frustration at the feet of one person — Dan Bylsma.
No More Excuses
Bylsma is only in his second year as the Sabres bench boss. In his brief stint with the club, this isn't the first time he's taken some heat. After a slow start at the beginning of last season, some fans began to question his coaching methods. The performance of the team in the second half of the season playing at a 94 point pace, quelled some of the furry. The criticism received only 40 games into his coaching career with the Sabres was unfair. Growing pains were to be expected with a young group and a lot of new faces who were trying to learn a new system.
Heading into this season Bylsma set the bar high for his club.  He expected to be competing for a playoff spot come March and April. However, the start of this season has looked like the beginning of last season. The criticism coming his way this time around cannot be brushed away with excuses of a new system or young team learning to play together.
"…expectations from within, we should be above 95 points at the end of the season" -Dan Bylsma, to @drosennhl https://t.co/rqks90xHPk

— Jeremy White (@JeremyWGR) July 12, 2016
Injuries can be an excuse that got his team out of the gates slow. Now, Bylsma is playing with a healthy team outside of Tyler Ennis. Jack Eichel returned from injury and has appeared in 12 games. The team looked to be turning around in the first few games of Eichel's return, but old habits have returned. The club is failing to score goals again and currently sits 29th in the league in scoring. Combine the poor goal production with the continued struggles of the defense group and you're now seeing games like we saw on Friday in Brooklyn, an embarrassing 5-1 loss to the New York Islanders.
Running Out of Answers?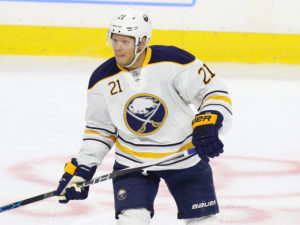 In the midst of a four-game losing streak during a stretch of games that were important to setting the tone for the remainder of the season, Bylsma appears to be running out of answers. First and foremost, his juggling of the lines has become maddening. When something goes wrong within a game, this appears to be his go-to plan to attempt to fix the issue. At times, sure this can be a good strategy. On the flip side, if this is used on a nightly or even period by period basis, it would make it very difficult for players to get comfortable who they're playing with. From the beginning of last season to now, not many new faces have been added. Kyle Okposo is the only significant change within the forwards. Bylsma should have a pretty good idea of who does and does not play well together.
He's also made some fairly odd decisions with his personnel over the past few weeks. The most obvious choice was the decision to keep Eichel off of the power play and replace him with Marcus Foligno in the first period of their game against the Carolina Hurricanes last week. The Sabres managed to register zero shots during that power play if you were curious. Bylsma followed that stunning move by putting Eichel out on the very next shift after the man advantage ending with fourth line wingers Zemgus Girgensons and Nic Deslauriers.
Bylsma was asked was he trying to send a message to Eichel or the team? "Yes on both" #Sabres

— Brian Koziol (@BrianWGR) December 23, 2016
The head coach indicated after the game he was trying to send a message to Eichel and the team. If that indeed was the case, the strategy seems flawed. The Sabres power play ranks fourth in the NHL and Eichel is on pace for 25 goals and 40 points in 61 games. Over an 82-game season that would be a 34 goal and 55 point season. The Sabres would go on to lose that game 3-1, but it was only a one-goal game before the Hurricanes added an empty net goal. That power play in the first period could have made a huge difference in the game.
Other questionable decisions include playing Evander Kane on the fourth line in the middle of a four-game point streak and scoring six goals in six games. Keeping Josh Gorges with Rasmus Ristolainen for the first quarter of the season. Once Ristolainen was paired with Jake McCabe his play began to take off with a more stable partner.
Sins of Pittsburgh Returning
The concerning coaching strategies had me wondering what exactly went wrong in Pittsburgh for Bylsma. I reached out to Mike Necciai who covers the Penguins for The Hockey Writers. When I asked him what caused Bylsma to pushed out the door in Pittsburgh, his answers were troubling.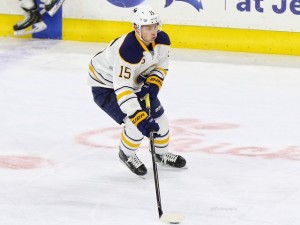 The first thing that jumped off the page was that Mike said that Bylsma's system "left very little room for creativity." That's a very concerning bit of information for a team that has creative players like Eichel and Sam Reinhart on their roster. It also takes me back to aforementioned decision to send a message to Eichel by taking him off the power play. It hasn't come out why a message needed to be sent, but this makes you wonder.
Necciai also went on to discuss how forward Jarome Iginla indicated that Bylsma's system was one of the most complicated he's seen in his NHL career while with the Penguins. Bylsma also took a lot of heat in Pittsburgh for his misuse of Iginla in his brief Penguin career by playing him on the third line and on his off wing.
'He was also extremely system driven and over complicated things.' – Mike Necciai of The Hockey Writers
Another concerning comment from Necciai was the type of team the Penguins became under Bylsma. He said, "They became a that was easily rattled and very easy to frustrate and get off their game." In his tenure in Buffalo, this has become a theme of the Bylsma led Sabres. The club seems to panic in situations when faced with adversity. They've lost leads quickly and have been unable to get themselves out of losing streaks. The club has a knack for letting things snowball out of control before they can find the handle. The game against the Islanders on Friday was a perfect example of that type of play.
Things are certainly not trending in the right direction for Bylsma at this moment. With that being said, he's not in danger of losing his job with the team at this time. He hasn't even been through two full seasons and 49 games remain in 2016-17. If things don't turn around over the next few months and the Sabres fall way short of expectations, the seat around Bylsma will then start to get very hot.