The presents have been opened and the turkey has been eaten. Christmas break is over for the Winnipeg Jets as they fly into Chicago to take on the Blackhawks. And if history is any indication, the game should be a great Christmas present to the fans of both teams.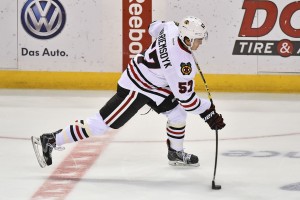 The Blackhawks come into tonight on a two-game losing streak after winning their last five games. They will be looking to kick off their post-Christmas schedule with a win over their Central Division rival. These four-point games are incredibly important throughout the season, especially with the Minnesota Wild creeping up on them, having won their last 10 straight.
The Jets have won four of their past five games, but have still not won three straight games this entire season. They will be going for their second straight win tonight but will be in tough. Chicago is 13-3-4 at home this season, while the Jets are only 6-11-2 on the road. They will need to get better on the road as seven of the next 11 games are away from the MTS Centre.
---
Winnipeg Jets at Chicago Blackhawks
United Center – 7:30 p.m. CST
Broadcast channels – CSN-CH and TSN3
2016-17 Season Series: November 15 – Chicago (0) at Winnipeg (4)
December 4 – Winnipeg (2) at Chicago (1)
Winnipeg Jets – 16-17-3 – 35 Points
Road Record: 6-11-2
Hot Players: Patrik Laine, Nikolaj Ehlers
Key Injuries: Tyler Myers
Projected Lines:
Forwards
Ehlers-Scheifele-Laine
Perreault-Little-Wheeler
Dano-Petan-Stafford
Matthias-Lowry-Armia
Defense
Morrissey-Byfuglien
Enstrom-Trouba
Chiarot-Postma
Starting Goaltender
Hellebuyck
[irp]
Chicago Blackhawks – 22-9-5 – 49 Points
Home Record: 13-3-4
Hot Players: Artemi Panarin
Key Injuries: Marian Hossa
Projected Lines:
Forwards
Panarin-Anisimov-Kane
Hartman-Toews-Hinostroza
Rasmussen-Kruger-Panik
Desjardins-Kero-Motte
Defense
Keith-Hjalmarsson
Campbell-Seabrook
Forsling-van Riemsdyk
Starting Goaltender
Crawford
---
Game Notes
[miptheme_dropcap style="normal" color="#222222″ background=""]1)[/miptheme_dropcap] Players on both teams are returning or have recently returned from injury. On the Blackhawks, Anisimov is coming back after missing the past few games and brings some more depth to the Blackhawks lineup. Corey Crawford returned last game and will be starting this game against the Jets. On the other side, Petan, Armia and Matthias all returned for the Jets during their last series against Vancouver, providing depth in the bottom six.
[miptheme_dropcap style="normal" color="#222222″ background=""]2)[/miptheme_dropcap] The Blackhawks are near the top of the league, but not because of their special teams. Both teams are around the middle of the pack when it comes to the power play, but both are right at the bottom when it comes to killing penalties. Both are south of 80%, which can make even the worst power play seem pretty good. To win this game, both teams need to stay out of the penalty box, but not because the other is good on the power play.
[miptheme_dropcap style="normal" color="#222222″ background=""]3)[/miptheme_dropcap] After going 15 games without a goal, Nikolaj Ehlers has now scored five goals in his last six games. Panarin has picked up 13 points over his last seven games. Both second-year players have been consistent for their team this year. Can they continue that type of play during the second half of the season?
[miptheme_dropcap style="normal" color="#222222″ background=""]3)[/miptheme_dropcap] Chicago may have Winnipeg's number at the MTS Centre, but at the United Center, the Jets are 5-4-0 since 2011-12. This makes them one of only five teams to have more wins than losses in Chicago since that time. The Jets have also held the Blackhawks to less than two goals in six of the last seven played in Chicago, and have gone 20-22 on the penalty kill over their last eight games there.
Blake Wheeler on what the Jets have done well vs Hawks, keys to a good start, building on recent success and more. https://t.co/4Pa0113z0L

— Illegal Curve Hockey (@IllegalCurve) December 27, 2016
You can catch the game tonight at 7:30 p.m. while you eat your leftover turkey and, if you're from Winnipeg, shovel your driveway between periods.