Well, that story stayed more true to the script for Team Latvia.
After staying in the game for most of their game against the USA on Boxing Day, the same cannot be said about their game against Russia. This was not much of a contest after the first period. The first belonged to Russia on the score sheet as they were up 3-0 on goals from Danil Yurtaiken, Alexander Polunin and Pavel Karnaukhov. Anybody in the arena, even the pro-Latvia crowd, knew that this wasn't going to be pretty.
An Ill-Fated Goalie Change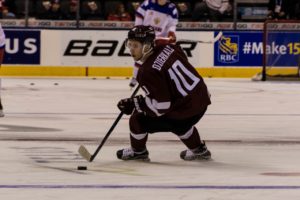 Latvia changed goalies at the start of the second as Gustavs Grigals left the game in favour of Denijs Romanovksis. That would prove to be a mistake pretty quickly as Kirill Kaprizov would score his second of the tournament to make it 4-0 only 56 seconds into the period. Latvia did manage to get on the board three minutes later on a goal from Rudolfs Balcers, assisted by Leafs prospect Martins Dzierkals.
However, the hope did not last long as Russia would add two more only 49 seconds apart with another goal by Polunin and Kirill Belyayev. Russia's three goals in the second were scored on three shots, the only three that Romanovskis faced. That would be it for the Latvian backup as Grigals came back into the game and held the fort for the rest of the period. Nevertheless, Russia finished the second with 6-1 lead.
Even More Punishment
The third period offered no respite as Russia added three more goals. Kaprizov added two more goals to complete the hat trick while Yakov Trenin scored the other. With that, the scoring ended and the Latvians were finally put out of their misery. Kaprizov was named
Kaprizov was named player of the game for Russia while Balcers received the honours for Latvia.
It's just one of those days for Latvia #WJC2017 pic.twitter.com/DquY5TNFz4

— Steven Ellis (@StevenEllisNHL) December 27, 2016
Dzierkals Speaks (Again)
Dzierkals spoke to the media after the game.
On playing at the ACC and the big crowds.
It's a huge rink, we have our own Latvian fans that are really loud and when we play against Canada, the rink is going to be full and the crowd is going to be amazing. It's just fun to play hockey with lots of people watching. It gets us moving.
On the loud and very vocal Latvian fans
People love hockey there. No matter what, they're cheering for our team, even if we're losing. They're still cheering for us and it's inspirational for us and we're trying to do our best and we appreciate the fans
You've played pretty well over the past two games and you've just been missing your chances… Do you feel like it's inevitable for you to score a goal in this tournament? (My question)
Thank you, but I'm not focusing… it's not my goal to score goals right now; we need to build our team, we need to start, we're going to create our scoring chances and the goals are going to get there.
(Mike Babcock is going to love this guy and, quite frankly with that answer, I do too.)
On the blowout loss
It was hard. It's not fun to lose, for sure. To lose with a big score like that, it wasn't our best game for sure. We're going try to bounce back and we still have important games ahead of us and we're going to focus on that.