At this time last year, Sidney Crosby was flagging. Thirty-four games in, he only had 7 goals and was ranked 76th in the NHL in points. His record was so poor that he didn't even receive an invite to the 2016 NHL All-Star game. A Google search for his name returned frustrated calls for him to be traded and discussions of when, exactly, he had peaked.This year, Crosby has 24 goals in 29 games. He is leading the vote for
This year, Crosby has 24 goals in 29 games. He is leading the vote for captain of the Metropolitan League at the 2017 All-Star game. His points per game average is the best in the NHL, and he's ranked first in goals and third in points. What shook Crosby from this decline?
Crosby's Search for a Winger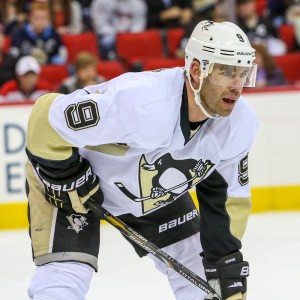 Throughout his career, Crosby, the erstwhile center, has been on the hunt for a permanent winger. Big names have played on his wing, Phil Kessel and Marian Hossa being two of them. Neither of those seemed to click. Crosby seems to work best with less widely-recognized names next to him in the lineup. In the past, he's seen good results with wingers like Pascal Dupuis on his line. Dupuis, although not a star player, functioned well on Crosby's wing.
Crosby likes to take the lead. He's been visibly frustrated with winger Patric Hornqvist this season whenever Hornqvist challenged Crosby's plan for what he wanted to happen on the ice or failed to read his pass. Although Crosby isn't a sniper or a natural scorer, he is a natural leader, and he certainly wants to dictate what happens on his line. Perhaps that is why Crosby works better with players who aren't big names in hockey, like Dupuis and Chris Kunitz, and perhaps that's why his production climbed higher when Conor Sheary joined his line.
Conor Sheary's Journey to the Top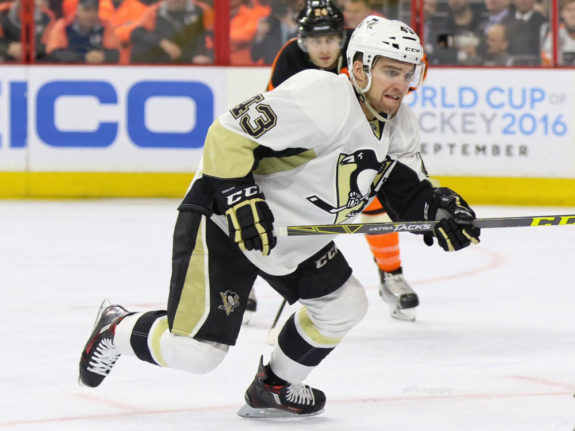 If Crosby, selected first in the 2005 draft, is hockey royalty, then Conor Sheary is closer to a commoner. Coming undrafted from University of Massachusetts-Amherst, Sheary was brought up to the team with the hiring of Mike Sullivan in December of last season. Although he struggled at first, he's now looking comfortable in the NHL. His raw speed helps him keep up with Crosby, and their styles of play mesh well. Another thing that may help him fit in is that he, several years and many NHL seasons Crosby's junior, allows Crosby to shape the line.
Crosby has recently started taking more scoring opportunities rather than deferring to a pass, and Sheary is more than happy to provide the crucial assist. And with the recent addition of Bryan Rust to the line, Crosby gains another newly-pro forward who doesn't dampen his star power.
Some players have in the past found it difficult to work with Crosby; it's important to find ones with whom he works well. This chemistry is revealed in more ways than just points. At about this time last year, Crosby was dealt a blow to the back by a Columbus rival that knocked him in the ice; conspicuously, there was no one in his team that came to defend him. This year, Sheary was hit into the boards by the Rangers' Ryan McDonagh; Crosby immediately came over and slammed McDonagh down to the ice.
Cause and effect. pic.twitter.com/vTW4Py2UKr

— Pittsburgh Penguins (@penguins) November 24, 2016
This example in the change in solidarity between players reflects a more unified and cohesive Penguins team than the one we were seeing last November. It also shows the stronger connection between Crosby and his linemates that Pittsburgh desperately needed. Crosby needs a linemate that he connects with and also, it seems, that will defer to his vision for the line.
A Solidified Pairing
Conor Sheary isn't the magic answer to Crosby's problems. Players have slumps; not everything can be explained away by Sheary's arrival, especially because Crosby's points-per-game average had already started to pick up prior to the hiring of Mike Sullivan and long before Sheary ever joined the NHL. But he has been key to Crosby's continued success, and as long as they continue to click Sheary seems to have found a comfortable spot on the reigning Stanley Cup champions' top line.