When head coach Mike Sullivan joined the Penguins one year ago, he brought up with him players from Pittsburgh's AHL affiliate, Wilkes-Barre Scranton. These forwards are currently with the Penguins on contracts that cost much less than those of the more established players on the team. Three of the forwards called up to play with the Penguins after Mike Sullivan's arrival – Conor Sheary, Bryan Rust, and Scott Wilson – are putting up significant production for a very insignificant portion of Pittsburgh's salary cap.
High Production, Low Cap Hit
So far this season, each of these three former Wilkes-Barre Scranton players have been putting up points for Pittsburgh. Sheary leads the group with 19 points, ranking sixth on the team in terms of production. Rust and Wilson have 15 and 10 points, respectively. Combined, they make up about 14-percent of the Penguins' point total so far this season.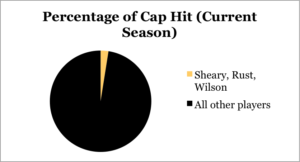 Why is that special? Because Sheary, Rust, and Wilson's salaries together, at under $1 million each, take up less than three-percent of the Penguins' $76 million cap hit. These three players, brought onto the roster last December, represent significant bang for the Penguins' buck.
Where Is This Production Coming From?
Part of the reason for Sheary's high production numbers this season is Sidney Crosby. Sheary has visibly started to click on Crosby's right wing. Crosby benefits from having a winger with such speed, and Sheary benefits from sharing a similar style of play to Crosby; he's picked up more points on Crosby's wing than several of his past line mates, including Wilson and Carl Hagelin. Sheary has been called Crosby's "mini-me", and it's indeed very clear that he's learning directly from the Penguins' star forward. He's even attempted Crosby's signature "drop to one knee and shoot" maneuver this season. He's also seen more ice time than last season as his role on Crosby's line has solidified.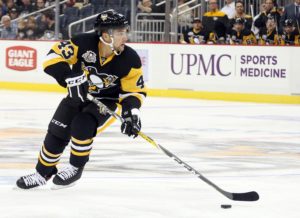 Rust has also recently seen some time on this top line alongside Sheary and Crosby, replacing Patric Hornqvist as right wing. This could be a winning combination for the Penguins. With Sheary's speed and Rust's willingness to be a disturber in the crease (reminiscent of Hornqvist himself), these three could make an excellent combination. And although his ice time remains similar to what he saw last season, his goals per 60 minutes average is at 1.61- second on the team only to Crosby.
Wilson is a fourth liner who usually plays wing to center Matt Cullen. He sees significantly less ice time than Rust and Sheary, averaging about eight minutes per game. Unlike either of the other two, however, he's played all 35 games this season, something that only seven other players on the team can say themselves, making him a consistent and reliable part of the lineup.
What Does This Mean For the Penguins?
Crosby's increased production has been key to the Penguins' success so far this season. Sheary, and recently Rust, have contributed to these league-leading production totals. It's certainly in the Penguins' best interest to try and maintain Crosby's production rate. Lineups under former coach Mike Johnston stifled Crosby's production; Sullivan will certainly want to try and maintain new lineups that work.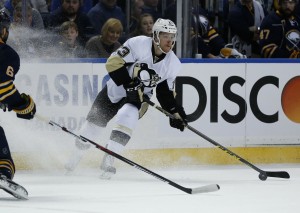 At this point, Rust, Sheary, and Wilson have solidified their spots in the NHL. The fact that these key factors for maintaining production rates don't take up much cap space means that the Penguins have a higher chance of keeping these players on next season, as they battle the salary cap and the Vegas Golden Knights' expansion draft to try and retain the strength of their roster. With that draft looming, this also means that if need be, the Penguins could get beneficial trades from these players. If Sheary and Rust continue to produce, and Wilson continues to be a solid player, there's a possibility that in the future, general manager Jim Rutherford could trade them for players worth far more than what Sheary, Rust, or Wilson are currently costing him.
Julia Stumbaugh is a student at the College of William & Mary.