With 2016 drawing to a close it's hard not to imagine what 2017 might have in store. There is just something about the new year that instills so much optimism in hockey fans. The new year gives an opportunity for teams to turn over a new leaf.
In the case of the Carolina Hurricanes, 2017 may be a year of transition. Young stars are starting to settle into their positions, old faces are leading by example, and the team is starting to take its final form. So here's a list of things you should expect from Carolina in 2017.
Skinner Keeps Scoring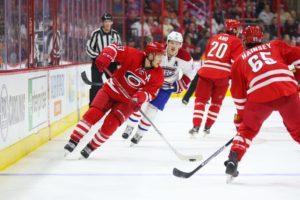 For Hurricanes fans this one shouldn't come as a surprise. The 2016-17 season saw Jeff Skinner get off to an exceptional start, and he hasn't looked back ever since. Currently, Skinner is poised to set career highs in both goals and point scoring. For other players, season starting streaks are often written off as being a fluke or just good puck luck. Neither such case represents Skinner. In fact, when taking a look at Skinner's shooting metrics, it appears that his numbers are actually very maintainable. For example, Skinner's shooting percentage currently sits at 10.9, a number that is quite standard for players of his caliber and close to his career average of 10.6.
The reason why this is important is because it shows that Skinner's goals aren't just luck. In most cases when players outscore their means, it is due to an insanely high shooting percentages. This means that for whatever reason their shots are just going in more than normal, so when their shooting percentage goes back to normal their extra goals disappear. The fact that this is not the case with Skinner is reassuring.
So then where are the extra goals coming from? The answer to this is easy. He is simply just taking more shots. A lot more in fact, as he averages 3.72 shots per game. If he can keep up this pace, it would be his highest shot total since his 2013-14 season, in which he scored 33 goals in 71 games. If Skinner can manage to stay healthy, he could potentially surpass those numbers and make 2016-17 his best season yet.
Ryan Murphy Leaves Carolina
Ryan Murphy trade rumors have been floating around for a couple months now. While nothing has been confirmed yet, it does seem fairly certain that Murphy will be leaving in 2017. The reason for this comes from the deal he signed this offseason. In somewhat of a surprise deal, the Hurricanes re-upped the rarely used defenseman, signing him to a two-year deal worth $1.575 million per season.
The issue with this is the fact that Ryan Murphy hardly ever plays. This season, Murphy has played in only four games. While Carolina may have been trying to salvage anything out of the former first rounder, it appears that it is time to move on. The call-up of Matt Tennyson from Charlotte in November seemed to have made Murphy obsolete. Now Murphy just sits on the roster as a 7th defenseman.
Sitting as a $1.575 million weight on the roster of a team that doesn't like to spend money usually doesn't mean you will stick around long. The return will most likely be small — probably taking the form of a late round pick — but still, Carolina will look to offload Murphy when they get the chance.
'Canes Goaltending Remains a One-Man Show
Now 33 games into the season, it appears that Cam Ward will be the go-to choice for the Hurricanes. So far, Ward has already started in 27 contests and is on pace to play in 67 games this year. If he continues at this rate, it will be his highest number of games played since 2011-12.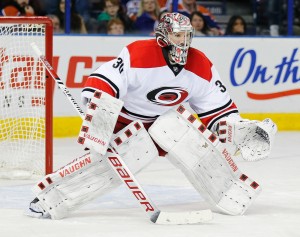 Ideally, Ward's workload should be eased with help from his backups. However, the performance and inconsistency of Eddie Lack and Michael Leighton have proved to be an issue. Out of Carolina's three goalies, only Ward has been able to post a save percentage above .900. Because of this poor play, together the duo of backups have managed to appear in only seven games so far.
With no sign of improvement from Lack and Leighton being buried in the minors, it's up to Ward to keep this team afloat. Hopefully, we will see the same incredible performances out of Ward in 2017 that we did in 2016. If not than Carolina's lack of goaltending depth could mean disaster.
Sebastian Aho Scores More Goals
One of Carolina's prominent young stars in 2016, Sebastian Aho, could see even better results in 2017. Despite being the youngest member of the Carolina Hurricanes, Aho ranks third in team scoring and eighth in NHL rookie scoring. While his offensive talents were well documented even before the season began, almost no one thought he would be this impactful.
Aho has been a huge contributor this year in terms of generating shots and shot attempts. His shot total of 74 is the fourth highest on the Hurricanes. On top of that, we can also see that Aho is also proficient at maintaining possession of the puck. With a corsi-for percentage of 54.9, it is evident that Aho helps generate a lot more shot attempts for than he allows.
Oh come on now Sebastian Aho. That is just filthy. pic.twitter.com/sww1ZZTUoj

— NHL (@NHL) December 18, 2016
What we can gather from all of these statistics is that Aho is excellent at creating scoring opportunities for himself. These stats show that Aho could see his goal total skyrocket in 2017. This is because Aho's shooting percentage currently sits at only 8.1. Given Aho's talents as a goal scorer, this number should see an increase in the upcoming year. If Aho is able to convert on just a few more of the opportunities he creates for himself, we may see him become one of Carolina's top goal scorers.
Josh Burns is from Ontario Canada and is an avid hockey lover, and covers the Carolina Hurricanes