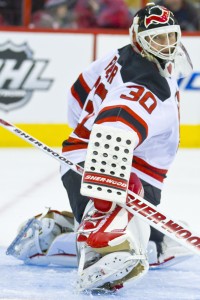 Entering this season, many people speculated that it would be Martin Brodeur's last in the NHL. There was good reason to believe that Brodeur was near the end, with his 40th birthday less than two months away, as well as his contract expiring at the end of the year.
Whether or not Brodeur decides to sign a new contract and put on the gear for another season remains to be seen. However, after a disappointing 2010-11 season and a shaky start to this season, Brodeur has recently looked like the goalie who led the Devils to the Stanley Cup less than a decade ago.
At 39, Brodeur's durability isn't what it once was. He can no longer play over 70 regular season games and still backstop the Devils for another two months like he did in 1999-2000 and 2002-03. Yet as a result of playing less games, Brodeur's numbers down the stretch have been better than in recent years.
Starting with a game against the Rangers on February 27, Brodeur has stopped 184 out of 195 shots (a .944 save percentage), and has a 1.36 goals against average. More importantly, he is contributing to the Devils' success. Unlike last season, Brodeur looks to be in a familiar place in a couple of weeks: the Stanley Cup Playoffs.
As Brodeur has said throughout the season, this year has been fun for him to play. The Devils have been winning, and his overall numbers (26-18-3, 2.36 goals against average, .908 save percentage) are respectable, even if they aren't what his numbers used to be. As a result, it shouldn't come as a surprise if Brodeur's "curtain call" season has an encore that extends beyond this year's playoffs.