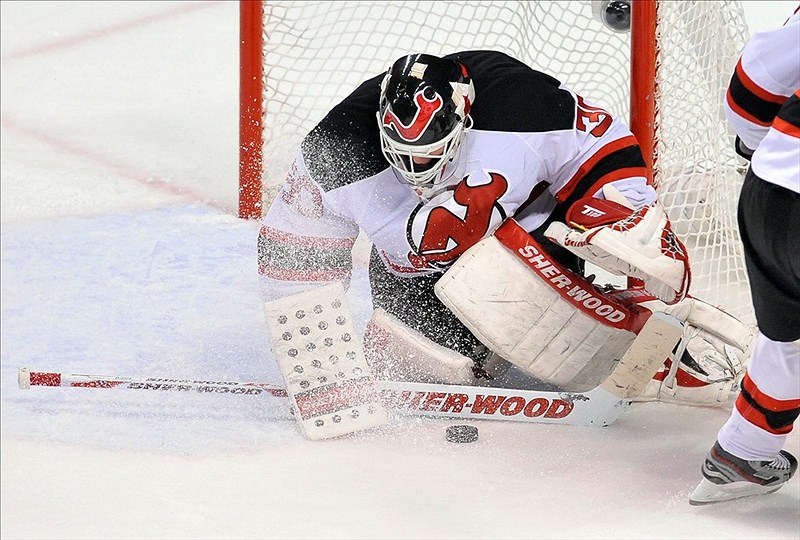 RALEIGH, N.C. — As Martin Brodeur approached the media following Thursday's 4-1 win over the Hurricanes, the future Hall of Famer couldn't help but smile.
"Anything else you want?" he asked reporters.
Everyone shook their heads. After all, there wasn't much more the 40-year-old could have done to propel his team to victory that night. Brodeur stopped 17 of 18 shots, fended off an early Carolina onslaught and even scored a goal, earning a W in his first game since Feb. 21.
"I'm scared now they're going to ask me to fly the plane home," he added. "For real."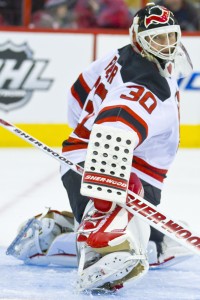 After an impressive start to the 2013 campaign, Brodeur was out of commission for 13 games with a pinch nerve in his upper back and neck. In that time, New Jersey went from the top of the Atlantic Division (10-3-4) to third (13-11-6), falling seven spots in the Eastern Conference hierarchy and out of a playoff position.
Given this rough patch, morale dipped considerably for Lou Lamoriello's club. A 3-8-2 stretch and the absence of your franchise player can do that to a team.
Needless to say, Brodeur came back just in time.
"We needed him as soon as possible," Ilya Kovalchuk told us. "It's so huge to have him out there again.
"We need him to win the Cup this year. Now that he's healthy, we can do that."
Chipping in Offensively
Coach DeBoer told us prior to Thursday's contest that having Brodeur back in action would be a huge boost, but that the netminder cannot aid the Devil's anemic offense.
Well, DeBoer was wrong. Kinda.
Less than four minutes into regulation, Jordan Staal attempted to clear the puck back to Carolina's end of the ice, sending  it off the boards and towards his own crease. With Dan Ellis skating to the bench on a delayed penalty call, the puck was able to cross the goal line and went into the empty net, stunning most of the 16,941 in attendance.
Brodeur, who was the last Devil to touch the puck, was credited with the goal.
"I got lucky on that one, we'll take it," he said with a laugh. "Definitely nice for me to take credit for it."
"He had a goal and kept us in the game in the first period? Unbelievable," said Travis Zajac. "He was awesome today."
Given the unique nature of this play, Brodeur didn't even know that the goal was his — not until a teammate told him, at least.
"Kovy knew right away. I wasn't sure what happened," Brodeur said. "When they cleared the zone I kind of looked behind me and I wasn't really looking (at the puck). When the puck went in the net it was, 'Wow, what happened there?' I didn't even know we had a delayed penalty or anything, so it was kind of a surprise.
"Kovy said, 'You scored the goal!' With a Russian accent, too. I was like, 'What?'"
This tally was Brodeur's third of his NHL career, which is the most scored by a netminder in league history. Just another record for No. 30, who has so many locked up already.
"So he broke the record?" Zajac asked us. "Doesn't surprise me. He's the best to ever play the game."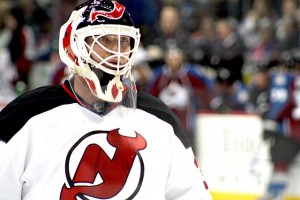 Giving His Team a Boost
Following three straight losses, the Devils needed a bit of a jolt to get back on track. Brodeur's presence seemed to do the trick.
"It's a big lift, (Johan Hedberg) did a great job for us, he's a great teammtate. But Marty's our starting goaltender," DeBoer said. "He's the best of all time … he allowed us to get our composure back.
"It's a luxury to have him back there for a lot of different reasons, and it's nice to have him back."
After Brodeur got a goal of his own, the Devils were able to get three more past Ellis, and for just the third time since Feb. 15,  they scored four or more goals in a single game. While it didn't happen in the most conventional fashion, Brodeur was able to give his team the momentum required to kick-start a strong offensive showing.
"The guys have been really positive for me to be around them," he said. "It's been nice to be back for myself, but it's a big family. We've been through a lot of things last year, and when you haven't been with them for a month, it's not fun."
Getting Back in the Saddle
Rather than being eased into action, Brodeur had to deal with a lot of early pressure in the first period. But for the veteran, that may have been just what he needed to rediscover his groove.
The Canes came flying out of the gate, putting a lot of pucks on net (and a few off the post), but were unable to find twine during this early flurry. Brodeur came up big on multiple occasions in the opening frame, looking very much like his vintage self.
"When you haven't played for a long period time, you like to feel the puck, play the puck and do a lot of things," he said. "I got a chance to do all that in the five minute span — we were under siege there … I made a couple good saves, a couple good blocks and we got away with it.
"From there we played I thought almost a perfect game."
Brodeur faced 11 shots in a very busy first, but Carolina was only able to must seven SOG in the final 40 minutes. A bit of an uneven showing from the Canes, to say the least.
"You don't pick how games are played," Brodeur said. "I was glad I was able to get through (the first period) and make the saves. We got a break, we scored a goal. We could have given it back, but we didn't."
"Carolina really comes out hard in the first period," said DeBoer. "They gave a big push there, probably 10 shots in a three or four minute span. That was critical that Marty made some saves there."
 *   *   *
At the age for 40, Brodeur won't be around much longer. It's difficult to imagine the Devils without him, as he's has been with the organization for parts of the last three decades; and for a short time, the hockey world caught a glimpse of New Jersey without No. 30. It wasn't pretty.
But the focus of this team is very much in the present, not the future. With Brodeur's recovery comes a new-found sense of hope within the organization; hope that they can make the postseason once again, and perhaps win two more games in the playoffs than they did last year. And why not?
Said Kovalchuk: "With Marty, anything is possible."
—
Andrew Hirsh is a hockey writer based in North Carolina. You can follow him on Twitter @andrewhirsh or email him at ahirsh3@gmail.com
Andrew Hirsh is a graduate of Elon University and is entering his fourth year as a credentialed NHL writer. He founded SunbeltHockey.com in 2012 and serves as the site's managing editor. Andrew can be reached via email at ahirsh3@gmail.com.