By Greg Thornberry
Penguins Community Site
Max Talbot was once one of Pittsburgh's favorite sons.
Just a quick look at his most memorable moments can tell you why.
–          A black-eyed, post-fight Talbot putting a finger to his lips to shush the Flyers crowd and inspire his team to a comeback win in the 2009 playoffs.
–          Scoring two goals to lift the Penguins over the Red Wings in game 7 of the Stanley Cup Finals.
–          Calling Alex Ovechkin an expletive on a Pittsburgh morning radio show.
–          Not to mention the often imitated "Superstar" car commercial, featuring an impression of McLovin from the movie Superbad.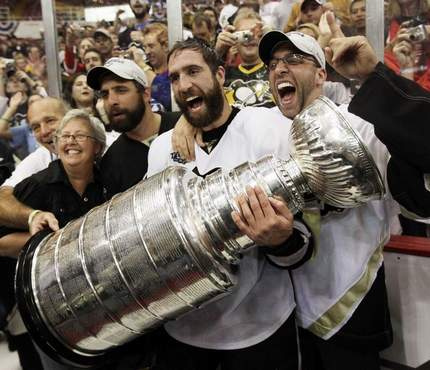 Nearly two years since signing a contract with the Penguins hated rival, the Flyers, the mere mention of "Mad Max" still brings fond memories to the minds of Penguins fans. In Talbot's first game back to Pittsburgh he got a roaring ovation from the crowd, while Penguins legend and future Hall of Famer Jaromir Jagr got an equally vigorous round of boos.
Really nobody could blame Talbot for leaving, as the money clearly wasn't going to come from Pittsburgh. Pens GM Ray Shero even stated after Talbot's departure that Max made a good move, going where he could get the money.
None of it could take the sting out of losing the fan favorite "Superstar", especially considering the destination.
In his first year with the Flyers Talbot scored career highs with 19 goals and 34 points after struggling with the Pens in the years following the Stanley Cup win.
Not only did Talbot improve greatly offensively, he put the screws to the Penguins when they met, scoring important goals and creating emotional lifts for the "other" NHL franchise in Pennsylvania.
As we approach the 2013 NHL trade deadline, there are the unavoidable trade rumors of former Penguins players returning to the Burgh. Sergei Gonchar, Ryan Malone, Ryan Whitney, and others have been mentioned, but one that may have some legs under it is the mention of Talbot making a triumphant return to his old stomping grounds.
In many ways it makes sense, the Penguins have at times lacked many of the qualities that Talbot brings to the table. Grit, tenacity, and passion seem to disappear on a team that forgets that they aren't playing pond hockey at times.
A Talbot return would be a boost to his teammates and the fans, and would look pretty nice playing next to a likely line mate in Brandon Sutter. He would be a definite upgrade to a Tyler Kennedy or Matt Cooke.
Assuming that the Flyers are unable to dig themselves out of this season-long funk that they are in, Philly may just be a seller to a degree come deadline day. The Penguins have cap space and player assets to spare, so a deal of this nature may be mutually beneficial.
There are, however, two major hurdles that could very likely prevent a deal from happening.
#1. The Flyers are still paying Talbot the same money that Shero wouldn't pay him in 2011.
Max's value has become clear since leaving, and, to a large degree, he has improved his game. Has the Penguins GM's stance changed on the 29-year-old Canadien?
#2. It's the freakin Penguins and Flyers!
The two franchises hate each other from ownership to the fans. The players, commentators, mascots, and probably the ice girls, plain old hate each other.
Remember that despite the two teams lack of love for one another, back in 1991 the division rivals made a deal that brought some memorable players to each side.
Mark Recchi was traded from the Penguins with Brian Benning and a first round pick to the Flyers for Kjell Samuelsson, Rick Tocchet and Ken Wregget.
Kinda worked out for both sides.
Could the two clubs work out a deal? We must also consider the long term implications of a trade. The value of Talbot isn't worth trading a blue chip prospect like Simon Despres, but is much more valuable than that of a role player or low draft pick.
Ray Shero appears to be a man that does not make moves based on sentimental reasons, but look at how many players from Shero's former NHL home Nashville, came through here, and how could you be more sentimental about any player more than Talbot.
Is a deal imminent? No, but with the possibility murmuring through the hockey world, it certainly is worth a discussion.
There are many players out there with Talbot's skill set, but there is only one "Superstar" chika chee chee chika chee.
Until next time….