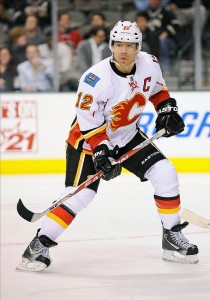 On December 19, 1995, the Calgary Flames traded captain Joe Nieuwendyk to the Dallas Stars for veteran forward Corey Millen and a junior player from Kamloops, Jarome Iginla. Now, nearly 18 years later, many people surrounding the team are debating the merits of trading Iginla and beginning a re-build in Calgary.
Since he began playing for the team in the 1996 playoffs, Jarome Iginla has been the straw that stirs the drink in Calgary. He's the team's all-time leader in games-played (1,215 and counting), goals (523), points (1,093), power-play goals (160), game-winning goals (82) and shots (3,982). He's lead the team in scoring in each of the past 11 seasons, and has scored 30 goals each season for the past 11 seasons. He's also the longest-serving captain in Flames franchise history and has the second longest tenure of current NHL captains, outside of Ottawa's Daniel Alfredsson. Overall, Iginla is 88th all-time in games played (13th with one franchise), 33rd all-time in goals (15th with one franchise) and 59th all-time in points (24th with one franchise).
To be blunt, Jarome Iginla is the most important player in the history of the Calgary Flames. And he may be on the trade market. Now 35 years old, Iginla isn't quite an elite NHLer, but he's still a very dangerous offensive weapon and boasts one of the most impressive resumes of any active hockey player in the world.
How do you put a value on that in the trade market? Pittsburgh Tribune-Review reporter Rob Rossi floated out a possible value for Iginla on Twitter.
#TribHKY >> Iggy price: top 4 D prospect, roster player, and draft pick. For now, anyway. He has no movement clause. #pens #flames

— Rob Rossi (@RobRossi_Trib) March 15, 2013
To determine if that value estimation is probable, we've looked at trades over the past three years involving similar forwards. The challenge here is determining which players are similar to Iginla. We've based it entirely on offensive skills and role on their teams.
For reference, Jarome Iginla had 86 points in 2010-11 and 67 points in 2011-12. Through 28 games of the 2013 season, Iginla has 21 points – which would extrapolate to 62 points over a full season on a Flames club that has struggled at times.
A FIRST ROUND PICK
The Chicago Blackhawks traded Troy Brouwer to the Washington Capitals for their first round pick. The transaction was conducted at the 2011 NHL Entry Draft and the Blackhawks used the pick (26th overall) to select Philip Danault.
Brouwer wasn't added for a playoff run and, to be blunt, lacked the same offensive numbers that Jarome Iginla had. It's unlikely that the Blackhawks were able to get the price bidded up too much and the Capitals were a team that hoped to contend adding a complementary piece with a late first round pick. Brouwer had 36 points the season prior to the trade.
A FIRST ROUND PICK AND ANOTHER PICK
Twice in recent years, a high-end forward was moved for a first round draft pick and another draft selection.
In February of 2011, the Toronto Maple Leafs sent Kris Versteeg to Philadelphia for a first round draft choice and a third round draft choice, both in the 2011 NHL Draft. The Leafs selected Stuart Percy with the first rounder (25th overall) and Josh Leivo with the third rounder (86th overall). Versteeg was coming off of a 44-point season in 2009-10 and put up 46 points in 2010-11 between Toronto and Philadelphia.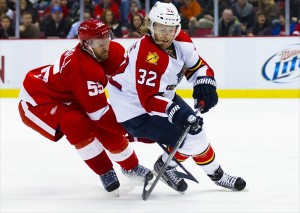 In February of 2011, the Ottawa Senators sent Mike Fisher to Nashville for a first round pick in 2011 and a conditional draft selection, dependent on how many playoff rounds the Predators won that year. The Predators won a single series, so the conditional pick was activated and became a third round selection in 2012. The Senators chose Stefan Noesen with the first rounder (21st overall) in 2011 and Jarrod Maidens with the third rounder (82nd overall) in 2012. Known for his leadership and two-way play, Fisher had 53 points in 2009-10 and 36 points in 2010-11 split between Ottawa and Nashville.
A FIRST ROUNDER, A PICK AND/OR A PLAYER
There are three examples here, and two of them are Jeff Carter trades.
At the 2011 NHL Draft, the Philadelphia Flyers sent Carter to Columbus in exchange for Jacub Voracek, a first round pick and a third round pick, both in the 2011 draft. The Flyers chose Sean Couturier with the first rounder (8th overall) and Nick Cousins with the third rounder (68th overall). The shine soon wore off Carter in Columbus and the disappointing player was sent to Los Angeles for Jack Johnson and a conditional first round pick. The Jackets "earned" a first rounder when the Kings made the playoffs, and chose to take the first round choice in 2013 rather than in 2012. In his last two seasons in Philadelphia, Carter had 61 points and 66 points, respectively.
In February of 2011, the Edmonton Oilers sent Dustin Penner to the Anaheim Ducks in exchange for Colton Teubert, a first round pick in 2011 and a conditional draft pick (either a second or third rounder) in 2012. The Oilers took Oscar Klefbom with the first rounder (19th overall) and used their third round selection to select Daniil Zharkov in 2012 (91st overall). Penner had 63 points in 2009-10 with Edmonton and 45 points in 2010-11 split between Edmonton and Los Angeles.
THE VERDICT
If the Flames move Iginla, the value they get in exchange is probably dependent on whether they can get a bidding war going between a few teams. Iginla's arguably a diminishing asset (he's already 35), but his projected point production is still very much in line with a lot of other high-end players.
Iginla should fetch at least a first round draft pick on the open market. Most likely he will fetch more than that, although precisely what he would land depends on how badly a pursuing team wants to acquire him. Rossi's projection is probably pretty close to what Iginla would land on the trade market.