The OHL Cup, scheduled each year to showcase the upcoming talent for the draft, has produced some impressive hockey players for the Ontario Hockey League, including Steven Stamkos, John Tavares and Max Domi. Earlier this week in Part I of a three part series, I identified the standout performances from players from six teams including the Barrie Jr. Colts, Central Ontario Wolves, Eastern Ontario Wild, Elgin-Middlesex Chiefs, Elite Hockey, and Halton Hurricanes were all covered.  Travis Konecny, Jeremy Bracco and Matthew Kreis were a few players covered in the opening article and that trio were just a few standouts who had scouts scribbling frantically in their notebooks. In the second article, I address the next group of players who left a lasting impression and displayed the potential to be selected in the upcoming OHL draft.
Let us take a closer look at some young players in from Huron Perth Lakers, Mississauga Rebels, NOHA Stars, Ottawa Senators, Southern Tier Admirals, Thunder Bay Kings, and Toronto Jr. Canadiens as Part II: Inside the Scouting Notebook: OHL Cup is revealed.
PREVIOUS POST: Inside the Scout's Notebook: 2013 OHL Cup (Part I)
Cullen Mercer, C (Huron Perth Lakers), 5-11, 165
OHL Cup Statistics: 4GP-3G-2A-5P
Mercer is just one of several slender skilled forwards playing on the Huron Perth Lakers. Projected as a mid-round selection, Mercer has an intriguing offensive upside as he possesses the crafty hands and vision to dissect his opponents, especially on the powerplay.
Kenny Huether, RW (Huron Perth Lakers), 5-8, 145
OHL Cup Statistics: 4GP-3G-1A-4P
An undersized winger who owns excellent skating abilities, Huether is a skilled forward with very good one-on-one skills. He will need to bulk up to compete at the next level but his elusive skating style, puck handling abilities and offensive creativity should make him an intriguing selection during the middle-to-late rounds of the draft.
Jacob Hayhurst, F (Mississauga Rebels), 5-9, 155
OHL Cup Statistics: 4GP-0G-4A-4P
Blessed with fantastic feet that never stop moving, Jacob Hayhurst was a difficult player to contain creating havoc all over the offensive zone. His energy and will-to-compete sparked the Mississauga Rebels on several occasions and Hayhurst certainly improved his draft stock throughout the week.
David Zeppieri, F (Mississauga Rebels), 6-2, 183
OHL Cup Statistics: 4GP-0G-0A-0P
The Rebels' captain had a solid week despite not finding the game sheet. Zeppieri showed a high compete level and his desire to win at all costs was quite evident in his play. He appears to be a two-way forward with good mobility and while his offensive ceiling isn't as intriguing as some of his draft peers, Zeppieri owns some impressive intangibles (specifically, leadership) and a versatile element that teams covet.
Christian Rajic, F (Mississauga Rebels), 5-8, 148
OHL Cup Statistics: 4GP-3G-1A-4P
Rajic is a diminutive skilled forward with great skating abilities including good pickup speed and top-end quickness, qualities that are important for smaller players. He is a forward that displays a good work ethic and adopts an aggressive offensive style that is centered on slick hands and quick feet. Rajic led the Rebels in scoring with four points.
Austin Clapham, D (Mississauga Rebels), 6-1, 190
OHL Cup Statistics: 4GP-0G-1A-1P
Clapham owns one of the better shots of the draft class and he's making a name for himself as a physical and sometimes nasty defender. He projects as a puck moving defenseman with his quick feet but his defensive awareness is extremely intriguing. Clapham is an intense competitor and his strong skating skills, physicality and good frame could see him drafted inside the top 40.
Cameron Lizotte, D (NOHA Stars), 6-1, 185
OHL Cup Statistics: 4GP-2G-2A-4P
Lizotte was arguably one of the top defensemen of the OHL Cup. A punishing defender who can skate like the wind, Lizotte gives his opponents no room to operate as he uses his feet, great gap control and impressive physical strength as containment tools. Offensively, Lizotte rushes the puck gaining top speed quickly with his long powerful stride and his deft puck handling skills makes him equally as dangerous when in possession of the puck. Lizotte had a strong showing for the NOHA Stars solidifying his place as a first round selection.
Alex Morin, D (NOHA Stars), 5-10, 175
OHL Cup Statistics: 4GP-0G-2A-2P
Morin was a pure standout for me with his smooth skating style, patient and poised demeanor, and consistent defensive shutdown abilities. The feisty and physical Morin quickly grabbed the attention of scouts when he came to his teammate's defence after a cheap shot. He tossed off his gloves and landed a punch in the OHL Cup's first fight of the week (a rare occurrence). Morin likely doesn't own number one defenseman qualities but he certainly has the potential to develop into a valuable number two defenseman and can withstand playing tough minutes.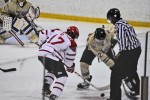 Blake Speers, C (NOHA Stars), 5-10, 160
OHL Cup Statistics: 4GP-2G-4A-6P
The dynamic and speedy Speers was the top star on a team consisting of all-star talent from Northern Ontario. Blessed with lightning quick feet and exceptional four-way agility, Speers creates his offense on the rush, backing up defenders into uncomfortable positions. His ability to confidently handle the puck at top speed and distribute it to his teammates using excellent vision makes him a deadly playmaker. An intelligent centerman with great positioning, Speers projects to be a top line center at the OHL level. A playmaker before a shooter, Speers could stand to shot more often to keep his opponents honest. Look for Blake Speers to be drafted early in the first round, most likely to one of the Northern OHL franchises.
Brenden Locke, C (NOHA Stars), 5-9, 157
OHL Cup Statistics: 4GP-0G-0A-0P
To the casual observer, Locke probably didn't "standout" but I was especially impressed with his speed and overall hockey intelligence. The native of Kapuskasing was one of the younger participants in this tournament and his two-way game and attention to detail did not go unnoticed. Call him a sleeper but there is a lot to like with Brenden Locke and he could be worthy of a late round selection, assuming other scouts were paying attention too.
Kris Myllari, D (Ottawa Senators), 6-2, 175
OHL Cup Statistics: 4GP-2G-0A-2P
The Senators captain showed great competitiveness as Myllari played in all situations for Ottawa. At 6-foot-2 and room to fill his large frame out, Myllari was strong on every puck committing to each battle with great intensity. He owns a good first pass assisting in Ottawa's transition game and his physicality and gap control in the defensive zone were noticeably good. With Myllari's size, steady two-way game and leadership qualities it appears as though he has potential to be a top 40 selection.
Ian Johnston, C (Ottawa Senators), 5-10, 170
OHL Cup Statistics: 4GP-0G-5A-5P
Johnston led the Senators in scoring with five assists in four games displaying soft hands as a playmaker. He was prone to standing still at times but was difficult to contain when his quick, shifty feet were engaged so it's imperative he keeps his feet moving. Looking towards the draft, Johnston would likely be a late round selection as his fundamental skills and potential playmaking abilities could be areas that flourish as he develops.
Michael Davies, C (Southern Tier Admirals), 6-2, 170
OHL Cup Statistics: 4GP-4G-1A-5P
Davies showed why he is considered a first round talent as this powerful forward showed all the elements of a future star OHL player. Offensively, Davies aggressively attacks the scoring areas of the ice with his long powerful stride. He has the skills to be one of the best-rounded forwards of the 2013 draft class as he skates, passes, shoots and controls the puck all at above-average levels.
Mike Baird, LW (Southern Tier Admirals), 6-2, 170
OHL Cup Statistics: 2GP-0G-0A-0P
Despite playing only two games due to a shoulder injury, Mike Baird left a solid impression. A north-south type of player, Baird owns good hands and decent mobility but it is his aggressive physical game that gets him noticed. He is a menace in board battles and uses his size well to separate opponents from the puck. A team looking for an aggressive raw forward would be wise to snatch Baird up.
Connor Walters, D (Southern Tier Admirals), 6-2, 194
OHL Cup Statistics: 4GP-2G-4A-6P
Walters was one of the more eye-opening defensemen at the 2013 OHL Cup. Big powerful skating defensemen with the ability to rush the puck with ease are a luxury and Walters is exactly that. With six points, Walters led all OHL Cup defensemen in scoring and posted the best point-per-game numbers at his position as well. He has a clever ability to slow the game down exhibiting great poise, an attribute that is quite visible on the powerplay as he graciously walks the blue line with ease.
Zachary Grzelewski, F (Thunder Bay Kings), 5-10, 190
OHL Cup Statistics: 4GP-3G-1A-4P
A stocky forward with a heavy shot, Grzelewski is an opportunistic player as evident by his trio of goals to lead the Thunder Bay Kings. He does not possess very quick feet but his positioning and on-ice awareness allow him to compensate. Grzelewski was named Hockey Northwestern Ontario (HNO) Player of the Year after potting 38 goals and 80 points in 50 games. Look for Grzelewski to be selected through the middle rounds of the draft.
Nikita Korostelev, RW/LW (Toronto Jr. Canadiens), 6-1, 185
OHL Cup Statistics: 5GP-2G-2A-4P
Korostelev is among the top shooters available for the draft as his snap-shot presents a deceptive release, quick velocity and pin-point accuracy. He is coming off an average OHL Cup but remains one of the top forwards of his age group based solely on his scoring potential. The Russian born forward owns good puck skills and reads the ice well but gets knocked for lapses in effort. There was speculation that Korostelev would not be eligible for the draft because he was Russian but OHL Central Scouting has since placed him on their list.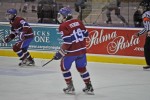 TJ Fergus, D (Toronto Jr. Canadiens), 5-10, 150
OHL Cup Statistics: 5GP-1G-3A-4P
An undersized defenseman, Fergus had a tremendous showing at the OHL Cup, particularly on day two when he scored a powerplay goal and added two slick assists with the man advantage. He has a knack for deceiving forwards with head and stick fakes, allowing him to open up lanes to thread crisp passes. Fergus showed good skating ability but it was his puck skills and power play abilities that left me very, VERY impressed.
Zachary Wilkie, D (Toronto Jr. Canadiens), 6-1, 175
OHL Cup Statistics: 4GP-1G-0A-1P
Coming from a Chicago Young American system that developed Alex Galchenyuk, Wilkie is a sizeable defender that shows great all-around skill. In a draft class filled with good defensive depth, Wilkie's best quality is his overall physical strength that he utilizes well during intense battles. Offensively, Wilkie shows good mobility, intelligent offensive awareness and a booming slap shot. He really is a solid two-way blue liner that teams will consider in the second round of selections.
Victor Mete, D (Toronto Jr. Canadiens)
OHL Cup Statistics: 5GP-1G-3A-4P
Technically, Victor Mete will not be eligible for the OHL draft until next season but this underage defenseman was arguably the team's best player. He is worth mentioning simply because of his rare skillset. Mete can absolutely wheel with the puck showcasing his tremendous speed, strong edge control, accurate first pass and overall potential as a hockey player. Look for Mete to be one of the top draft eligible skaters for the 2014 OHL Priority Selection Draft.
Other Standout OHL Cup Performers:
Ted Nichol (F, Huron Perth Lakers), Greg Hansford (D, Huron Perth Lakers), Jamie Huber (F, Huron Perth Lakers), Brody Brunet (F, NOHA Stars), Matthew Caruso (F, NOHA Stars),  Andrew Barbeau (D, NOHA Stars), Kevin Labelle (G, NOHA Stars), Brandon Zullo (F, Ottawa Senators), Connor Hicks (G, Ottawa Senators), Cal Walker (D, Southern Tier Admirals), Spencer Fox (F, Southern Tier Admirals), Jacob Behse (D, Thunder Bay Kings), Noah Jordan (F, Toronto Jr. Canadiens)
Look for Part III of "Inside the Scouting Notebook: OHL Cup" that will feature standout players from TPH Thunder, Waterloo Wolves, Whitby Wildcats, York Simcoe Express, Toronto Marlboros and the 2013 OHL Cup Champions, Oakville Rangers.
PREVIOUS POST: Inside the Scout's Notebook: 2013 OHL Cup (Part I)
My passion for the game has led me to writing about hockey, specifically dealing with the future of hockey and it's prospects.
You can find more of my work at DobberProspects.com, TheHockeyGuys.net and OHLWriters.com
Outside of the rink, I enjoy spending time with my friends, golfing, kayaking and fishing as well as competing in several of my own hockey leagues.
If you so do choose, please feel free to follow my thoughts and work on twitter @RossyYoungblood