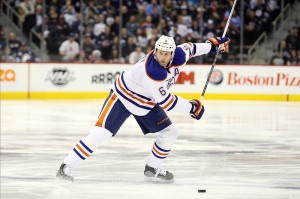 The Edmonton Oilers are still in the race for the 8th and final playoff spot in the West. All the teams chasing that coveted position are only separated by a of couple points, thus each game is of infinite importance. The Oilers suffered a crucial shoot-out loss to the San Jose Sharks on Wednesday night, leaving them stuck in 12th place. It's a high mountain to climb, and the Oilers are having trouble finding their consistency, but at least they aren't out of it yet.
The Oilers should be careful when approaching trades, because this team is a work in progress and they have so many great young pieces. There's really no need for a quick fix. But in a salary cap world, you can't keep everybody, and the team does have some decisions to make on a few key players.
The Buffalo Sabres are having a terrible year, but nobody seems more miserable than goaltender Ryan Miller. A Vezina trophy winner in 2010, things haven't been great for the Olympic Silver medalist lately and he hasn't held back from expressing his frustration to the media. The Sabres are going nowhere fast in the standings so there's a good chance they will be big time sellers at the trade deadline. It seems that a change of scenery may be the best thing for Miller, but what is the market for a goaltender like him at this point?
Miller is 32 years old, and he has only one season left after this one in his contract of just over 6 million a season. That's a reasonable cap hit for a starting goalie, and Miller has a proven track record.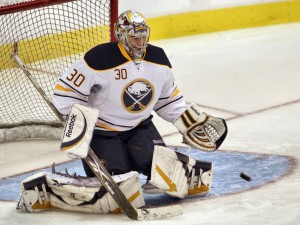 The Oilers still aren't sold on Devan Dubnyk being a number one goalie. He's had some great games, and some not so great games. Nikolai Khabibulin will be off the books this summer, and maybe Dubnyk would be well served having another veteran helping him out. Not to say that the Oilers are giving up on Dubnyk, but goaltending is so crucial and bringing in someone experienced who doesn't have a ton of years on his contract is an interesting possibility.
Sam Gagner has been the Oilers MVP this season. He leads the team with 12 goals and 28 points, but he's an RFA this season. At just 23 years old, Gagner has his whole career ahead of him, and the Oilers will have to handle his situation carefully.
Ryan Whitney is starting to improve his play after a dreadful start to the season, but he's a UFA this summer and there's a lot doubt surrounding his status in Edmonton.
Ales Hemsky has another year left on his deal after this season, but with so many young players coming up for the Oilers, what sort of role does he fit? Is there a permanent place for the 29 year old on this team?
There's hasn't been any indication, at least publicly, that Ryan Miller is on the move. Would the Oilers considering moving a veteran, or a prospect in their system to bring in a bonafide starter like Miller? Both the Oilers and Sabres have some decisions to make regarding their current rosters. In an NHL video game, perhaps it's an easy deal to make.  Would they make good trade partners in real life? We'll find out on April 3rd.