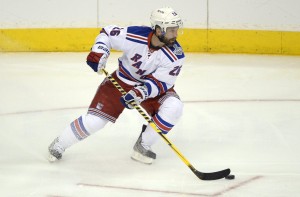 Arguably one of greatest players of this generation, Martin. St. Louis has announced his retirement from the NHL.
St. Louis retires with 1,033 career points in 1134 games played with the Calgary Flames, Tampa Bay Lightning and New York Rangers. In addition to his statistical acheivements, St. Louis retires with a Hart Memorial Trophy, two Art Ross trophies, three Lady Byng Awards, a Stanley Cup and an Olympic Gold Medal.
Pretty great for a player who was deemed "too small" to succeed at the NHL level with the Flames.
In a statement released by St. Louis and the Rangers, the 40-year old thanked his former teams and talked about his decision to leave the game he loves.
"I have been blessed to play for 16 years in the NHL; it has been an amazing ride," he said in the release. "I would like to thank the Tampa Bay Lightning and New York Rangers organizations and owners for providing me the opportunity to play the sport I love for so many years.
"I have dedicated my life to being the best player I could be and now want to turn more of my focus to my three boys. I look forward to this next chapter of my life and the time I will have with my family."
St. Louis changed the game for players under six feet. His play and success on the ice showed that even the smaller players can have successful at the NHL level. If it wasn't for players like him, others like Daniel Briere, Brendan Gallagher and Torey Krug may not have experienced the success they have so far.
Next stop for St. Louis: The Hockey Hall of Fame.
Michael is a former Managing Editor for The Hockey Writers. He's covered the Buffalo Sabres, along with the NHL in general, for various outlets since 2009. His work has been featured on outlets such as Yahoo, Sports Illustrated and Fox Sports.