The Dallas Stars are rolling at 9-3-0 to open up the season (before the Tuesday night games) for several reasons. The goaltenders, for the most part, have trimmed the atrocious goals against from last season to bring the Stars around the league average. The offense is firing on all cylinders as well, with Jamie Benn and Tyler Seguin leading the NHL in scoring. Is this season's early success sustainable? Not at this rate certainly, but the Stars are looking at a potentially great season to come. That being said, defensive holes are still there and could cause quite the slump if the offense dries up at any point this season. Let's get into it.
Prime Opportunities
The Stars give up an absurd amount of quality scoring chances. They play a high-risk, high-reward style of game that is incredibly entertaining for the viewer but has to be frustrating at times for head coach Lindy Ruff. So far this season he has preached eliminating high-risk plays but the team is still struggling in that department. The Stars stressed getting off to a fast start compared to last season and they have achieved that record-wise with 18 points in 12 games. Last season through 12 games, they had 12 points and a 4-4-4 record. Only a six point difference, but five less wins than the current season. Here are some of the big statistics through 12 games last season (all of which are at even-strength):
High-Danger Scoring Chances For – 112
High-Danger Scoring Chances Against – 114
Total Scoring Chances For – 255
Total Scoring Chances Against – 277
Now let's look at those same statistics through 12 games this year:
High-Danger Scoring Chances For – 129
High-Danger Scoring Chances Against – 128
Total Scoring Chances For – 307
Total Scoring Chances Against – 274
While the chances for the Stars have increased, the high-danger chances against are concerning especially for a team that is preaching "defense first" this season. It is also worth mentioning that the Stars have played an easier schedule through 12 games this season than they did in the previous year.
Turnovers
The Stars play a high-risk game and they aren't going to be in the top-ten in terms of the amount of scoring chances they give up. That is OK. What isn't are the high-danger opportunities that arise from blatant giveaways and not just their high-risk style of play. No team has more giveaways (139) than the Stars do this season. Now part of that is because they are one of the best possession teams in the league and when you have the puck more, you are just naturally going to turn it over more. That being said, there have been many unforced errors that have led to goals against this season.

Johnny Oduya was probably the worst player on the ice against Toronto as a separate giveaway that lead to a goal was bailed out due to a challenged offsides play. Unfortunately for Oduya, this wasn't just one bad game.

I'm picking on Oduya here but the entire group has been guilty of some pretty egregious giveaways so far this season and a lot of them have led directly to quality chances for the opponent.
Goaltending
Last season you could easily say that the team defense was average and were getting let down by poor goaltending on many evenings. You cannot say the same this season as both Antti Niemi and Kari Lehtonen have performed pretty well so far. Let's look at another statistics comparison. Here is a breakdown of the even-strength goals against through 12 games last season:
Total Even-Strength Goals Against – 25
Low-Danger Goals Against – 5
Medium-Danger Goals Against – 7
High-Danger Goals Against – 13
One-fifth of the goals scored against Stars' netminders through 12 games would be considered stoppable shots from low-risk areas of the ice. Now let's flip to this season: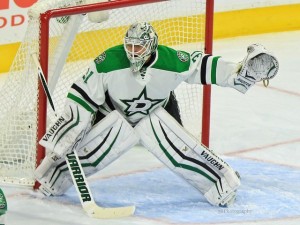 Total Even-Strength Goals Against – 24
Low-Danger Goals Against – 1
Medium-Danger Goals Against – 6
High-Danger Goals Against – 17
Just one low-danger goal against at even strength so far this season compared to 17 high-danger goals against. The defense is hurrying plays and making a lot of mistakes right now and it is leading to loads of quality scoring opportunities for the opposition.
So Why Are They Winning?
The Dallas Stars are off to a better start for a few reasons.
They are playing significantly better in third periods. Instead of blowing leads and losing in overtime like the beginning of last season, they are either holding leads or taking them away from their opponents late in the game.
Both goaltenders are coming up with key saves during big moments of a game. Saves on breakaways and quality scoring chances when the game is tied or immediately after the Stars have scored make a huge difference and it is something they were lacking last season.
Both the power play and penalty kill are performing well for them. They couldn't buy a power play goal in October/November last year but have been one of the better teams with the man-advantage this season.
Is this type of winning sustainable? Maybe. They certainly can't keep falling behind by two or three goals and expect to win every night. That being said, they seem to be getting the better chances and playing better than their opponents on most nights. If they continue to get at least average goaltending and find a way to eliminate a majority of the unforced errors, the Stars should be a playoff team. There are no guarantees, however, so Dallas has to make improvements in their defensive game if they plan on building off this strong start.
Jordan has been covering the Stars for The Hockey Writers since February 2015. He is originally from Iowa City, Iowa. You can follow Jordan on twitter @jordan_dix