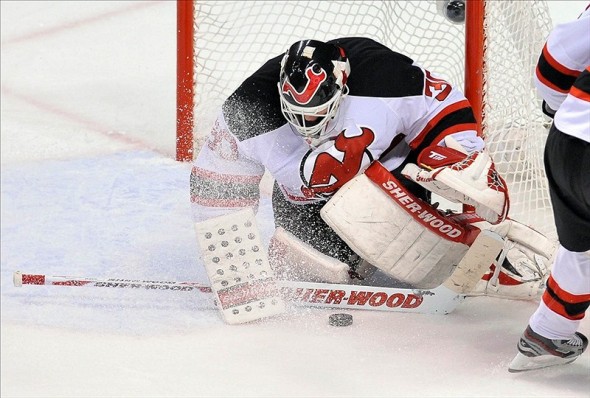 Here we go. This is a time of year where money is tossed around like it is made of paper. The amount of contracts after two days is not surprising but do note some of the extensions as well. Day one saw a total of 59 signings while day two dropped down to 11. That is never a surprise. The "2012 NHL Free Agent Frenzy" always starts out with a bang and then transitions to a bit of a whimper. What is different this year is the late first day to early second day big decisions did not happen.
Some signings will not even happen until after the Fourth Of July holiday. There will definitely be several more on the third. The problem again is the two biggest fish, Zach Parise and Ryan Suter did not sign in the first couple days. Again this is not unheard of but for a media that is genuinely ready for a vacation, this does not help apparently.
The goal in this post will be to hopefully make cents and sense as to how some of these contracts come to fruition. Please keep in mind that some of our opinions are based on total speculation but with the right mix of facts thrown in. Hopefully, we can find some answers or at least some common ground in all of this madness. It is time to look at the first case.
==================================
Martin Brodeur — New Jersey Devils — Goaltender
Contract — 2 years, $9 million
Pluses — 31 wins, Stanley Cup Final Appearance
Minuses — 40 years old, .908 save percentage
The problem was that New Jersey did not offer the second year at first. Once that was done, the deal was too. It was known that Brodeur's agent fielded potential deals that had more money involved. However, this deal makes sense from a financial standpoint for the following reasons.
While it sounds like $4.5 million dollars is a bit much to give to a 40 year old player, think of it in this sense. How many 40 year old players can guide a team to within two games of a Stanley Cup victory? There are not many. Another issue may be the save percentage but consider that Brodeur had a .919 save percentage over the second half of the season. He started to get into a rhythm and that carried into the playoffs.
Also, he is widely considered to be one of the best goaltenders all time. That has to count for something and the fact that he wanted to field offers was because the second year was put on the table by a few teams. If you figure the best goalies are making six to seven million dollars a year and multiply by a percentage, one gets pretty close to 4.5 as a centralized number.
Here is how we came up with $4.5 million per season.
Most goalies are starting around 62-66 games a season and Brodeur is likely to start around 55 or so this year. He only played in 59 games last year. That number seems to be a good jumping off point with Johan Hedberg also back in New Jersey for two years. This means Brodeur will see some extended breaks especially early in the season so he can be fresher later in the season when the Devils would need him most obviously. That is why there were some mitigating factors.
Brodeur obviously was looking for the second year and New Jersey did give in there. Consider that the team was indebted to a player who has done it the right way for so long. Add in some financial obligations that are sizable and you have the makings of a deal here that falls right in line with what guys like Jaromir Jagr and Ray Whitney made. Some will think this is an overpay but respect and past performance count for something here along with a memorable postseason run.
=================================
Dennis Wideman — Calgary Flames — Defense
Contract: 5 years, 26.25 million
Pluses: Power play QB, veteran presence
Minuses: Defensive breakdowns, playoff meltdown
Let's face it. The fact that Wideman was traded was not a surprise as much as what he ultimately was signed for. The problem is Wideman was in a market where the UFA pool was not that deep and therefore he could cash in. The funny thing is Jay Feaster did all the work for him by giving him that contract.
It was tough to find something that made this contract a valid one. His rights were acquired and granted a team has to overpay a bit but consider that Wideman made a hair less than four million dollars per season in his previous deal. The numbers overall were solid with points in the 40's as an average (50,33,40,46). However, he played one year in Boston with Chara and then the next without and the defensive numbers were night and day. His power play numbers were at 20+ points over the last two seasons.
However, the defensive breakdowns against the New York Rangers were a sign of a much bigger problem. The guy cannot cover people on the ice. There were too many cases of Wideman losing his man in Rounds 1 and 2. If Dale Hunter could not get this guy to play somewhat consistent defense, that was symptomatic of a bigger problem.
It was why when the contract came down from Calgary, the market was immediately set for defenseman no matter what. The bottom line is the offensive production merits at least a raise for Wideman on the open market. Let's be honest. However 5.25 million is a bit much. An offer for 4.5 or even 4.75 would have sufficed given the headaches of playing an individual who does not always visualize the defensive side the greatest. This we would grade as an overpay even with the lack of market.
====================================
Zach Parise — Minnesota Wild — Left Wing
Contract: 13 years, $98 million
Pluses: Playmaker, Solid Finisher
Minuses: Plays small at times, that knee.
It has to be said at some point this was going to get tough and here it is. Parise's legacy will be made or broken in Minnesota now. That is a given. There is no disputing that Parise was the top UFA on the market and as such, he was going to get paid a huge chunk of money. That is the nature of the business. However, no one expected a deal with a 13 year term. There were inklings of ten even twelve but thirteen? The cap hit overall is at 7.5 million plus a little change and you expected a bit of a hometown discount. However, a lot of dynamics and factors play in here.
Parise told fans "not to worry" after the Devils were eliminated but the signs of departure had been there for some time. What was worse is the fact that New Jersey was Parise's "Plan B". While all the other teams made their offers and drove up the price, there was always the fail safe. In the end, Parise probably took a bit less to sign in Minnesota with Ryan Suter by his side.
All of that does not matter and yet it does. It is weird to say that. Parise is above average in so many individual categories but since the knee injury, there are parts of the game that are a bit off. One of the biggest things is the acceleration or lack thereof at times. Also, parts of the game like the penalty kill broke down badly during segments of the playoffs. Add in the one point in six games against LA with the early series struggles throughout the second season, and there is a recipe for some apprehension.
Here is a video below that gives some reason for hesitation.
There are just certain ways to try and gauge this and we will do our best. He is the top player on the market so he automatically was going to at least seven million dollars or more per year. There is just something that seemed off when looking at the numbers. In his last three full years, his production went down from 95 to 82 to 69. In between, there was a significant knee injury that kept Parise out for most of the 2010-11 year. He tried to rush back and that only caused further setback.
Despite all this, Zach Parise was third on the Devils in scoring despite some challenges. However, again it just seemed too many times something was just off. The core numbers seemed to dip and whether it was because of the knee work or not, it could not be dismissed just as a normal dip. Again inconsistency was the name of the game this year for the new Minnesota forward. With new linemates next season, projections are sketchy at this early juncture.
There is no question that Parise earns his $7.5 million dollar a year cap hit and now has the security needed. Here is a point a game player based on three year average that can make a team better. The term is more the issue in when you construct the deal. The signing bonus is just given the lockout insurance. It is a reasonable cap hit given the fact that this is Parise's prime years coming up and the last couple years are more or less throwaway years. Thirteen years may be a couple too many but that salary is just fine even with a slight "going home discount". It is a tough call but Parise will be a perennial 75-80 point a year guy with some spikes in the 85-90 range.
====================================
Ryan Suter — Minnesota Wild — Defense
Contract: 13 years, $98 million
Pluses: Two way skill, Can handle high ATOI
Minuses: Can he be the top guy and term.
There is "Math Made Easy" and then there is the same contract length and dollars but not for the same player. Oh boy, this is going to be fun. Again if Parise was the top forward then Suter was the top defenseman. There is the problem. In a market where the UFA's were thin, someone was going to get paid like this and they happened to end up on the same team. Suter is a close to 200 pound defenseman who logs huge ice time while typically topping 40 points a year. While he does not have a booming shot, he does set things up pretty well on the power play. Nashville's man advantage was rather good most of the year (1st in league).
Ryan Suter is the type of player that just translates very well to any team. He is a 1A or 1B depending on your preference which is the highest praise for a defenseman. Fantasy wise he is on a slightly different scale as he has never topped eight goals in any season. Do not expect double digits anytime soon but 40 assists is not out of the question with at least 20 of those on the man advantage. Suter will have to play 28 to maybe 30 minutes a night and how he handles that over 82 games a season for the next 13 years is going to be interesting to say the least.
The construction of the Suter contract is simple. Again think he is the top defenseman on the market with the Dennis Wideman contract in mind among others. Granted the term raises questions but that is to worry about later naturally.
He is a notch below Shea Weber to be honest but too much less. It will be intriguing to see what they do apart. However, the bottom line here is you have a top three UFA along with a guy who can play huge minutes and can take the pressure off the defensive corps. Does he earn his $7.5 million? It is a close call but the term is iffy while the dollar amount is not all that far fetched given the intangibles that Suter provides (they got overlooked somewhat when he played in Nashville).
===================================
Jaromir Jagr — Dallas Stars — Right Wing

Contract: 1 year, $4.5 million
Pluses: Experience, playmaker, and PP asset.
Minuses: Age and defense
It was a bit unexpected to see Jagr sign in Dallas but hey Ray Whitney did too and no one saw that coming either. Jagr is the case we are using based on last year and some pro-rated numbers. Add in a little inflation and our job gets a little more difficult. Jagr did something last year that we kind of expected him to do and that was make Scotty Hartnell relevant while mentoring Claude Giroux into an elite player. Cue up Jamie Benn for the Dallas Stars this year. Benn has that talent to be the leader for Dallas and Jagr is the type of player that can bring the best out at this stage of the game.
The Jagr of old could play 20-25 minutes a night but this version can only play about 15 or 16 minutes before losing effectiveness. That is important to note. While his shooting percentage was still off from his career numbers, that 11.2% was an improvement over his last year with the New York Rangers. His PP wizardry with a guy like Ray Whitney plus Benn and Loui Eriksson could be stuff of legend. There is a lot of potential here needless to say.
Philadelphia was expected to offer Jagr somewhere around 3.5 million dollars but the winger had other ideas. Once he hit the free agent market, someone was going to take a one time shot at the 40 year old. Sure enough, Dallas and their half dozen "Metroplex" area casinos were enough to lure Jagr. What Jagr gives the Stars is a formidable "Top Six" that can score from anywhere. Is that upgrade worth a cool $4.5 million?
If you consider that Jagr had 54 points in 73 games then that answer is yes. He would have produced a 60 point year if Jagr had played the full slate. His stature along probably gained him an extra million dollars on the free agent market which makes a ton of sense. This was quite easy for Dallas to decide on. The 20 power play points could go up to 25+ this year which is Jagr's bread, butter, and cash cow.
=====================================
Matt Carle — Tampa Bay Lightning — Defense
Contract: 6 years, $33 million
Pluses: Great first pass, 2 way play
Minuses: Lack of consistency at times, top billing fear?
So Carle definitely did get paid! The 2012 NHL Free Agent Frenzy definitely gave everyone a chance to have a feeling of Deja Vu. While Carle is probably not worth a $5.5 million AAV, he is more worth it than a guy like Dennis Wideman. Carle is only 27 years of age and has averaged about 38 points a year for the last three seasons. His best season was a 42 point effort way back in the mid 2000's for San Jose.
Gradually the one dimensional defenseman became more of a two way player. It took awhile and some things are a good ways away but Carle has found a way to strike it rich. The key is his humility which will serve him very well. Here is a 205 pound blueliner who can hit people and block shots. Also, he chips in with occasional goals and that vision is what really sets him apart along with entering his prime as far as defensemen go.
The grounds for this contract was basically the Wideman deal in many ways and for a quarter million more per year, it was easy to see why the Carle deal is not really an overpay given the market. A 5.5 million dollar per year deal for Carle given his age and ability comes from potential value too.  Note the last year of his deal is back loaded. That is all you need to know. This one is a yes and the term is also.
====================================
Given the adjustments for UFA's, are there any other signings that stick out that we missed? Just let us know and who knows there may be a sequel. Stay tuned.
Simply a hockey writer who is a jack of all trades. No question is too big or too small and in fantasy hockey there is no such thing as a stupid question. Now a proud, accredited member of the FSWA. I am also a New Jersey Devils lead writer, prospects writer, humorist, and so much more. You can find me on Twitter at @ChrisWasselDFS