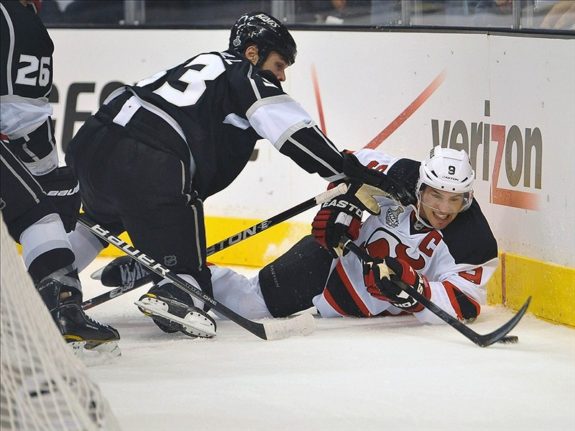 General Managers from teams that missed out on Zach Parise and Ryan Suter spoke out on Wednesday.
Nashville Predators GM David Poile seemed disappointed and dismayed after Suter shunned his former team and signed a 13-year, $98 million contract with the Minnesota Wild.
"Ryan has told me in every conversation that money was the not the most important criteria," Poile said via media conference call. "He told me that our offer was substantial. He told me it was not about the money when it came to the final decision. As I said to him — and this was all the things that we had talked about — I said I don't know why you are not signing with us and he told me it was for family reasons."
"I guess that is where the disappointment comes in. I know family is important in all this.  I can't fight that or argue with that. The disappointing part is that is not what we talked about all year long."
As Ryan Porth at Smashville 24/7 concluded, either David Poile was misled by Suter or David Poile misread a situation that was unraveling over the last nine months.  Regardless, Suter's departure leaves Poile in a tough spot as he scrambles to lock up restricted free agent Shea Weber.
From the New Jersey Devils perspective, GM Lou Lamoriello admitted he couldn't keep Parise from his desire to return home to Minnesota either.
"There are a lot of considerations," Lamoriello said on Wednesday.  "Family, future, promises, future businesses.  You don't compete with it. You just put forward the experiences they've had with you and you try to do the best job you can of being honest. You can only point out what is best in your opinion, but you never derail or talk about somebody else negatively."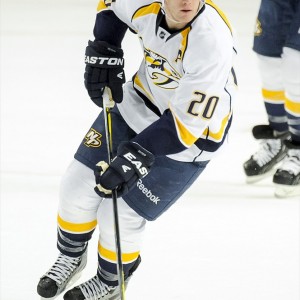 Parise admitted that his final decision came down to Minnesota and New Jersey, while Suter refused to consider Eastern Conference teams.
So where were the Pittsburgh Penguins in all of this?
Penguins GM Ray Shero said the team submitted offers to both players but in the end came up short in their pursuit of a free agent fix.
"The agents that represent [both players] have a process in place that every team has to go through," said Shero.  "We followed that and it took four days to find out [an answer], but we respect the process."
"We never got close to anything in terms of a verbal agreement or any sort of negotiation.  We made offers to both players that were very fair and strong, maybe with the possibility of trying to get both.  It became pretty apparent that Ryan was probably not coming this way.  In terms of Zach, we didn't really know what was going until later [Tuesday] night."
_____________________________________
Poile and Lamoriello lost franchise players that were developed and groomed over a number of years.  Shero said coming up empty-handed was disappointing, but it's easier to lose something you never had in the first place.
"What you needed in this situation is for one of these players to come back and say 'Pittsburgh's the place I want to play, let's try to work something out,'" Shero said.  "Then you go and work on structure, signing bonus, whatever you need to work on to make a deal happen.  Certainly we never got to that point."
The Penguins traded Jordan Staal at the draft and netted a pretty impressive return from Carolina.  In the wake of their failed pursuit of Parise and Suter, it's the salary dump of Zbynek Michalek that's a little more difficult to swallow.
Michalek was dealt to Phoenix for hard-hitting prospect defenseman Harrison Ruopp, goalie Marc Cheverie (who did not receive a qualifying offer from the Penguins and is now a UFA), and a third-round pick.  The move opened up $4 million in cap space for the Penguins and gave them the opportunity to go after both Parise and Suter, but now leaves the team without their best defensive defenseman.
Tomorrow we'll look at a few possibilities Shero could pursue to fill the hole.
_____________________________________
Shero also told reporters that his pursuit of Zach Parise didn't cause the Penguins to lose out on unrestricted free agent Steve Sullivan.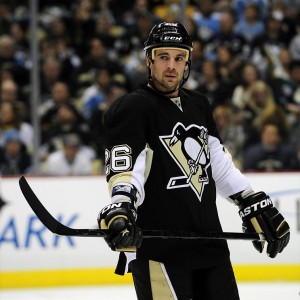 "Obviously we were waiting for Zach, but we just made an internal decision that 'Sully' should take one of his offers and encouraged the agent to do so."
Sullivan signed a one-year contract with the Phoenix Coyotes that pays him $1.85 million in base salary and up to $750,000 in performance bonuses.  He earned $1.5 million with Pittsburgh last year but it's doubtful Shero wanted go anywhere close to $2.6 million to retain him.
Sullivan's departure leaves the Penguins once again with a hole on their powerplay.  He served as a solid right-handed option on the point and most importantly made the powerplay breakout more efficient.  It's take a certain skillset to lug the puck up the ice on the breakout: speed, shiftiness, patience, vision.  Sullivan had it all.
So does Kris Letang, but it can be incredibly draining going end-to-end for two minutes.  If the Penguins want Letang to play upwards of 25 minutes a night as he did last season, they'll need to find a replacement for Sullivan.
_____________________________________
Shero: "I don't think Minnesota's worried about Year 13 right now.  They're worried about next year and that's the way sports are."
According to Michael Russo's interview with Wild owner Craig Leipold, Shero is correct:
How does this feel?

Leipold: "AHHHHHHHHH!!! I am a madman. Oy, oy, oy. It's hard to come to grips with. It was such a fun, great process.
Leipold was understandably ecstatic, even for an owner who will be paying $44 million to a pair of players in the next calendar year ($10m bonus Wednesday + $2m in salary this season + $10m bonus next July 1 for each player).  The Wild receive a shot in the arm from a marketing perspective and should be in line to host a Winter Classic two years from now.
But in another chat with Russo in April, Leipold said the Wild weren't making money and needed to control their spending:
Are you making money? "We're not making money, and that's one reason we need to fix our system. We need to fix how much we're spending right now. [The Wild's] revenues are fine. We're down a little bit in attendance, but we're up in sponsorships, we're up in TV revenue. And so the revenue that we're generating is not the issue as much as our expenses. And [the Wild's] biggest expense by far is player salaries."
We don't even blink an eye at $100 million contracts in the NHL anymore.  For teams that can afford it, the investment is understandable.  But with the pressure to win and the temptation to unload a dump truck of money for a quick fix, some owners really do need to be saved from themselves.
_____________________________________
Shero: "If we can find a long-term winger for Sidney that would be fantastic, but as you can see they're not falling off trees here.  You have to be patient."
As we mentioned last week, the biggest challenge for Shero is still finding a legitimate scorer to pair with Crosby.  The problem is teams don't have extras laying around.  If a winger is young with size, speed, and scoring ability, he's probably locked up long-term with his current club.
Dallas' ownership mess and surplus of left-handed wingers created a small window for the Penguins to acquire James Neal.  St. Louis' depth at forward might open up a similar opportunity with Chris Stewart once they re-sign David Perron and TJ Oshie.
"We're going to have to look to fill that spot," Shero said.  "Maybe try to get a little bit bigger and get a little bit younger.  I don't know who's looking to trade what at this point and what the cost is."
"We'll continue to do our homework here, see if we can upgrade our team at some point and see what the summer brings us."
Shero didn't say "see what we can find."  He said he'll "see what the summer brings us".  Don't be surprised if Shero waits weeks or months before making a substantial move.  He had a number of opportunities to move Alex Goligoski but waited patiently until a team blew him away with an offer.
The Penguins have a need.  They also have tradeable assets, cap space, and at least three months until the season begins.  It doesn't make sense to run out in a panic and sign Alex Semin to an inflated contract.
Wait for the right opportunity to add a promising, young player that actually fits.  If he comes to Pittsburgh and has success, he'll be a lot easier and cheaper to retain.
James Neal's $5 million salary for the next six years looks pretty affordable these days.
___________________________________________