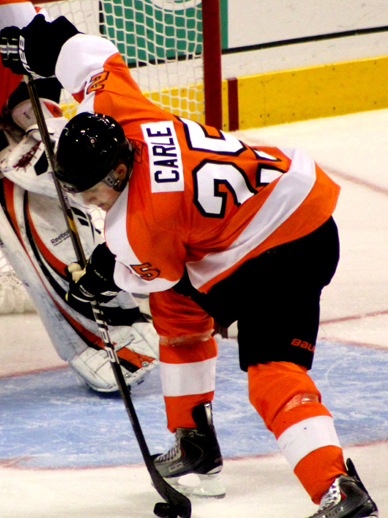 The Fourth of July is usually a very busy day for most Americans. It turned out to be quite a busy day for the NHL as well as the Tampa Bay Lightning.
Earlier in the day the news came down that the Minnesota Wild had signed the biggest fish in the free agent pond in defenseman Ryan Suter and winger Zach Parise. Many players were awaiting signatures from the duo, including a defenseman the Lightning are quite familiar with in Matt Carle. So comfortable, in fact, they decided to put a six-year offer on the table for Carle.
It turns out a six-year contract worth a reported $33.5 million was enough for Carle to return to Tampa. That, along with many changes since he was dealt to Philadelphia four years ago.
"I'm excited to be back," Carle said. "The organization is going in the right direction, and there have been a lot of changes, but they're in a different place now and it all starts at the top."
A new owner in Jeff Vinik, new general manager in Steve Yzerman and new coach in Guy Boucher have all gotten the attention of personnel league wide, and Carle was no exception. For his part, Carle impressed many with his play in Philadelphia. Steve Yzerman certainly took notice.
"We're very pleased to announce Matt's signing," Yzerman said. "His ability to play in all situations will be a great addition to our defense."
Carle has proven he can shoulder a big load in terms of situations and minutes. For a team lacking top-four defensemen, he is a perfect fit. His skating and puck moving abilities make him an ideal player for Boucher's system and his defensive zone play has improved over the years.
Last season Carle played in all 82 regular season games for Philadelphia, recording four goals and 38 points along with a plus-four rating. Carle added two goals and six points with a minus-6 rating in eleven playoff games for the Flyers.
Carle also averaged 23:01 of ice time per game, something the Lightning desperately need. He registered twelve points, including three goals, on the power play a year ago and will no doubt be counted on to produce similar numbers next season.
Carle's addition fills out the top-four on defense perfectly for Tampa Bay. Victor Hedman, Eric Brewer and newly acquired Sami Salo all play different styles than Carle, but allow Boucher to feel comfortable in all situations. All four can eat up minutes at even strength and take the pressure off the young defensemen who will fill out the roster.
Carle and Salo will also immediately improve the power play in Tampa Bay. Carle's ability to create offense from the point and mobility will be a much welcomed addition for the Lightning. His poise with the puck on his stick and decision making will cut down on turnovers that have plagued the club in recent years. His ability to play well in any situation and play big minutes make Carle a perfect fit in Tampa.