Rumors are awesome. They give people like me something to write about. In this case, I'm talking about the rumors swirling around Colorado Avalanche center Matt Duchene and the likely trade possibilities. Avalanche GM Joe Sakic is supposedly shopping Duchene, and the name Justin Faulk of the Carolina Hurricanes has come up as a potentially viable scenario. I say, it's not likely to happen.
Matt Duchene
Duchene is viable trade bait for a team looking to boost its forward lines. His current 13 goals and 11 assists would put him third on the 'Canes behind Jeff Skinner and Victor Rask. The team could benefit from another consistent scorer. I wrote recently about the Hurricanes' scoring woes, and that if they are in any way going to make the playoffs, they must score more. Duchene could provide the extra nudge the team needs to score more consistently.
"#Matt Duchene had a #pretty slick #shootout #goal yesterday too…" #hockey #sports pic.twitter.com/a0aujXn1Vv

— LilyNHL (@LilyNHL) January 5, 2017
Adding a player that can score is a plus if Carolina is going to consider bringing Duchene to Raleigh. There are other benefits to such a move. At 25-years old, he would be another relatively young presence in the locker room, albeit with veteran status. Duchene is in his eighth season with the Avalanche and the 'Canes' "young guns" could learn a lot from him. Also, it is likely that he would push players like Skinner and Rask to do more, another positive.
So Hurricanes GM Ron Francis should jump at the chance to get Duchene, right, even if it takes trading away Justin Faulk?
[irp]
Not so Fast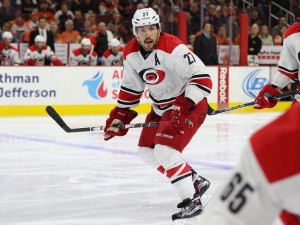 Faulk is the cornerstone of Carolina's defense. He is a two-time All-Star and deservedly so. He is a reliable power play scoring threat and in some respects the unnamed captain of the team. Trading him might get a short-term positive on one side of the ice, but should it be at the expense of the blue line?
I say no. I think it would take quite a haul in favor of the Hurricanes to justify trading away Faulk. Granted, that may not be the way other teams see it. But, I think Faulk is so valuable to the 'Canes that trading him should not be done with anything less than a clear advantage back. Of course, I'm not a general manager in the NHL, but I feel that Faulk's value to the 'Canes is immeasurable at this point.
"#Justin Faulk short handed #goal" #hockey #sports pic.twitter.com/BhcvI8mRPJ

— LilyNHL (@LilyNHL) January 8, 2017
As a reliable power play scoring threat and a top line defenseman on the Hurricanes, Faulk in many ways is a key piece upon which Francis is building. He has surrounded Faulk with young defensemen that he is grooming into legitimate NHL players. Trading him would leave a void that would be cavernous for the 'Canes. It would be a hole that I do not think Duchene could fill, and I don't see Francis viewing it that way either.
Other Scenarios
Charles Taylor at Fansided wrote three possible 'Duchene to the Hurricanes' scenarios. One was the Duchene for Faulk trade. The other two involved draft picks and players like Haydn Fleury, Jake Bean or Roland McKeown. I could see one of those types of deals wherein Francis gives up a draft pick and Fleury, but would Sakic bite for that?
Franklin Steele at Fanrag wrote about three possible landing spots for Duchene. He cites the Montreal Canadiens, the Winnipeg Jets and the Nashville Predators. He makes the point that Sakic is looking to rebuild with defensemen, but fails to list the Hurricanes, a team loaded with young d-men that could dance with Sakic. Perhaps Francis' reputation as thoughtful and not in a rush to pull the trigger on huge trades has preceded him in the Duchene conversation, although Taylor wrote that Francis has made inquiries.
The bottom line is that I can see a case being made for Duchene to the 'Canes and I would love to have him here. But, not at the expense of losing Justin Faulk. Just one writer's opinion, but I don't think it's likely Francis will see it that way, either.
[irp]