Marty Havlat is a veteran of the NHL.  This is his 13th season in the NHL and has undoubtedly seen his best days already.  In sixteen games, he has only mustered five points with only two goals.  He has spent time on the Couture/Marleau line and now sees the majority of his time on the third line with Joe Pavelski.  Recent contests have exemplified Havlat's struggles as well.  But there is a solution to all of this: replace the former All Star with rookie Matt Nieto.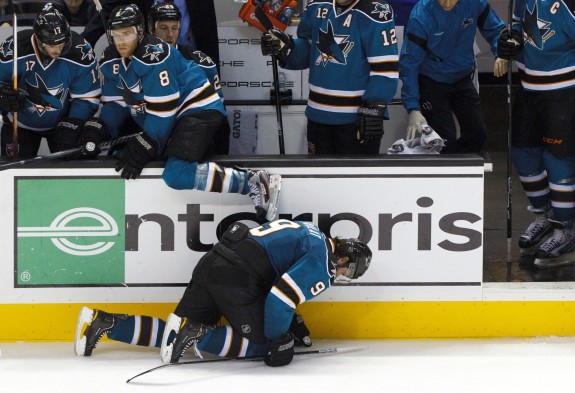 Matt Nieto Enjoys Time in NHL
In the opening few weeks to this season, Matt Nieto played well for a rookie.  He played consistently down on the third and fourth lines but was very aggressive and effective with his linemates.  He spent most of his time with Joe Pavelski and Tommy Wingels until that line was broken up in favor of Tommy's surge.  He scored six points in 19 games prior to Havlat's return.  Two of them were goals.  On Sunday, the line could have been reunited but for Todd McLellan shaking up the struggling Sharks forwards.
Check out our partners at TiqIQ for the best deals on San Jose Sharks tickets for all 2013-14 games.
Nieto's rookie campaign will only get better with experience.  His success is dependent on who he his paired with, like any rookie, really.  The entire hockey world has seen how well
Hertl's pairing with Joe Thornton and Brent Burns
has been.  The same can be said for Matt Nieto.  He would thrive on that third line.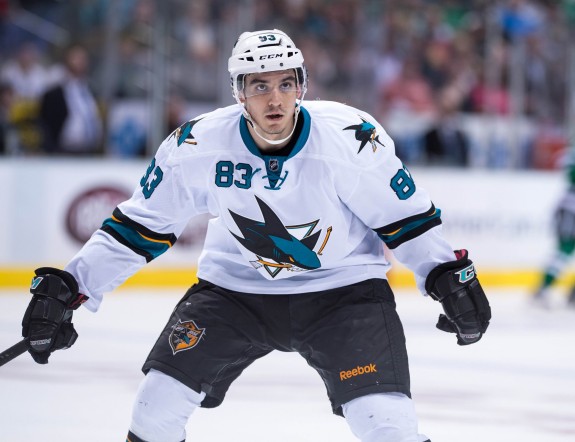 Havlat's Struggles Continue
It's always tough to talk about Marty Havlat struggling.  He is a hard-working and lovable guy in terms of his character.  But his contributions have diminished every season in San Jose.  He has been bounced from one line to another and his success has been very limited, even with his old buddies Couture and Marleau.  To say it's been a rough season, is an understatement.  Havlat has had a game where he didn't even record an offensive stat.  No shots, no blocked shots, nothing.
Marty Havlat has a big contract, but it is in its last years.  He would make great trade bait, but now, the Sharks should welcome any offer for him.  Right now, highlights like these are a distant memory for Team Teal.

The Fancy Numbers Do Not Lie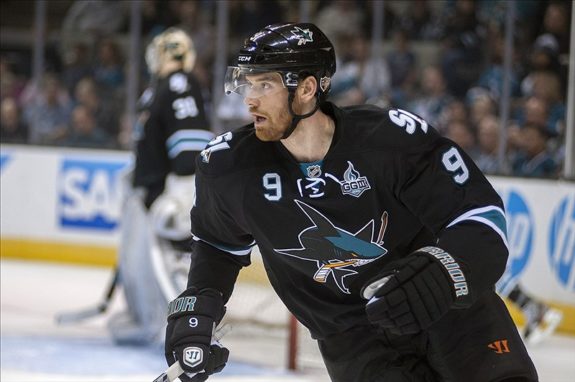 Prior to Sunday's matchup against the Wild, in which Matt Nieto reinforced his case for the starting squad, the Corsi numbers also favored the rookie.  Through 19 games, Nieto's Corsi On stood at 13.99 (sixth best on the team).  His play on the third line may have been against other third liners, but it is no less impressive.  Especially when compared with Marty Havlat.  The embattled veteran clocks in at a -3.31 Corsi On (only better than Andrew Desjardins among regular starters).
Want more proof?  Joe Pavelski is the skater on the ice the most for both Nieto and Havlat.  Their Corsi for percentages are very different.  Nieto and Pavelski have a 54.5% CF which means they are controlling the game more often than their opponents (>50%).  Havlat and Pavelski, on the other hand, are struggling down at a 46.2% CF.  Even more surprising, however, is that when Pavelski is playing apart from Nieto, his CF percentage actually drops to 49.7%.  Not only is Nieto better with Little Joe than Havlat, but Pavelski is worse off when Nieto isn't around!  The rookie makes Pavelski better!
Todd I hope you're watching Nieto. And bench Havlat until he waves his NTC. Thank you and goodnight.

— Christina Rawr (@jstlikedori) December 9, 2013
I may be turning into a broken record, but I don't care.  Havlat can bring in something moderately valuable through a trade.  Anything really will be an improvement over his abysmal performances.  And Nieto's experience will only make him better.
Kenneth is a graduate of the University of San Francisco in Politics and Chemistry. But his passion in life has always been hockey. He has played since he was four and even coached a few teams. Kenneth writes for the San Jose Sharks at thehockeywriters.com