A scary moment tonight in Edmonton as the Oilers rookie phenom Connor McDavid went sliding into the boards and left the game nursing his left shoulder. The Oilers most recent first-overall pick left the game after the second period and didn't return. The word is that McDavid left the arena in a sling and went to a hospital for observation.
McDavid was just recently named NHL Rookie Of The Month for October edging out Max Domi (Arizona Coyotes) and Jack Eichel (Buffalo Sabres). He's currently leading the rookie scoring race with 12 points in 12 games.
If it weren't for bad luck, the Oilers wouldn't have any luck. Just when you think the team is turning a corner, it's another hiccup along the way that hinders Edmonton's ability to climb up the standings.
With McDavid, the Oilers are on the outside looking in on a wildcard spot in the Western Conference. While there aren't a lot of details just yet about McDavid's injury, this could be a disaster for an Oilers team that has shown a lot of promise in the early going of 2015-16.
There hasn't been an official word from the Oilers at this point, aside from head coach Todd McLellan mentioning that McDavid will be out for an extended period of time with an update to be provided tomorrow. The speculation has been anything from a torn rotator cuff or broken collarbone to a dislocated shoulder. We'll have to wait until an official word is released on Wednesday, but what does Edmonton do to deal with the blow of potentially losing McDavid long-term?
---
Dr. Drai To Stay, Eberle Coming Back From IR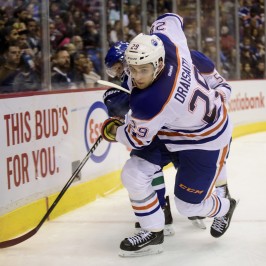 Leon Draisaitl is going to stay. The German sophomore has almost matched his 9 point 37 game performance last year with 7 points in 3 games so far. Forget about 2014-15. This is a much more confident player with a chip on his shoulder after being sent to the AHL to start the year and not the NHL where he felt he rightly deserved to be.
Draisaitl has found himself a home on a line with Taylor Hall and Ryan Nugent-Hopkins, and the three former first-round picks are displaying some early chemistry. However, what do you do with a Jordan Eberle return?
This might be a case of Draisaitl, who has been described as a natural center, to get a chance to center one of the top two lines in Edmonton along with RNH. The only problem? That's where the Oilers tried to play Draisaitl last year, and he struggled before going back to junior.
---
What Are The Oilers' Options With No. 2 C Role?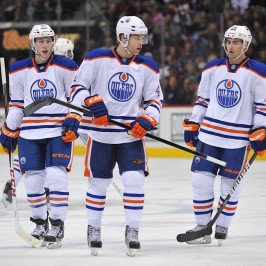 Don't automatically insert Eberle into the RNH/Hall line where he has played most of his career. This might be a case where the Oilers might have to get creative and potentially move Beniot Pouliot to center a line between Eberle and Nail Yakupov. The other option is breaking up that RNH/Hall combination and making the two of them centers.
But just like Draisaitl, Hall hasn't looked great at center either. Anton Lander hasn't played well enough and quite frankly is being outplayed by Mark Letestu, the Oilers No. 4 center. Neither are real options for a No. 2 center role in Edmonton and that could mean a trade.
There isn't a whole lot of help on the farm either. Bogdan Yakimov and Jujhar Khaira are the organization's top two center prospects on the farm but neither have impressive stat lines to start the year and clearly aren't ready for NHL duty.
Edmonton brought in Derek Roy last year to deepen the center depth, and it looks like they might have to start looking to the market once again to salvage the season while McDavid is out. Roy is ironically an unsigned UFA playing in Europe. If Edmonton is looking at the free agent market, Olli Jokinen, Mike Richards and Stephen Weiss are available. All three have their pros and plenty of cons, but the Oilers might have to reach into the bargain bin here.
---
This Is An Opportunity For Someone To Step Up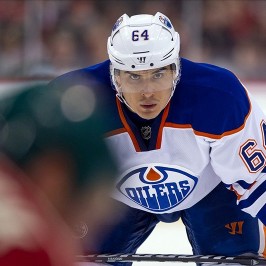 For all the love Yakupov has received this season, it's come with the asterisk that he couldn't do this without McDavid. As much as that's said, you have to give the talented Russian some credit for stealing a spot alongside McDavid from Hall and Purcell, two guys that were the rumored 'locks' on his wing.
By the way, has anyone even seen Teddy Purcell this year? He's been next to non-existent in terms of impact on the team thus far.
With McDavid out, this is an opportunity for Yakupov to rid himself of the asterisk that only adds some clout to an otherwise brilliant start to the season. Yes, McDavid is clearly the straw that stirs the drink in Edmonton this year, but there are plenty of good things going on outside of No. 97.
As it's been said, Lander has a chance to step up, and Pouliot has a chance to show his versatility in the lineup. Remember, Edmonton has three other first-overall selections in the lineup not named McDavid, and those three will be under the biggest pressure to hold the ship together.
The last thing the Oilers, their fans, and quite frankly, the NHL needs is the Edmonton Oilers being in the running for another first-overall pick at the NHL Draft.
Edmonton Oilers regular contributor providing insight on all things Oilers including club history, prospect profiles, trade breakdowns, and everything else in between. Check back regularly for new and exciting content. Follow on Twitter @SanderTHW.