Often, in the world of professional sports, loyalty and dedication seem hard to find. However, Montreal Canadiens goalie Carey Price embodies both these qualities to the fullest. In his own mind, although a native of British Columbia, he's been fortunate to have spent his entire career in the iconic Canadiens red, white, and blue jersey. 
Now, it would seem that he might not wear that jersey again in NHL game action. His knee just won't allow him to go hard enough. If this is the end of Price as an NHL goalie, future fans will miss something very special. Price was not just a great NHL goalie, he is already a hockey legend. And, on top of that, he's a symbol of what a true Canadiens' hero looks like. 
Price Seems Pretty Clear that His NHL Career Is Over
In a recent Sportsnet interview, it would seem that there's only one way to interpret Price's comments. He's come to believe that he likely won't be able to play a full NHL season again. It's the knee. 
In everyday life, fortunately, he's pretty good. In that, for now, he's been blessed. He even acknowledges that some days he feels good enough that he thinks he might even be able to take part in training camp. However, when he subjects his body to the demands of hockey action, he soon learns that it won't hold up. He can't go an entire season. 
Related: 7 Cool Things About Carey Price
After workouts, Price experiences significant swelling in his knee. And, until that subsides, if it ever does, it's a clear indication that he's not ready to handle the rigorous day-to-day workload of a regular NHL goalie. He admits it. At the moment, his knee will not allow him to perform. And, because that's true, returning to full-time NHL play will not be feasible for him. 
Now, his focus has shifted. Instead of preparing for the physical grind of another season, Price will now focus on rehabilitating his knee to the point where he can live a normal non-hockey-related life. If there ever were hope in Montreal that Price might be able to return to the NHL, recent reports suggest that won't happen this season – and probably not ever.
In this post, because I am a huge fan of Price, I want to share his history, some of his career highlights, and why he was one of the best goalies in the history of the NHL.
How Price Became a Canadiens' Goalie
Price became a Canadiens player when he was selected by the team in the first round (fifth overall) of the 2005 NHL Entry Draft. Even at that time, Price was highly regarded as a goaltending prospect and was reputed to have both exceptional skills and composure in the crease.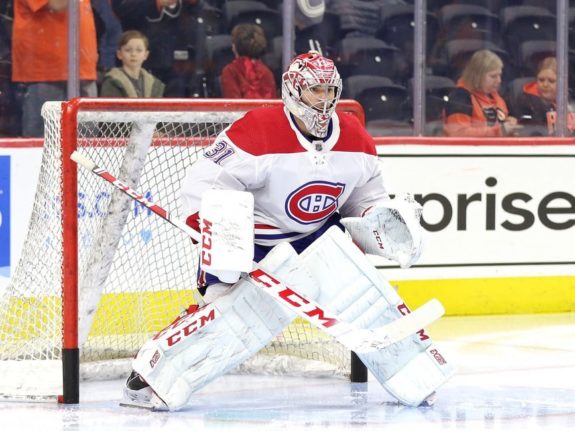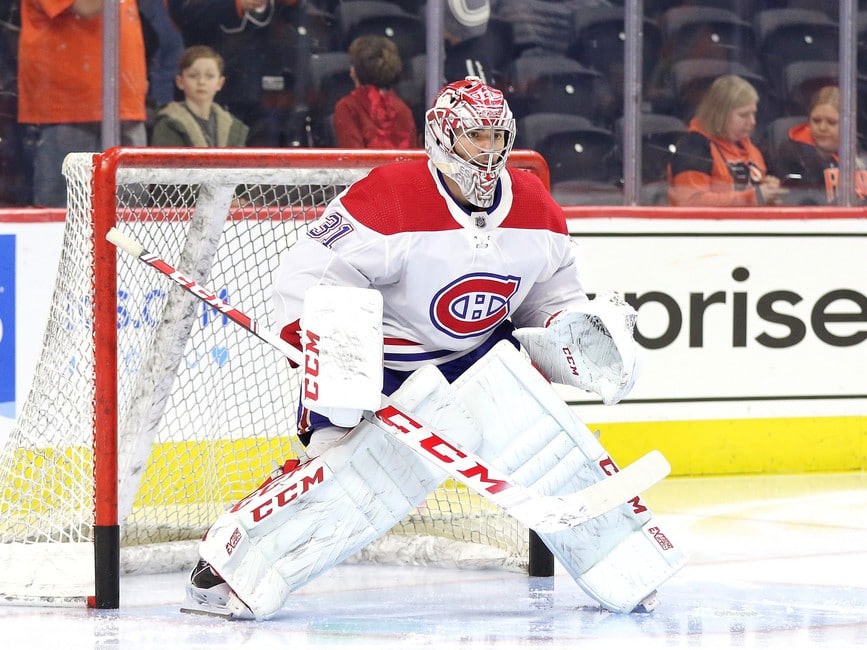 The Canadiens' decision to draft Price proved to be a key moment in the team's history. He went on to become one of the franchise's most successful players. Making his debut during the 2007-2008 NHL season, he quickly lodged himself into the team's starting goalie spot. Over the seasons, he's not only held that spot but he and the Canadiens' organization are often spoken of in the same breath.
Price has been a great Canadiens player, earning multiple honors and setting multiple records during his career.
Why Has Price Been Such a Great Goalie?
With good reason, Price is considered one of the greatest goaltenders in the history of the game. A combination of factors has contributed to his excellence in the net.
First, he has exceptional technical skills. Price has perfected the goaltending fundamentals. He has superior positioning, quick reflexes, and the ability to precisely track the puck. He squares up shooters and can maintain proper angles, which reduces scoring opposition chances.
Related: Vancouver Canucks Calling: Carey Price, Please Come Home
---
Latest News & Highlights
---
Second, Price is an outstanding athlete. He combines agility, flexibility, and athleticism. He's often able to make acrobatic saves if he needs to. He's agile enough to move laterally across the crease quickly, which helps him cover the net effectively.
Third, he's mentally tough. One of Price's defining traits has been his mental resilience. He's always calm under pressure, maintains his focus, and exhibits composure even when the stakes are the highest. His mental toughness helps him perform consistently well, even in tough playoff situations.
Fourth, Price is an excellent puck handler. His ability to handle the puck has effectively made him a third defenseman for his team. He can make precise passes and is able to consistently make smart decisions when playing the puck. These attributes contribute to the Canadiens' defensive strategy and help the team generate quick breakouts.
Fifth, he has great vision and anticipation. Price has a high hockey IQ, which allows him to read the game and anticipate plays effectively. He anticipates shots, passes, and deflections. And, time after time he puts himself in the right position to make a crucial save.
Sixth, he has a solid work ethic and prepares well for each game of the season. Price is simply dedicated to his craft. He engages, when he is able, in a rigorous training regimen and meticulously prepares before games. This dedication to preparing has contributed to his consistency and success.
Related: Canadiens Carey Price Speaks About Possible Return & Trade
Seventh, Price is a team player. Price's mentality is team-first. For him, being a good goalie is more than about stopping shots. He also believes it's crucial to support teammates. He's willing to do whatever it takes to help the team win, both on and off the ice.
Eighth, Price has grown more experienced and adaptable. Over the 15 seasons he's played, he has collected a wealth of experience in different game situations. He's been able to adapt to changes in the NHL's style of play and the tactics of opposing teams. He's also been able to remain effective as the game has evolved.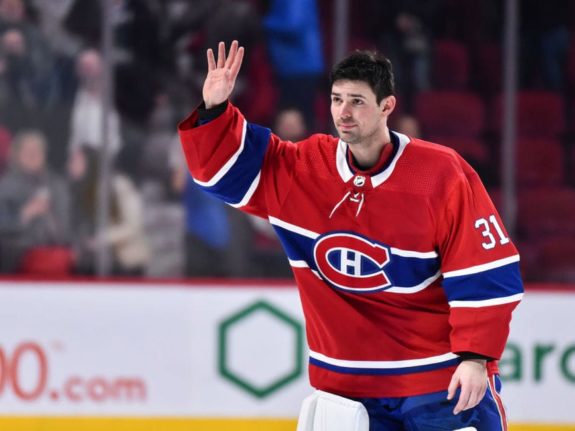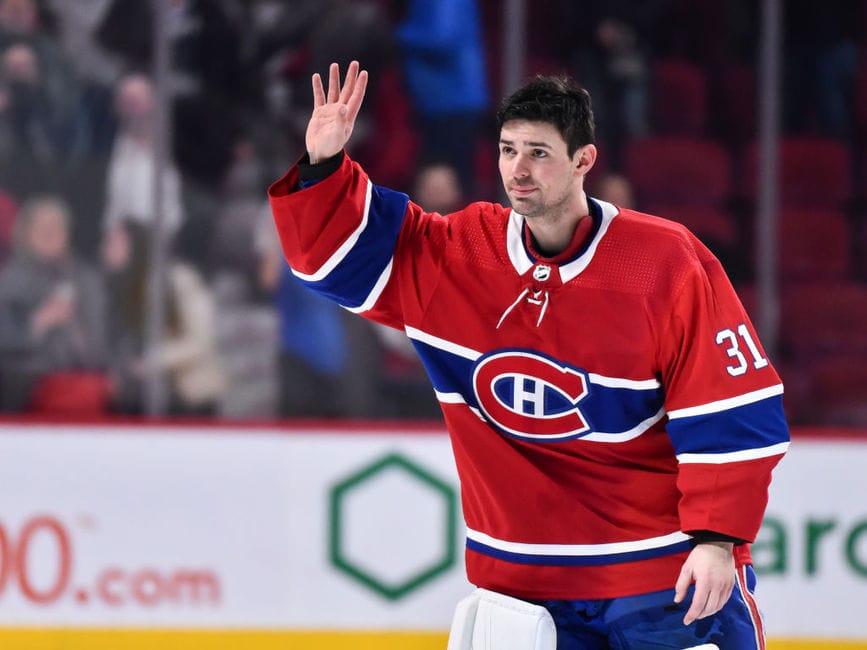 In short, Price's greatness as a goalie comes from a combination of technical excellence, mental toughness, athleticism, and hard work. These, taken together, have allowed him to consistently perform at a high level in all game situations. With his success, his legacy as one of the all-time greats in the world of hockey has grown.
Three Highlights of Price's Career
Price's career in Montreal has been filled with many highlights. However, as I've looked at them, three stand out. 
Highlight One: Price's Hart Trophy and Vezina Trophy Wins (2014-2015)
During the 2014-2015 NHL season, Price was amazing. His play earned him both the Hart Trophy as the league's Most Valuable Player and the Vezina Trophy as the league's top goaltender.
Highlight Two: Price Led Team Canada to the 2014 Olympic Gold Medal in Sochi
Price represented Team Canada at the 2014 Winter Olympics in Sochi, Russia. His stellar play was key in leading Canada to a gold-medal win. He posted two shutouts during the tournament and was named the tournament's best goaltender. 
Highlight Three: The Canadiens' Surprising 2021 Stanley Cup Final Run 
Price's incredible play in the 2021 Stanley Cup Playoffs might have been the highlight of his Canadiens career. After what was a so-so season, the Canadiens were admitted to the postseason. His great play helped his underdog team go on a surprising run to the Stanley Cup Final.
Related: Three Life Lessons Carey Price Has Taught Us
While the team ultimately fell short in the series, Price almost carried them home. His leadership and composure under pressure were key factors in the Habs' deep playoff run.
Could Price Be Traded from the Canadiens?
Although Price's impact in Montreal has reached the status of iconic, Price noted that he would be willing to end his career with another team if that would help the Canadiens succeed in the short term. He was clearly proud of being a Canadien during his career; yet, he gets it that hockey is a business. Given the team's financial considerations and salary-cap management, he realized that it might be wise for the Canadiens to "sell" his contract to another organization. Similarly, the team traded Shea Weber to the Vegas Golden Knights in June 2022.
Price's selfless attitude remained reflected in his team-first mentality. As he noted, "I'm willing to help this team in any aspect … If they have to move money to make this team better, I'm here to help in any way I can."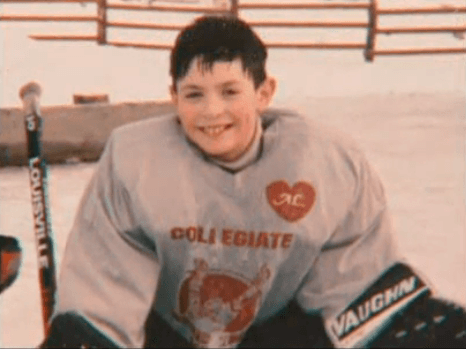 This admission also suggests that Price's willingness to help his Canadiens remains even if he never takes the ice again. Even off the ice, he not only remains a goalie legend but a team leader. 
Price will rightly be remembered as one of the best players the Canadiens have ever had. Sadly for fans, he's moving from on-ice hero to goalie legend and proud ambassador for the team.
---

---