A most unlikely achiever of the Gordie Howe hat-trick, for a guy who's off to a most unusual start with his new club, the Calgary Flames. The Flames shiny new enforcer, Brian McGrattan turned the trick in last night's 5-3 victory over archrival Vancouver Canucks. He now has 3 points through 3 games with the Flames.
For a couple of analogies from other sports, it's kind of like hitting for the cycle in baseball for a power forward in hockey. Maybe you can compare it to a triple-double in basketball. However, the hat-trick named after Mr Hockey himself is a very unique sporting achievement indeed.
McGrattan turned the trick while spending just 55 seconds longer on the ice than he did in the "sin bin" for his 5 minute first-period scrap with Canucks Darcy Hordichuk. He only had 5 minutes and 55 seconds of ice-time! McGrattan involved in donnybrooks is not exactly a surprise. He got that aspect of the Gordie Howe hat-trick over with less than three minutes into the game. He landed a beautifully brutal right to Hordichuk's chin in the tilt.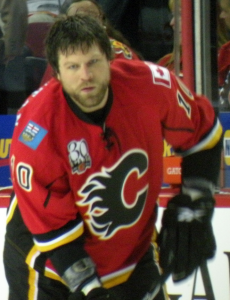 He then notched an assist on what turned out to be the game-winning goal – a nice re-direction by Dustin Boyd, who was flying all night. That got the second component out of the way.
Having not scored since 2006, a span of 91 games for the big forward, crowning off the night by lighting the lamp seemed unlikely. McGrattan had other ideas. He finished off a crafty feed from Dustin Boyd by going top shelf. A night Brian won't soon forget. The nifty goal completed the Gordie Howe hat-trick.
As Scott Fisher of the Calgary Sun reported:
McGrattan said he had difficulty deciding which feat felt the best — the knockout bomb or the top-shelf beauty on Canucks starter Roberto Luongo.

"Most nights, I'd say the fight," McGrattan said with a wide grin. "But I hadn't scored in so long …

"I'd have to say the goal."
With an injury to David Moss, the return to health of McGrattan, and some lineup shuffling by Coach Brent Sutter, the fabulous fourth line that was raved about early in the season of Nystrom, Sjostrom and Prust – was instead Prust, Boyd and McGrattan on this night. The trio did not disappoint and played a key role in defeating perhaps biggest rival.
The super tough enforcer was drafted by the Los Angeles Kings in the 4th round in 1999. In the AHL in the 2004-05 season he set the benchmark for PIMs with an incredible 551, establishing a league record.
Looks like McGrattan thinks he can challenge the Top 10 Most Effective Sin Bin Dwellers. More than likely though, he is just ecstatic to be finding his place and role with his new team and contributing when given the opportunity.