Jim Neveau, Blackhawks Correspondent
When he (hopefully) steps onto United Center ice on Monday night, Martin Havlat will likely be hailed as a returning hero, and not as a "traitor" who chased the greenbacks up to the great state of Minnesota.
Gone are the memories of him missing scores of games during his time in Chicago. These memories have been replaced by his clutch playoff performances, and also his great play last season, in which he led the team in points.
He will also be remembered for the way he left, graciously thanking the fans of Chicago repeatedly for their treatment of him, while at the same time using his Twitter account to post negative thoughts about the Hawks' regime, most notably President John McDonough.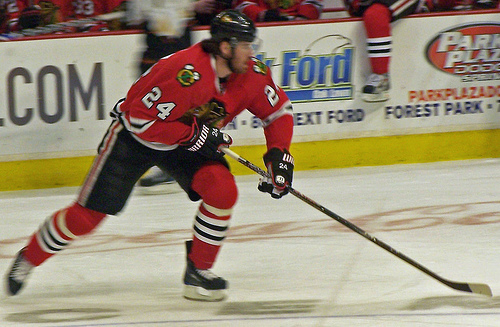 With these memories of Martin Havlat in tow, the question inevitably becomes this: were the Hawks better off letting go of their oft-injured winger with the magician's scoring touch, or did they make a mistake in taking the perennial Cinderella Marian Hossa off of Detroit's hands?
We are going to go through five different categories to judge whether it was a good decision to part ways with Havlat. The first of these categories will be their postseason performance from last season.
Marian Hossa had a decent time of it in the playoffs last year, scoring 15 points over the 23 games, but he looked completely out of gas by the time the playoffs shifted to playing the Hawks.
He also went ice cold in the Cup Finals, failing to score a goal in the entire seven game series, and while some of that surely had to do with his shoulder injury, he looked like he was skating through water instead of on ice.
Havlat, on the other hand, had an excellent postseason, scoring five goals and adding 10 assists in 14 games, before he was nailed by Nicklas Kronwall in Game 3 of the Western Conference Finals. He was a shell of himself after that, but at least he tried to play through the pain of a likely concussion.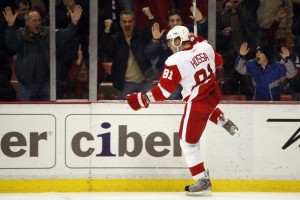 Both players had impressive regular seasons. While Havlat scored 29 goals, Hossa scored 40, but Havlat far outpaced Marian in the assist category, notching 48 to Hossa's 31.
Hossa also had more game winning goals than Havlat, winning that category eight to five. He racked up twice as many penalty minutes as Havlat (63 to 30), but he also scored double Marty's power play goals (10 to 5).
For those of you keeping track at home, the score so far is Hossa 1, Havlat 1.
The next issue tackled will be franchise loyalty. Hossa doesn't seem to have an over-abundance of this trait, having been traded by the Thrashers in 2008, then signing with the Red Wings for a one-year deal after that playoffs ended. He is rumored to have turned down a multi-year deal from the Penguins to try to win a Cup in Detroit, but seeing as though the Penguins won it without him, that decision did not seem to work out in his favor.
Havlat, on the other hand, wanted all season long to re-sign with the Blackhawks, but in the end, the team opted for the more expensive (and presumably healthier) Hossa, so you can't really fault Marty for that decision to leave the team.
Havlat takes the lead, 2 to 1, with two categories remaining.
The next category is a murky one to navigate, and that is the health factor. A player, unless his name is Chris Chelios, is only good when he is on the ice and producing for your team. You can talk all you want about what it means to have veteran leadership in the locker room, even if a player is injured, but there is a higher level of respect for the guy who is out there bleeding and skating hard with the rest of the troops.
That being said, Hossa has to win over Havlat in this category. Yes, Hossa has the injury to his shoulder that is keeping him out for a good chunk of the first half, but Havlat has needed his own M*A*S*H unit during his time in the league. He missed 73 combined games in the two seasons previous to his breakout year last year, and he has already missed time with an injury during the current campaign.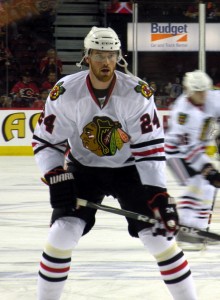 Hossa has been mostly healthy during his career, and since Havlat really hasn't, the health category goes into the Hossa column, and the score is knotted at two.
The final, and deciding category in this match, will be……money. Havlat, who is currently 28 years old, and signed a 5-year deal with Minnesota for $30 million.
Hossa, who will be turning 31 in February, inked a 12 year deal with the Blackhawks, worth about $62 million. While that adds up to a little more than $5 million a season, it is still a substantial cap number on a team looking to keep its young guns intact for the future.
The deals are remarkably similar, with Havlat making about $800,000 more on a year-to-year basis with the salary cap. The big difference is that Havlat's is half the length of Hossa's, and will have him entering free agency again when he is 33 years old, still young enough to garner another decent contract. Hossa can logically expect to be a Blackhawk for life with that kind of contract.
This category, and the match, is going to go to Havlat. Yes, his contract pays him more per year cap-wise than Hossa, but the contract that Hossa signed is worse simply because of how long the deal is. The actual salary that he will be paid over the final couple years of the deal is a mere pittance when compared to the bulk of the contract, but the cap hit will still be $5.2 million. Havlat's deal lasts half the time, and can allow the Blackhawks to make moves in the future that they will be unable to because of Hossa's albatross.
This matchup is fairly even, and only time will tell which player ends up making the bigger impact for their team, but one thing will always be certain: Cups speak louder than words, and if Hossa can't deliver Lord Stanley to the West Side, then it's going to be a long dozen years in Chicago.
James started out for The Hockey Writers covering the Atlanta Thrashers in 2009, and has also covered the Chicago Blackhawks, served as NHL Correspondent, and is now a Managing Editor and the site's NHL Central Blogger. He also writes for The Golf Writers.