The 2016 NHL Draft concluded seemingly as quickly as it arrived, with 211 players being drafted by various NHL franchises over the two-day event.
This year's Draft was an incredibly interesting, if not entertaining one, with a large number of surprises and trades involved as respective teams attempted to make substantial upgrades to their organization, both in the near and distant future.
The first major surprise of the event came just three selections deep, as the Columbus Blue Jackets, who had been feverishly attempting to move their pick without any luck, shattered what was considered to be the big-3 by drafting Pierre-Luc Dubois.
The surprising move initiated what would eventually become a highly successful Draft for the Edmonton Oilers, who had the highly touted Jesse Puljujarvi fall right into their lap.
Puljujarvi was just the beginning of a tremendous Draft for the Oilers, who managed to snag a number of highly anticipated prospects with their selections in various rounds of the event. But just who are these promising prospects, what are their skills, and do they realistically possess the potential to become NHL regulars?
Let's get to know Edmonton's most recent crop of prospects:
Round One:
Jesse Puljujarvi (4th Overall)
When the Blue Jackets surprised the hockey world by selecting Dubois, Puljujarvi fell to the Oilers in what was yet another bit of draft luck for Edmonton.
At 6'4″, 205 pounds, Puljujarvi is an explosive winger whose game is a dangerous combination of size, speed and skill. He has the ability to blow past his opponents, while his long reach and stick-handling abilities allow him to control the puck at full speed. The fantastic 'Fin also uses his size to his advantage, using it to protect the puck while also throwing the occasional hit.
Defined primarily as a playmaker, Puljujarvi also retains an impressive release, and isn't afraid to shoot the puck.
Ranked across the board as the third best prospect in the Draft, the Oilers were surely lucky to select him at fourth overall. His skill should see him play alongside Connor McDavid for the considerable future, generating what could be one of the most dangerous dynamic duos in the NHL today.
His selection may have been a blessing in disguise, considering the Oilers were in all likelihood going to select a defenseman at fourth overall.
How highly touted was @sergachev31 u ask? I was told told that if Jesse Pullijarvi wasn't available at #4, Oilers were drafting Sergachev.

— Tony Marinaro (@TonyMarinaro) June 26, 2016
Round Two:
Tyler Benson (32nd Overall)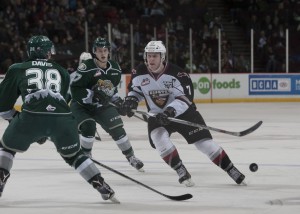 Originally ranked as the 14th best player available in Bob McKenzie's September Draft Rankings, Tyler Benson slipped down in the Draft to 32nd overall, largely due to concerns over his health. However, Benson could truly be a steal for the Oilers if he is in fact able to reach his potential.
The feisty winger played in 30 games in 2015-16 with the Vancouver Giants of the WHL, scoring nine goals and 28 points in those games. He missed the vast majority of the season due to a lingering groin injury which required surgery early in the season. After failing to fully overcome the injury, the Giants shut Benson down for the year in what was a highly promising campaign cut short.
A 6′, 200 pound left-winger, Benson projects to be a quality top-9 player in the NHL. He plays a well-rounded style of hockey and as a result can be used in all situations, whether it be the power-play or penalty-kill. Further, Benson uses his size to protect the puck as well as play a physical game when necessary. His excellent on-ice vision and hockey sense in combination with his competitiveness could make him a key piece in the Oilers' future.
Round Three:
Markus Niemelainen (63rd Overall)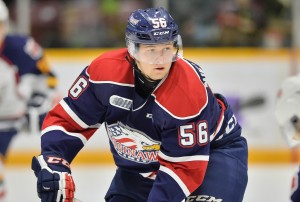 In looking to address their perpetually poor blue-line, the Oilers made a point of drafting a number of large, promising defenders during the 2016 Draft, and Markus Niemelainen is the most valuable of which.
A 6'6″, 205 pound tower, Niemelainen hails from Finland and spent the 2015-16 season with the OHL's Saginaw Spirit, where he scored one goal and added 26 assists. He also represented his Country at the U-18 World Championship, where Finland captured the Gold Medal. Add in a showing at the CHL Top Prospects Game at it was a whirlwind season for the massive blue-liner.
Niemelainen's draft ranking hovered in the second round range all season, so the Oilers truly where fortunate to select him early in the third round.
One of the most appealing facets of Niemelainen's game is his smooth skating ability despite his massive size. Scouts have raved about not only his mobility, but also his clever positioning as well as ability to quickly adapt as the play develops. Although he isn't known for throwing his weight around, Niemalainen's strong two-way game characterized by strong defensive ability make him a quality defensive prospect for the Oilers moving forward.
Matthew Cairns (84th Overall)
Like Niemalainen, Matthew Cairns is a big-bodied blue-liner who will hope to crack the Oilers' roster in the near future.
At 6'2″, 205 pounds, Cairns spent the 2015-16 season playing in the OJHL with the Georgetown Raiders, where he scored nine goals and 33 points over 46 games played. He also added an additional 19 points over 22 playoff games and is committed to Cornell University for the 2017-18 season.
Cairns is known for his quiet yet effective defensive game. He uses his size to push opposing forwards to the outside and plays an effective one on one game. Further, Cairns reads developing plays well and as a result knows the perfect opportunities for attack, as witnessed by his great offensive totals.
While there are certainly improvements to make in his game, like any prospect, Cairns is a solid prospect regardless and will certainly benefit from his time at Cornell.
Filip Berglund (91st Overall)
The Oilers picked up their third consecutive defenseman of the Draft when they selected Filip Berglund with their final third round pick.
Berglund spent the 2015-16 season playing for Skelleftea AIK J20 of the Swedish SuperElit League. In his 43 games played with the team, Berglund recorded a highly impressive 19 goals and 41 points from the blue-line. His torrent play eventually afforded Berglund his first taste of SHL action, where he played five games but failed to record a point.
Another big blue-liner at 6'3″, 210 pounds, Berglund is a strong, two-way defender whose game revolves around his tremendous first pass. His ability to move the puck produces offence for his teammates, while he himself is not afraid to use his strong shot and quick release to beat goaltenders. One knock on Berglund however is his skating, as he lacks an elite level of speed and mobility on the ice, meaning he must be precise in his positioning.
Round Five:
Dylan Wells  (123rd Overall)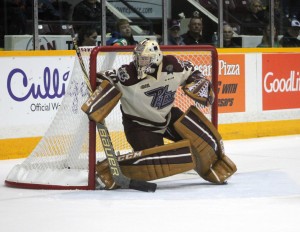 In his first OHL season in 2014-15, Dylan Wells had a fairly average rookie campaign, but given his size and strength scouts were anticipating big things in 2015-16 from the St. Catherines, Ontario native.
However, when the 2015-16 OHL season rolled around, instead of continuing to impress in his development, Wells took a massive step in the wrong direction. His GAA rose from 3.96 in 2014-15 to a disastrous 4.59, while his Save Percentage, which came in at just .893% as a rookie, plummeted to .871%.
Originally anticipated to be an early round selection in 2016, Wells played himself out of the conversation as one of the top goaltenders available in the Draft, alongside losing out on the Peterborough Petes starting job which was his for the taking.
While Wells certainly has a ton of talent, he has yet to unlock it on a consistent basis. Selecting Wells in the fifth round was a good move for the Oilers, but the net-minder appears to be a long-term project.
Graham McPhee (149th Overall)
Ranked as high as the 100th best prospect by ISS Hockey, Graham McPhee fell to the Oilers at 149th in what was an interesting pick to say the least.
A 5'11", 175 pound left-winger who has spent the past two seasons playing for the United States National Development Team within the USDP, McPhee's game somewhat stagnated in 2015-16, as he only scored ten goals and 18 points over his 58 games played.
The son of long-time Washington Capitals General Manager George McPhee, McPhee is committed to Boston College for the 2016-17 season, where we will get a much clearer indication of his true NHL potential.
Round Six:
Aapeli Rasanen (153rd Overall)
Aapeli Rasanen is an interesting selection, especially so when considering how early some scouting services anticipated he would be selected. McKeen's hockey anticipated Rasanen would fall at 93rd overall, while Future Considerations had the young 'Fin ranked 59th.
Given these rankings, it would appear as though the Oilers may have stolen Rasanen in the sixth round of the Draft. Most recently, the 6', 200 pound centre skated for Tappara U20 of the Jr. A SM-liga, where he netted a solid 19 goals and 38 points over 50 games played.
Rasanen also skated for his country at the U-18 WJC, where he picked up nine points over seven games and was a major factor in leading Finland to a Gold Medal.
#Oilers 153rd pick Aapeli Rasanen captured gold with Jesse Puljujärvi at the 2016 World U-18 Championship. #NHLDraft pic.twitter.com/7dP4aZmueF

— Edmonton Oilers (@EdmontonOilers) June 25, 2016
Slated to play in the USHL for the Sioux City Musketeers in 2016-17, Rasanen will get his first taste of North American hockey in what will be a telling season.
Round Seven:
Vincent Desharnais (183rd Overall)
The Oilers selected the last of their massive defensive prospects in the seventh round, where they selected Vincent Desharnais 183rd overall.
At 6'6, 210 pounds, Desharnais is a shutdown, defensive defenseman who plays a very steady and simple game. In his first season with Providence College in 2015-16, Desharnais scored one goal and one assist, while also recording eight penalty minutes.
In 2016-17, Desharnais will return to Providence for his sophomore season, where he will look to continue to build his game. He certainly has the size of an NHL defender, but Desharnais like all big men will need to work on his foot speed amongst other facets if he hopes to one day make a successful transition to the professional game.
---
What are your thoughts on the Oilers 2016 Draft class? Who stood out? Who appears most promising? Comment your thoughts below!