Three years ago today, while Peter Chiarelli was the GM of the Boston Bruins, he traded young stud Tyler Seguin for what essentially turned out to be a bag of pucks. The former 2nd overall pick had his growing pains while in Boston, and some dust-ups that miffed management enough to facilitate a trade. And a very uneven one at that. It's safe to say that Seguin has matured in the time since then, considering his success with the Dallas Stars. He scored 37, 37, 33 goals respectively while in Texas, helping lead the Stars to the best record in the Western Conference this past season.
Regrets Over Seguin?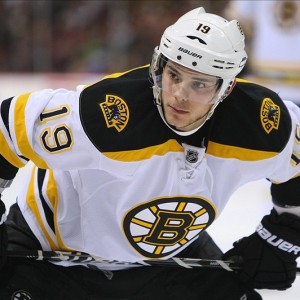 The return for Seguin? It included Loui Eriksson, Reilly Smith, Matt Fraser and Joe Morrow. Eriksson just left via free agency, Smith just signed a long-term deal with the Florida Panthers, and Fraser is with the Blackhawks organization. Morrow is the only player left with Boston, and has some upside, but certainly wasn't worth Seguin. When the trade was consummated, Chiarelli believed he was doing the best thing for the organization. As good as he was, Seguin didn't seem to be a fit in the team's eyes. In retrospect, he was worth a lot more, but that was the value at the time.
The Bruins have missed the playoffs for two years in row, and seem to be unclear about their direction. Did Chiarelli's decisions leave them in shambles? I wouldn't say that, but perhaps even he could admit he should have gotten more for Seguin. But he would still trade the player again, that much I'm certain of. When Chiarelli came to the Oilers, they weren't exactly in a good place. Small tweaks likely weren't going to work for this roster. There needed to some changes, and Chiarelli isn't afraid to make them. We don't know if a full season of Conner McDavid would have made a big difference, but Peter saw enough in one year to know the mix wasn't right.
The Trade was Imminent
When the claim was made that any player not named McDavid could be available, the writing was essentially on the wall. Fans knew a trade was coming, though they weren't sure who, and they didn't know who would be coming in return. Taylor Hall's name had been bandied about for a while in trade rumors. And surely the young winger would be worth a lot on the trade market. Right?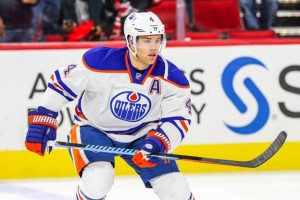 Hall is one of the best left wingers in the league, but he may not have been worth an established number one defenceman. Chiarelli identified the player he wanted, and as it turns out, it cost Hall to get him. The New Jersey Devils weren't going to take anything less, and Peter clearly felt it was worth the price. If he didn't, he wouldn't have pulled the trigger. Adam Larsson is a right-handed shot who will be able to play a lot solid minutes in the Oilers top-four, and that's something they needed. Teams aren't usually giving away their top defenceman, even for a talent like Taylor Hall.
Chiarelli felt a potential number one or two blueliner is worth more than a first-line winger. Will Larsson end up being that guy? That's what the Oilers are banking on. But if you think Chiarelli is going to worry about how the trade is perceived in the media and with the fans, then you'd be wrong. In an interview with a Toronto radio station, Peter had this to say about the deal.
"I don't really channel it. I just know that it's going to come, and you just get thick skin and you trust your judgment, and make the decisions, and you stick by them. A lot of flack goes into these decisions. I knew I was going to get hammered – because the Edmonton fans, they don't know this player. They don't know Adam Larsson as a player. They don't know what he projects to be. And then they know Taylor. So you kind of knew there was going to be some backlash. And to a certain degree, it's justifiable because of the stature Taylor had in Edmonton and basically the time in the league and what he's done." [Today's Slap Shot]
Chiarelli Fears No Big Move
This is a guy who has managed to trade both the first and second overall picks from the 2010 draft. He doesn't care about the outside noise. He is going to make the decisions that he feels will be better off for the team. And he understands it may take a while to determine if this was the right move, but the reality is, what the Oilers had wasn't working. Perhaps giving the team a shake-up is more than just the on-ice product. Maybe he's hoping for a culture improvement. (The signing of Milan Lucic is certainly going to help in terms of leadership).
I'm not going to address the continual rumors about Hall's character (which I believe are overblown). I know how important that is to Chiarelli, because it was one of the driving forces behind the Seguin deal. McDavid was pretty upset at the move, so unless he was lying, he clearly didn't have a problem with Hall. I'm won't even attempt to gauge what's going on in a dressing room that I've never been in, and will never be in. At the end of the day, sports is a business and trades are going to happen, and we'll never be privy to everything that goes on behind the scenes.
"So generally speaking guys, you know what – it's a tough business. You make these decisions. Whatever you do, social media is going to criticize you. Whatever you do. It's like talk radio. It's a really public forum and you just (laughs) you don't look at it, basically."
Peter Chiarelli will not be influenced by any kind of pressure from the outside, that you can sure of. He understands the Oilers need to get better. Having the approval of everyone on trades isn't on his priority list. He'll always be known as the guy who traded Taylor and Tyler, and at the moment, neither of those trades have been looked at favorably. He knows it. But he doesn't care.
Marcy, a former hockey player, is a hockey correspondent on CTV News and TSN radio. She began her career as a Sports Journalist in 2009 and has been part of The Hockey Writers since 2010, where she is currently a senior writer and editor.