The Anaheim Ducks signed 30-year old left winger Mason Raymond to a one-year, $675,000 contract Monday evening, marking their first notable signing of free agency.
General manager Bob Murray effectively sat out the free-for-all that took place on July 1st, making Anaheim the only team not to spend a dime on a single player that day.
Murray's inactivity was a head scratcher, at least on the surface. A fourth of Anaheim's forward group was erased, as he let three serviceable veteran forwards in David Perron, Chris Stewart, and Jamie McGinn walk. All three signed extremely reasonable deals. Even with the Ducks' heavily scrutinized  cap constraints, keeping at least one of the three seemed like a rational course of action. "Bargain Bob" has struck again though, and the Ducks are an improved club as a result.
Let's get one thing clear here: Raymond is no world-beater. His offensive production peaked in 2009-10, where he potted 25 goals and added 28 assists in a full 82 games. He's remained a highly serviceable, and often under-valued player since. His trademark speed lends itself well to an attacking depth role, and his production is still very respectable given his minutes.
(Not) Everybody Loves Raymond
The dollars and cents are what really make the Raymond signing an excellent one. Thanks to Domenic Galamini's excellent HERO charts on his "Own The Puck" blog, we can neatly compare and project skaters' performances. Let's take a look at Raymond as opposed to Mikkel Boedker, another left winger who was claimed in free agency: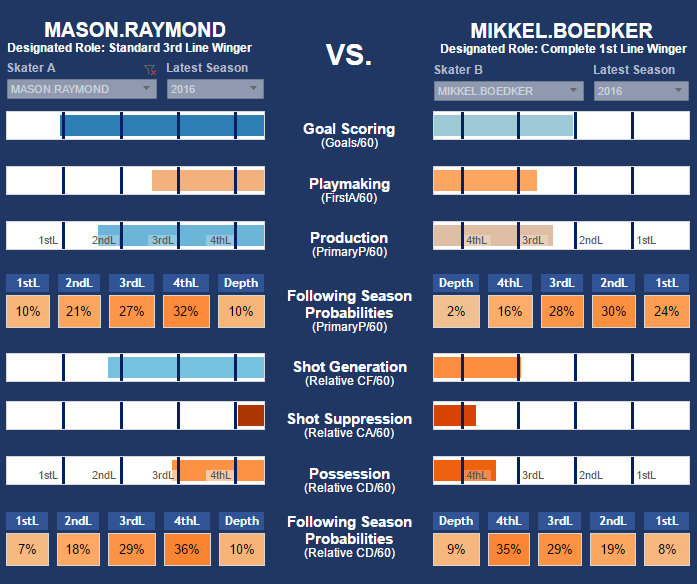 Clearly, Raymond can still help an NHL team. The numbers paint a picture of a useful third line winger who can produce like a top-six forward. Given those elements, his miniscule cap hit spikes in value, and perhaps even tenfold when considering that the San Jose Sharks will pay Boedker an average of $4 million a season.
Incredibly, the Calgary Flames will be paying the newly-minted Duck to not play for them this coming season. Former Flames coach Bob Hartley never seemed fond of Raymond's play, even though the numbers would suggest that he was a bright spot on an otherwise hapless even strength team. The little cap space Calgary saved by shedding a reasonable $3.15 million cap hit was quickly filled when they signed 30-year old Troy Brouwer to a four-year, $18 million deal.
Calgary's loss is Anaheim's gain. The Ducks, short on forwards, get a useful player at an almost unfairly reasonable rate. Raymond is no savior, but he'll add speed to an offense that appeared toothless at times in the playoffs. Murray's been criticized left and right this off-season, and rightfully so. When in "Bargain Bob" mode though, it seems that he can do no wrong.
Felix Sicard is the Anaheim Ducks' Lead Writer for The Hockey Writers. Now in his third season of covering the team, he writes previews and recaps for all Ducks' home games, as well as weekly analysis pieces.
In addition to covering the Ducks at THW, Felix co-hosts SB Nation's Anaheim Calling: The Podcast, as well as hosting The Garage Hockey Podcast.
For consistent Ducks' content, be sure to check out his Twitter @Felix_Sicard.