Four days into free agency and the shelves are starting to look like your local grocery store three months into the apocalypse. There's nothing but wilted flowers and a rancid smell coming from the deli that makes you put a handkerchief over your nose.
Nonetheless, there are plenty of teams still looking to round out their rosters and players looking for the right deal. Here are the 10 best free agents remaining in the class of 2016
Shane Doan
Doan will be 40 when the season starts, but Jaromir Jagr showed last season that even AARP members can improve a team. Doan has the most power play goals and the fourth most goals and points at even strength over the last two seasons of any forward remaining in the free agent class. He also had the most even strength goals of any free agent last season.
He doesn't push play like he once did, but he has one of the biggest offensive impacts of the remaining forwards. Unfortunately for 29 teams, he's unlikely to be playing for anyone but the Coyotes next season, taking one of the top forwards left out of the mix.
Jiri Hudler
Now 32, Hudler remains an impactful forward with a truly under-valued shot, consistently shooting at a higher percentage than league average. He can be a great addition to any team's forward depth and is one of the few remaining centers to boot.
Over the last two seasons, he has more even-strength goals, points and primary assists than any other UFA. He's useful for a second unit power play and posts some decent shot suppression numbers. If he doesn't look good, you may not have an appetite to partake in what's left of the 2016 free agent class.
Radim Vrbata
The 35-year-old winger took a massive step backward last season. He scored just 13 goals and 27 points after posting 31 goals and 63 points the prior year. It's not a promising look for a guy hitting free agency, but he's also one of the most prolific scorers on the market. At the right price and with the right expectations, he could be worth exploring, in hopes that last season's 6.5% shooting percentage, nearly three points lower than his career average, is a sign that he could bounce back and be a 20-goal guy once more.
Alex Tanguay
Colorado ditched him in a package for Mikkel Boedker, but Tanguay still has utility in a depth role. Among all free agent forwards, he ranks second in even-strength goals, primary assists and points over the last two seasons. He's a solid shot attempt generator and could be a nice compliment for a team in transition.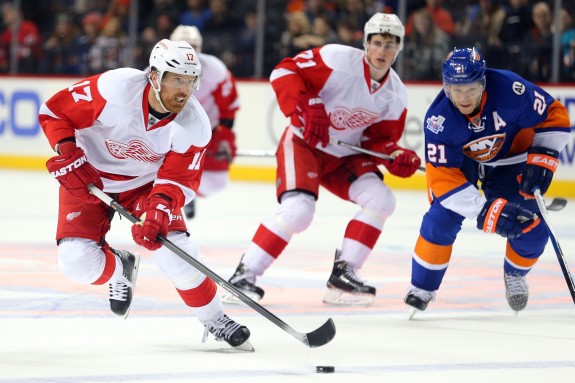 Brad Richards
The steep decline in Richards's production is not likely to abate, but there's still some utility left in the 36-year-old, two-time Stanley Cup champion. The trick with Richards, like others left on the market, is getting him at a fair price and short term. That's difficult, but if Richards is a cheap acquisition prepped to play a third-line role, he become a useful third-line contributor on a team that views their depth chart as having a top-nine.
James Wisniewski
He's a wild card after playing only about 45 seconds last season and then getting bought out this summer. But, buying him out may be as much about Carolina's stacked defense as it is about the player. He generates even-strength shot attempts better than any other defenseman on the market and has historically been an asset on the power play. There are a good number of teams that could use a player like that, assuming he's healthy.
Kris Russell
The market is thin and Russell has some assets, but let's not pretend like his enormous shot blocking totals are anything other than an indication that his team doesn't have the puck often enough when Russell is on the ice. His possession numbers aren't good, but he does have the ability to generate some offense and can contribute on a second-unit power play. The problem here is that he's probably going to draw far more money and term than a sensible team should be giving up.
Justin Schultz
Yeah, Schultz is probably not more than a third-pairing defenseman. However, despite playing on a team that had less life in it than the titular star of Weekend at Bernie's, he has more primary assists and points on the power play than any other defenseman left on the market. He also pushes play in the right direction with positive relative possession with a 0.86% adjusted CF%rel. It's nothing to write home about, but it's not without value in this marketplace.
Jhonas Enroth
What's left among free agent skaters looks like the treasures of Erebor compared to the cobwebs on the goaltender side of things. Among those cobwebs, Enroth is the lone gleaming gem. His .922 save percentage over the last three seasons is the best among remaining goaltenders. He's talented and driven, particularly since he has found himself in this kind of situation where he is on the outside looking in far more often than a goaltender of his caliber should.
Karri Ramo
Easily the next best body of work belongs to Ramo, who posted a not-so-great .909 all-situation save percentage through 37 games last season. He's twice posted a sub-.900 save percentage in a season where he played in excess of 20 games. It's not a buyers market, but if you're buying, he's one of the best options available.
If history is any indication, a couple more signings will come through in the next few days and then it may become difficult for any but the top free agents to find a deal until training camp starts and teams begin handing out PTOs to cusp players. By the end of the week, the market could be very ugly for any team looking to make dramatic improvements through free agency.