You could argue that the Edmonton Oilers were involved in two of the bigger transactions over the past week, the Tyalor Hall trade, and the free agent signing of Milan Lucic. The moves showed the aggressiveness of General Manager Peter Chiarelli, while still not completely addressing the teams needs. The acquisition of defenceman Adam Larsson provided the Oilers with a right-handed shooting defenceman who can log a ton of minutes and bring a physical presence on the back-end. He can move the puck, but you wouldn't necessarily define him as a puck-moving guy, and he wasn't brought in to help on the powerplay.
Larsson Won't Fix Everything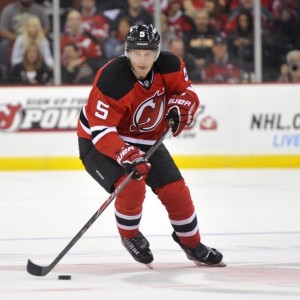 Larsson's potential ceiling and growth over the past couple of seasons made him a wanted commodity for the Oilers. In theory he's going to make their defence corp better. Milan Lucic wasn't brought in for his offensive prowess, but rather his grit and leadership. The hope is that he could pitch in with about 20 goals, and the odds of that are likely higher if he plays along side Connor McDavid. The presence of Lucic goes on a long way in making the Oilers tougher to play against. The opposition will have their head up when he's on the ice, and it somewhat eliminates the perceived "softness" of the team.
Both players will address certain needs, and could go a long way in improving the overall team. But neither address the issue that plagued the Oilers last year, and that was the inability for the defencemen to effectively move the puck up to the forwards. Getting a guy (or guys) like that is easier said than done. Of course you would have liked Taylor Hall to net such a d-man in a trade, but that ship has long sailed. So what will the Oilers do now about their still incomplete blueline? Here's what Peter had to say:
"So all things being equal, if we were to start today with our 'D' I'd be quite happy. I'd be very happy. Yes, I'd like to try to get someone that can compliment a power play and push the puck up to the forwards. That's no secret. We will continue to look at. There's still a couple that are out there. They are hard to find." [Edmonton Journal]
Chiarelli did well not to paint himself into a corner by declaring they will have another defenceman by training camp. Of course he would love to bring someone else in, but that's easier said than done. The Hall trade proved, once again, that Chiarelli will do whatever it takes if he feels he's making the team better in the long run. But he knew better than to open the door to expectation that another move is in the works. Could there be? Sure, but I also wouldn't be surprised if nothing else significant is done before the season starts.
Is Klefbom the Answer?
"Notwithstanding the cries of protest for a power play specialist, I'd be very satisfied with where we sit today. We're getting Oscar Klefbom back. He's a helluva defenceman. It's going to take him some time to get him up and running. He missed a lot of games last year."
Having Klefbom back is going to help. He should make a difference in terms of the teams transition game, but again, the sly Chiarelli made sure to remind everyone that Klef is coming back from a tough injury, and it will take some time for him to regain his form. Last year, the Oilers made a risky move in acquiring defenceman Griffin Reinhart. Considering the state of the defence last season, it was concerning how much trouble Reinhart had sticking around in the NHL. (Injury didn't help his cause, though). The ability is there, but his progression has been slowed. Ideally, he's a guy that will be a mainstay on the blueline for the Oilers, but he hasn't proved he could handle it.
"We've brought in Adam Larsson, a high pedigree player, although not as well known to this community as in other hockey circles. He's a right shot, that's important in the righty/lefty scheme of things. He can play an offensive role. No, he's not an offensive specialist. He can play on a power play. No, he's not a power play specialist."
There really won't be any confusion as to what Larsson's role will be with the team. Any unrealistic expectations will not be perpetuated by management, that's for sure. They wanted a right-handed shot who could play a lot of tough minutes, and that's what they got. There have been plenty of rumors circulating around Tyson Barrie of the Colorado Avalanche, and if he could be brought to the Oilers in a trade. But there's been little traction on that talk. He would be a great fit in Edmonton, but he would cost the team another key player.
How About a Trade?
The Ducks were rumored to be shopping Cam Fowler, but nothing has come of that yet. Fowler has slipped down the depth chart a little in Anaheim with the emergence of guys like Sami Vatenen and Hampus Lindholm. Fowler is a great skater, with good puck-moving ability to go along with his offensive mindset. It really looked like the Ducks were going to trade him around the draft, but as of now he's staying put. I would imagine the asking price for a Fowler would be similar or more than what the Avs would take for Barrie.
I believe Tyson Barrie remains priority 1 for Oilers to fill this need, but no guarantee he gets moved. Avs need D to replace him if so.

— Ryan Rishaug (@TSNRyanRishaug) July 1, 2016
Cam Fowler trade talks cooled after draft, but told they've picked up again. Ducks on losing end of top UFA wingers so far, Fowler in play

— David Pagnotta (@TheFourthPeriod) July 1, 2016
One thing to remember is the play of Brandon Davidson, who kind of came out of nowhere and was probably the Oilers best defenceman last season. He's going to see second-pairing minutes, likely with Andrej Sekera, and would be a prime candidate to be on the powerplay. A healthy Klefbom and the addition of Larsson does make the blueline better, though maybe not as much as fans would have liked to see. Chiarelli won't make another move just for the sake of making a move, but you can be sure that if there's an opportunity he likes, he's going to take it.