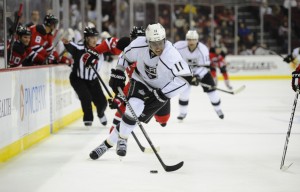 It's not necessarily a popular opinion amongst many Kings fans over at LetsGoKings.com, but after tonight's 5-1 shellacking at the hands of the Tampa Bay Lighting, I just don't care. It's time to quit tinkering with weird top-six combinations and go back to the basics.
Coach Sutter, after seeing Dwight King skate on the top line, I've become just desperate enough to resort to a nursery rhyme to make my point: take all the Kings' horses and the Kings' men, and put Brown and Kopitar back together again. 'Bropitar' must live.
Bropitar won't remind anyone of the Sedin twins
Admittedly, I didn't coin the Frankenstein-esque name — it came from the aforementioned message board. Speaking of bony monsters, let's be honest: the two can be kind of bone-headed at times, each in their own inimitable way. Brown is at his best when he's pretending he's tethered by a six-foot rope to the opponent's net. When he strays and starts thinking he's Sidney Crosby, he neutralizes much of Kopitar's effectiveness. Too many times, Kopitar is merely standing there while Brown toe-drags his way into a low-percentage scoring chance, if not an outright turnover.
For his part, Kopitar is suffering from Joe Thornton-itis. Despite terrific hands and a wicked wrister, he seems to have developed a chronic aversion to shooting the puck in recent seasons. He's put just 14 shots on net so far this year, after just 98 in 47 games in 2012-13. When he was consistently getting three shots on net per game, he was scoring 25+ goals. Over the last 54, while deferring the shot more than any other time in his career? Try 10.
Anything except Bropitar just isn't working
Granted, the Kings offense is weakest at the left wing. Brown is a converted right winger, Dwight King's ceiling is the third line, Kyle Clifford makes King look like a top-sixer (and amazingly, he was one tonight, and Gorilla Salad just can't stay healthy enough historically to count on for more than spot duty.
Having said that, Dwight King on the top line is wrong, just plain wrong. I get that during a game, lines will change depending on matchups and other factors, but the question shouldn't be whether or not to try him on the top line, but whether or not to dress him at all. This isn't to say I don't like King, because I do. He's just nowhere near skilled enough to even think about putting up there with Kopitar and Carter. The best choice by far is the one that's generated tons of offense over the years: Bropitar.
Incidentally and as an aside, you're playing with fire by moving Jeff Carter to the top line. Carter and Mike Richards are like Raj and Rerun on the terrible 70's sitcom What's Happening!! They're pals, chums, compatriots even. Putting them on differing lines is kind of like splitting up the Sedins. It just shouldn't be.
The two have chemistry together
Don't listen to the alleged intelligentsia who say Bropitar don't play well together. When Brown is in north-south mode and Kopitar is aggressive, they're all that and a bag of chips. It's a sample size of one, but tell me you've seen a better play than this:
And for that matter (and to return the favor), how about this:
When Bropitar are truly clicking together, so is the Kings' offense. Justin Williams gets hot by osmosis, the second line starts to heat up, and Reaganomics hits the entire team as the ripple effect trickles down through the lineup.
If anyone needed further proof, witness the Kings' historic Stanley Cup run of 2011-12. After shaking off persistent trade rumors, Brown proceeded to play the best hockey of his career down the stretch and during the playoffs, as did Kopitar. The tandem proceeded to catapult the team to their first ever Cup. Bropitar ruled the day.
That's what the team needs to shake the offensive doldrums — Brown hitting and batting in ugly goals near the net, and Kopitar playing aggressively, shooting more often and setting up his wingers.
Stitch 'em up, then give them a good, swift kick
Coach, you've got to do what you did at the end of the 2011-12 season and 'motivate' those two. Right now, neither are getting the job done, and it's dragging the team down. With as many former 30-goal scorers the team has, we can't stomach many more one-goal outputs like the game we saw tonight.
Put Bropitar back together, keep them together, lace up your boot and then proceed to kick 'em in the pants. Trust me, we'll thank you for it later.
The NHL regular season schedule was released on Friday. Check out our partners at TiqIQ for the best deals on Los Angeles Kings tickets for all 2013-14 games.
Walter McLaughlin is a Los Angeles Kings correspondent for The Hockey Writers. He is an avid sports fan, having followed the Kings since living in L.A. in the mid-1970's, as well as suffering through Seattle sports teams' general futility. He has a Bachelor's degree in Finance and has worked in community banking for over 25 years, specializing in SBA loans. He is married and has two daughters.