Another exciting week of WHL hockey is in the books and we have some risers and droppers in this week's power rankings. Last week the Kelowna Rockets held the top spot and had some teams hot on their heels. This last week the teams in the U.S. Division started to flex their muscle proving that the division may be the strongest in the league — and that's with a Portland team that has been average at best.
Who rose? Who fell? Who's ranking has you seeing red? Feel free to tell us where we got it wrong, here are this week's WHL Power Rankings.
1. Kelowna Rockets (5-1-0-2) – Last week's ranking: 1
The Rockets keep their top spot in the power rankings — for now. They did not have their best week as they lost their first game in regulation to Spokane and blew a third period lead en route to losing a shoot out to Seattle. They still boast one of the deepest teams in the league along with a strong blue line. Jordan Cooke continues to be tough in net as the 20-year-old has his save percentage up to an impressive .925.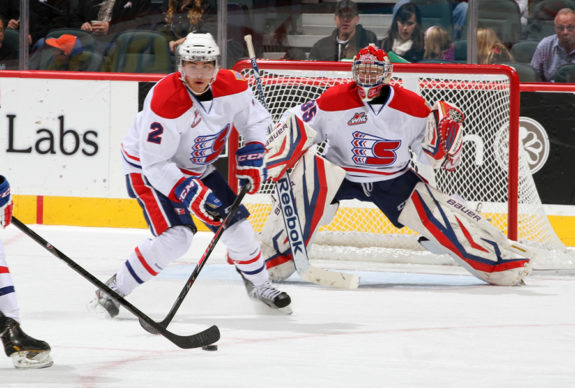 2. Spokane Chiefs (8-2-0-0) – Last week's ranking: 3
The Spokane Chiefs just continue to win and have done it with only playing two home games. They are led by over-agers Mitch Holmberg and Mike Aviani who have combined for 21 of the teams 38 goals. While they will probably need to get secondary scoring at some point, for now it's been more than enough – especially with the way they are playing defense. Eric Williams has been lights out so far with a miniscule goals against of 1.84 and a save percentage of .933 — if he keeps playing like that they will have enough goals.
3. Seattle Thunderbirds (8-2-0-0) – Last week's ranking: 5
The Thunderbirds have won five straight and have wins on the road against Medicine Hat and Kelowna. They continue to impress and with all the depth they have up front they may be getting stronger as 2011 first round pick Ryan Gropp has de-committed to the University of North Dakota and joined the team. Gropp will join a talented team that is tied for the most goals scored in the league.
4. Medicine Hat Tigers (7-1-1-0) – Last week's ranking: 9
The Tigers make the biggest jump in the rankings this week as they continue to win. They have not been beaten in regulation over their last six games and as hot as Hunter Shinkaruk has been since returning (7 points in 4 games) the most impressive thing about the Tigers is that they've only given up 20 goals. That's tied for fewest in the league and they are looking like they may be the best in the East.
5. Swift Current Broncos (6-3-0-1) – Last week's ranking: 4
The Broncos lost a couple of games last week and slip a spot in our rankings. There is still some doubts as to whether or not their start is for real. They will be taking a swing through the U.S. Division this coming week which may give us a better picture as to how good Swift Current really is. Import defenseman Julius Honka continues to impress and is second in the league in scoring for D-men.
6. Everett Silvertips (6-1-0-2) – Last week's ranking: 8
The Silvertips are the third U.S. Division squad in the top ten of our rankings. They have only given up 20 goals as head coach Kevin Constatine's defense first style is working, and giving Austin Lotz a great start to the season. While they have yet to light the scoreboard up on offense it seems that players like Tyler Sandhu still have more to give and will make the 'Tips that much tougher to play against.
7. Prince Albert Raiders (6-4-1-0) – Last week's ranking: 2
The Raiders are droppers this week as they have been somewhat dissapointing. Coming into the season there were high expectations but they have lost three straight and have given up more goals than they have scored — which is what they brought in goalie Cole Cheveldave to keep from happening. They still have a lot of talent and should improve as the season wears on.
8. Portland Winterhawks (4-3-0-1) – Last week's ranking: 6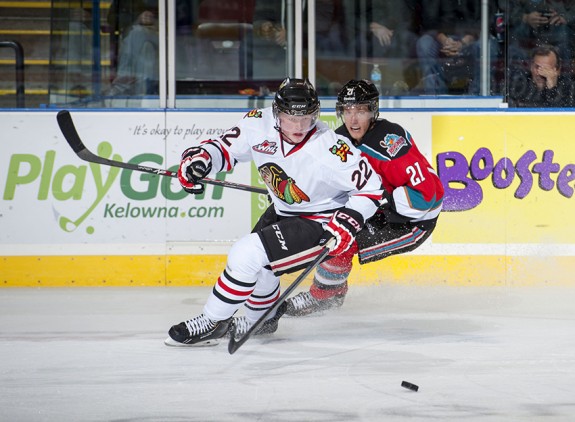 The Winterhawks continue to be a head scratching team. They are tied with Seattle for the most goals scored in the WHL but are giving up an average of 4.5 goals per game. They played once this last week, beating Kamloops 7-4 which is a score that you may get used to whenever Portland is playing. Despite their early struggles on defense they could be the most dangerous team in the league.
9. Calgary Hitmen (5-3-0-1) – Last week's ranking: 11
The Hitmen are starting to show signs of getting back to where they were last year. They won two games and lost a shoot out over the last week and are climbing up the ranks. Goalie Chris Driedger is not off to a good start but its hard to imagine that his save percentage will stay as low as .877.
10. Red Deer Rebels (6-5-0-0) – Last week's ranking: 7
The Rebels continue to hold steady as they hover just above the even mark. They have been able to hold off Calgary for second place in the Central Division but will have to step it up if they want to remain where they are. Still a solid club that will give you a great effort every night.
11. Victoria Royals (7-5-0-0) – Last week's ranking: 16
The Royals jump up in the standings thanks to a 4-0 run over the last week of play. Center Logan Nelson has been hot, scoring seven points in Victoria's last three games as the Royals find themselves leading the B.C. Division over Kelowna (the Rockets have four games in hand).
12. Kootenay Ice (5-4-1-0) – Last week's ranking: 14
The Ice climbed a couple of spots, mainly due to some team's ahead of them dropping. The Ice continue to hang in there and play even hockey and if you get a chance to see them and Sam Reinhart, do it  while you can. The NHL's top prospect is on fire with 21 points.
13. Saskatoon Blades (5-5-0-1) – Last week's ranking: 20
What has gotten into the Blades? They have caught fire, winning five straight games and are showing signs of life. That's not too bad for a team that is supposed to be in the middle of a serious rebuild.
14. Edmonton Oil Kings (4-5-0-0) – Last week's ranking:13
Its hard to say what is going on with the Oil Kings. They should be better than this and hopefully the return of Griffin Reinhart can help them find their way – the way that has put them in the finals for two straight years.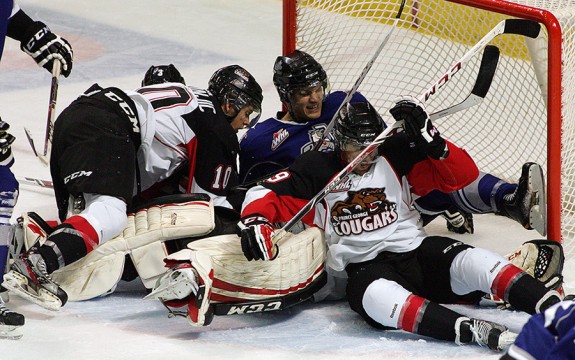 15. Prince George Cougars (5-5-0-1) – Last week's ranking: 15
The Cougars continue to hang tough in the Western Conference. They are getting outstanding goaltending from Ty Edmonds who is clicking along with a 1.86 goals against average and a .933 save percentage – those numbers will keep the Cougars in a lot of games.
16. Regina Pats (5-5-0-0) – Last week's ranking: 19
Like the Saskatoon Blades, the Regina Pats have been on fire -winning four straight games. Can they keep it up? If they can they will need to continue to get fine play from Morgan Klimchuk who has 16 points on the season.
17. Brandon Wheat Kings (5-5-0-0) – Last week's ranking: 10
Brandon haas dropped two straight and have dropped down in our rankings. They lack a top end scorer and it may be showing as they aren't scoring as consistently as they need to be.
18. Tri City Americans (4-6-0-1) – Last week's ranking: 17
The Americans continue to struggle scoring on a regular basis. Brian Williams started off on fire but only has two assists over his last five games. It may be a long year for Eric Comrie in net.
19. Moose Jaw Warriors (4-5-0-2) – Last week's ranking: 12
The Warriors have struggled of late, losing four in a row (two in the shoot out) and have slipped in our rankings. They picked up defenseman Jesse Forsberg last week in an effort to add some grit to their lineup – will it work?
20. Kamloops Blazers (3-7-0-0) – Last week's ranking: 18
The Blazers continue to struggle to score goals which is going to be a problem heading forward in a tough conference. Tim Bozon has yet to get going which, if he does, would be a big boost for them.
21. Vancouver Giants (1-7-1-1) – Last week's ranking: 22
The Giants continue to be a work in progress and continue to struggle scoring goals. They have only 19 goals on the season, worst in the league and are in a loaded conference. That doesn't bode well. Perhaps Dalton Thrower's return can give them a spark.
22. Lethbridge Hurricanes (1-8-0-1) – Last week's ranking: 21
It's been a rough year for the Hurricanes as they continue to struggle with all aspects of the game. They can't score and have given up 50 goals on the year, which is by far the worst in the league. They moved Adam Henry last week and could be sellers as they look to rebuild.
Andrew writes about the WHL and NHL Draft Prospects. He also covers the Seattle Thunderbirds for 710 ESPN Seattle and spent two years with Sportsnet. Follow him on Twitter @andyeide.