The Western Hockey League has completed two full weeks of play now and we are starting to see some trends and teams begin to separate themselves. Some teams that we thought would be good, like the Kelowna Rockets,  have been as advertised so far. There have also been some surprises as Spokane and Seattle are off to strong starts and the Portland Winterhawks have seemingly stumbled out of the gate.
With that in mind we present our first WHL power rankings of the season.
Who is ranked too high? Who is too low? Feel free to let us know.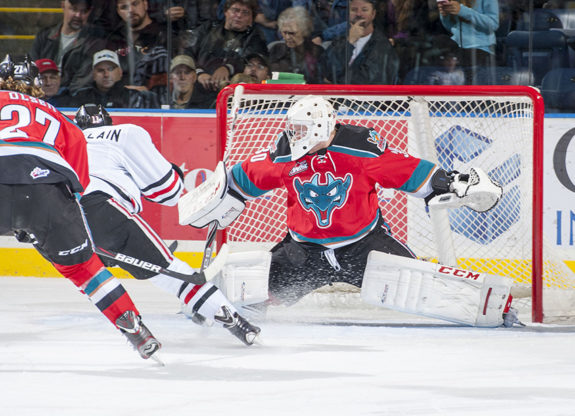 1. Kelowna Rockets (5-0-0-1)
The Rockets have yet to lose in regulation and this weekend made an early season statement as they swept a mini two-game series with the Portland Winterhawks. Portland has had their way with Kelowna in recent years and this could have been a sign of the guard changing out West. 2014 draft eligible Tyson Bailie is off to a good start with nine points as is Zach Franko, who has scored in every game for the Rockets so far. Kelowna is big, has a great defense and strong goaltending, they will be hard to handle the rest of the season.
2. Prince Albert Raiders (5-2-0-0)
The Raiders got off to a hot start before dropping two games this past weekend. One of those games was an ugly 9-1 drubbing at the hands of the Edmonton Oil Kings. Before that game the Raiders had won five straight only to drop their last two. Which is the real Prince Albert team? The Raiders are getting good scoring from the likes of Leon Draisaitl (4g 6a) and Jayden Hart (3g 5a) but surprisingly have given up 29 goals so far. If they can shore up their defense they will remain at the top of this list, if not they could start to sink.
3. Spokane Chiefs (5-1-0-0)
There were a lot of people ready to kick dirt on the Chiefs before the season started but head coach Dan Nachbaur always seems to get his team up for playing. The big question is how real this start for Spokane is? Four of their five wins have come against a less than diverse schedule so it's hard to say for sure until they get deeper into their schedule. What we do know is that 20-year-old Mitch Holmberg is on fire to start the season. The winger has eight goals in six games and has carried the club. He will cool off and then it will be up to the rest of the team to start chipping in.
4. Swift Current Broncos (5-1-0-1)
Another surprise team that finds themselves on top of the Eastern Conference standings and in the top five of our ranking. The Broncos won three straight this last week to vault themselves to the top of the standings but like Spokane, can they maintain the start? Swift Current is getting a great start out of rookie defenseman Julius Honka who is leading the WHL in defenseman scoring with 11 points. That was good enough to be named WHL player of the week for the Finnish import player and the Broncos will need to have him continue his fine play to stay on top.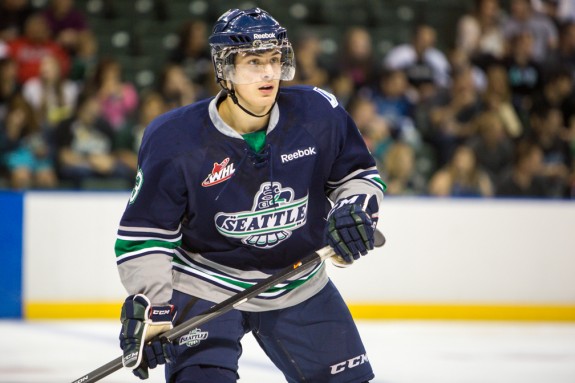 5. Seattle Thunderbirds (6-2-0-0)
The Thunderbirds may have finally turned a corner after winning three road games in three nights this past weekend. Seattle is a big, strong team that is surprisingly fast and very difficult to play against. They will bang you, clog up the neutural zone and have two solid scoring lines. They are led by rookie sensation Mathew Barzal who has played as advertised when he was selected first overall in the 2012 Bantam Draft. The 16-year-old leads the team in scoring with 12 points in his first eight league games. Anaheim Ducks first rounder Shea Theodore is also off to a strong start for Seattle with nine points from the blue line. Seattle may be a team to keep an eye on.
6. Portland Winterhawks (3-3-0-1)
Ranking the defending champs this high may be based on reputation as they have yet to find their grove. They can still score but have yet to settle their defensive situation. They have given up six goals in three separate games so far this year and have scored nine or more twice. This may be what we see out of Portland the rest of the way – lots of goals scored and just as many given up. Still, they are loaded with high end talent and it is way too soon to write them off.
7. Red Deer Rebels (5-3-0-0)
The Rebels seem to be the club that always flies under the radar somewhat. Brent Sutter has the team playing well to start the season and they arguably have the league's best goalie in Patrik Bartosak, who is playing well again. They come at you in waves and are one of the more difficult teams to play against. Keep an eye on the Rebels as they will continue to make noise in the Central Division.
8. Everett Silvertips (3-1-1-0)
The Silvertips continue to be an interesting team. They play stingy defense, have an underrated goalie in Austin Lotz and should be able to score more with the addition of Edmonton Oilers prospect Jujhar Khaira and import player Ivan Nikolishin. The Silvertips have played the fewest games in the WHL so far so it's hard to get a real good read on them. The coming week will be telling as they hit the road for five straight games.
9. Medicine Hat Tigers (4-1-1-0)
The Tigers got off to a good start to the season and just got Hunter Shinkaruk back from the Vancouver Canucks. Shinkaruk has played in only one game but already has two goals. Getting him will be a big boost to the Tigers who will rely on him to keep them at the top of the standings.
10. Brandon Wheat Kings (4-3-0-0)
The Wheat Kings weren't expected to do too much this season but are off to a nice start. They have some high end talent in guys like Ryan Pulock who has recently been returned by the NHL and already has six points in only two games played. They will need that kind of production to keep up with the big boys out East.
11. Calgary Hitmen (3-2-0-0)
The Hitmen got blown out by Edmonton on opening night but since then have rebounded to win three of their last four. Expect them to climb the rankings as they have games in hand with the teams ahead of them. They probably will get more out of Jake Virtanen (5 points in five games) than they have so far which will make them that much tougher to beat. Still one of the deepest teams in the WHL.
12. Moose Jaw Warriors (4-3-0-0)
The Warriors closed out the end of the week with two straight wins. They could really use the return of Toronto Maple Leafs defenseman Morgan Rielly but that seems unlikely for now. Can they get enough scoring to keep up?
13. Edmonton Oil Kings (3-4-0-0)
Which team is the real Oil Kings? The one that blew out Calgary and Prince Albert or the team that got blown out by a bad Regina Pats club? Still loaded with NHL caliber talent this team should get their act together and start to rise up the ranks.
14. Kootenay Ice (3-3-1-0)
The Ice feature one of the top rated prospects for the 2014 NHL Draft in Sam Reinhart who so far is off to a great start. The problem is the Ice appear to be a one line team and may struggle against deeper clubs as the season wears on.
15. Prince George Cougars (4-4-0-0)
After getting destroyed in their first two games of the season the Cougars have rebounded to go 4-2 since then. They have some nice pieces and if they can finally get something out of Alex Forsberg could find themselves in the playoffs at year's end.
16. Victoria Royals (4-5-0-0)
The Royals are expected to be one of the top teams in the Western Conference but have not yet played up to their potential. They are getting excellent goaltending out of Patrik Polivka but have yet to find the scoring touch they will need.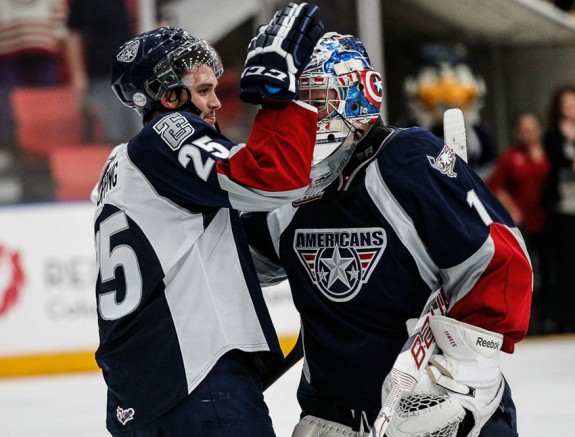 17. Tri City Americans (2-5-0-1)
The Americans are getting everything they can out of goalie Eric Comrie but have only scored 18 goals so far in nine games. They will need to find more guys to light the lamp other than Brian Williams who has started on fire with eight of the Americans' goals so far.
18. Kamloops Blazers (2-4-0-0)
The Blazers are in full rebuild mode and its showing. They lost a ton of talent from the club that was one of the best in the league the past two seasons and are relying on younger players. Goal scoring is a problem so far as they have only found the net 14 times.
19. Regina Pats (2-5-0-0)
The Pats got the big win at Edmonton last week but its been slim pickings other wise. Morgan Klimchuk is not to blame though, as he is off to a fine start with nine points.
20. Saskatoon Blades (1-5-0-1)
The Blades went for broke last year as Memorial Cup hosts. It did not pay off and now they are cashing in those checks. After overhauling their roster they are finding the going pretty rough so far this year.
21. Lethbridge Hurricanes (1-5-0-1)
There was some camps who thought the Hurricanes might squeak into the playoffs this year. If they want to do that they are going to have to shore up their defense which has allowed 30 goals – second worst in the league.
22. Vancouver Giants (1-5-0-0)
When your marketing slogan is 'Champions Under Construction' you know it may be a long year. The Giants are young and going through growing pains. They need to find more offense as they only have scored nine goals in their six games so far. There is still some construction to be done.
Andrew writes about the WHL and NHL Draft Prospects. He also covers the Seattle Thunderbirds for 710 ESPN Seattle and spent two years with Sportsnet. Follow him on Twitter @andyeide.