They are known as the unglamorous. They are the guys who are expected to do the dirty work. They are more known as the checking line, more defensive blanket than dynamic scorer. They are oft-forgotten. Third line players in the NHL aren't the ones skipping the line at nightclubs around North America, but early on in the 2013-14 season they are making themselves well and truly known.
There is a reason it's called a top six forward; they are the big boys with the bigger salaries and the statistics (sometimes) to match. Ask a coach, however, and they're more likely to tell you that games, even Championships, are won and lost in the top nine, not the top six. Were the third liners successful in shutting down the oppositions top two scoring lines? Were they able to add their own scoring? Did our third line centre win enough faceoffs in the defensive zone?
Free Agent Additions Leading New Teams
While it is still early, the third liners are providing plenty of scoring and ruffling more than a few feathers this season. Three of the more unheralded free agency moves in the off-season are leading their teams in points through Tuesday's games. Their common thread? They play on the third line. Boyd Gordon leads Edmonton in goals with four, as well as faceoff percentage where his road percentage is better than his home percentage. Achilles-slicing Matt Cooke leads Minnesota with six points, a +5 rating and two game-winning goals. Damien Brunner leads New Jersey with three goals and five points through six games.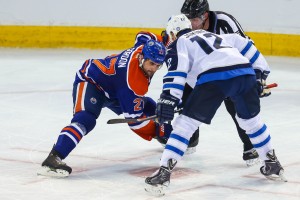 In addition, rookies Sean Monahan and Nathan MacKinnon have set the league alight with their play from the third line centre position — Monahan was the best player on the ice in a win last Wednesday over Montreal — though both are unlikely to be stuck for too long in the bottom six. Monahan leads the Flames in goals while MacKinnon has been equally as electric and leads the undefeated Avalanche in points.
Bolland The New Gilmour?
Perhaps the biggest revelation of our third liner group has been David Bolland, a two time Stanley Cup winner in Chicago who was traded on Draft Day to Toronto. Bolland has three goals and five points through seven games including two game winners. His performance has seen Randy Carlyle him elevated to second line centre at times and Bolland has consistently looked like one of Toronto's most dangerous players when he's on the ice. The highest praise of the Mimico native was, of course, saved for Don Cherry, who likened Bolland to Toronto icon Doug Gilmour. While the comparison may or may not be apt, Bolland has certainly made a significant impact in a short period of time.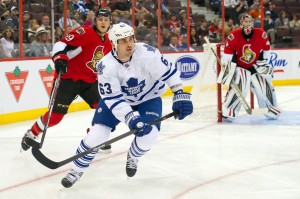 Under the radar in Chicago until he scored the Cup winner in last season's Stanley Cup Finals, Bolland is your stereotypical, tough-nosed third line centre. At just $3.3m in salary he's proven to be a savy pick up by Dave Nonis, costing the Leafs just a trio of draft picks. It hasn't taken him long, however, to find himself at the centre of Toronto's media circus, something a game winning goal against Ottawa and a dynamic new partnership with Mason Raymond will help achieve in the hockey mad town.
While the third liners are seeing success on the score sheet early this season, most will end up well down the list at the conclusion of the 82 game regular season. That is part of the anatomy of a great third liner, a selflessness that exceeds their top six counterparts and a will to perform at both ends of the ice. Don't be surprised come playoff time if a third liner is involved in the pivotal turning point of most games — it is unlikely to be a glamorous play and it probably won't show on the scoreboard. I think they prefer it that way.
I knew the one spot to shoot from that would always beat the goalie on Nintendo NHL 96. I'm a huge fan of the 'social' part of social media so speak to me @codyroyle or Cody Royle on Google+