It's not often you see a player's number raised into the rafters of arenas around the National Hockey League. Players are honoured quite often by teams for their contributions to the club, but it's a special feeling for players to have their number retired by any given franchise.
Usually, it's career players – guys who have played their entire careers with one team. Either that or guys who have played most of their career with a particular franchise and contributed in an unforgettable way to that team and to that community.
Obviously team's can't be too loose in their decision to honour players. Otherwise there wouldn't be any numbers left to choose from for future players. The Detroit Red Wings have been very cautious in their choices to retire numbers – only six players have been raised into the rafters in franchise history and had their numbers retired.
Next to Gordie Howe, who's number nine was retired by the team in 1972, fans can find Alex Delvecchio, Ted Lindsay, Terry Sawchuk, Sid Abel, and the latest to have his number retired in 2007 – Steve Yzerman.
Some would argue that there should be others or even guys on the team that will one day have their numbers lifted and hung amongst the legends of the Detroit Red Wings. So here's a short list of former and current Wings that could be honoured alongside the afore mentioned greats.
Pavel Datsyuk
Let's start with his accomplishments as a Red Wing player. He's got three Selke trophies as the best defensive forward. He won four straight Lady Byng Memorial trophies from 2005-2009 as the league's most sportsmanlike player. He's a two-time Stanley Cup champion ('02 and '08). He's played for Russia eight separate times – three times in the Olympics and in five IIHF World Championships. He won the NHL's plus-minus award in 2008 with a plus-41 rating and is a four-time NHL all-star.
But what sets Datsyuk aside from other players in the league – other players in Detroit – is the respect that he has gained from his peers throughout the league. Among other titles, he was voted the cleanest player in two consecutive seasons – from 2010-2012 – as well as the the hardest player to take the puck off of during those same two seasons.
As mentioned, Datsyuk is a career-Red Wing. He's played his entire twelve-year career in red and white helping the franchise in their continued regular season success.
He is the current active leader – and sixth all-time – for points in franchise history and third all-time in plus-minus rating. He is seventh on the team's all-time playoff scoring and is the active leader in playoff games played for the team.
Besides being one of the classiest players in the game, Datsyuk is a leader among his Detroit peers and has been a big part of giving back to the fans. He's adapted to the role of the Twitter athlete (Also see: 'Detroit Red Wings: Must-Have Twitter Accounts') – updating and entertaining fans as a member of the public sphere.
#50 Gustavsson, 5 minutes before the game you're told you're playing today and after the game, you're the first star. How cool is that?

— Pavel Datsyuk (@Datsyuk13) October 14, 2013
So if stats alone don't make Datsyuk a probably hall-of-famer, his community involvement and career achievements will. A career-Red Wing, he is a perfect candidate to have his number 13 raised into the rafters of Joe Louis Arena.
Henrik Zetterberg
After Steve Yzerman, there was Nicklas Lidstrom. After Lidstrom came Henrik Zetterberg – and he's continued to lead the franchise to success. Obviously, like Datsyuk, we'll have to wait until after retirement before to see where Zetterberg ranks among the great amongst the rafters – but so far, he seems like a great candidate.
Zetterberg has played his entire career with the Red Wings accumulating 679 points over that time – ranking him ninth on the team's all-time list. Along with playing in 10-straight Stanley Cup playoffs, Zetterberg ranks fifth behind Yzerman, Lidstrom, Fedorov, and Howe in playoff points.
He won a Stanley Cup in 2008 – adding the Conn Smythea trophy as the most valuable player in the playoffs and the Frank Selke trophy. He's a two-time NHL all-star and finished second in the Calder Memorial trophy voting as the league's top rookie in 2003.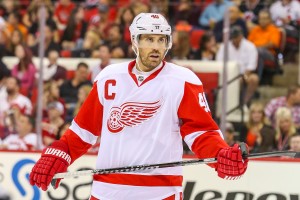 He holds the franchise record for points in a single playoff season with 27. He's tied with Johan Franzen for the most goals in a single playoff season with 13. And he set a team record by having a point in 17 consecutive games to start the season. But one of the most interesting feats he's accomplished is that he's the lowest-drafted NHL player to win the Conn Smythe Trophy. Oh, and he's won Olympic gold, as well, playing for Sweden.
Aside from his play on the ice, Zetterberg hosts guests from local children's hospitals at home games and is the team's spokesperson for the annual smoke detector collection helping families in need. These contributions made him the perfect candidate for the 2013 NHL's Foundation Player Award.
It shouldn't come as a surprise to anyone if the number 40 finds its way into the old rafters of Joe Louis Arena. Zetterberg's contributed a lot to both the team and the community he plays for.
Tomas Holmstrom
This selection may shock some – but Tomas Holmstrom is another former Red Wing that didn't just contribute to the team's successes, but also changed the power forward position in hockey. Garbage goals and taking shots in front of the net to score goals – that was the kind of game that Holmstrom played. And it worked.
He ranks thirteenth on the team's all-time point list with 530 (243 goals – 287 assists). He's sixth in regular season games played for Detroit and third on the team's all-time list for powerplay goals behind only Yzerman and Lidstrom – thanks in large part to the way he played in front of the net. Even when the crease rule existed, Holmstrom found a way to play his type of game.
He spent his entire 15-year career with the Red Wings playing in the Stanley Cup playoffs each of those 15 seasons. He won four Stanley Cups during his time in the NHL ('97, '98, '02, '08) and was a part of the gold medal winning team for Sweden in the 2006 Olympics.
Although he was never a huge part of the NHL awards night, Holmstrom changed the culture and the style of the game both for the Detroit Red Wings and the game of hockey. At times, it cost his team goals and even caused injury to himself, but more times than not he helped his team. He was a distraction for opponents – defensemen and goalies – and often got rebounds or deflections that put his team ahead. Tomas Holmstrom's number 96 is a sign of success in Detroit and symbol of change in hockey and could someday find a home in the rafters of Joe Louis Arena.
Honourable mentions go to Sergei Fedorov and Larry Aurie for their contributions to the Detroit franchise.
Agree or disagree? Let me know by commenting below or follow me on Twitter @AndrewGForbes.