By Wayne Whittaker, Boston Bruins Correspondent
In March of 2011, Michael Ryder was in a slump. 2 points in 12 games, and a -3 +/- rating. This couldn't be considered an isolated incident either. Ryder had struggled on and off in his tenure with Boston, and in the final year of his contract, it seemed as though he'd be gone for good the following summer.
If you had asked fans to predict the future, not many would have replied "the Bruins are going to really miss Michael Ryder in 2013."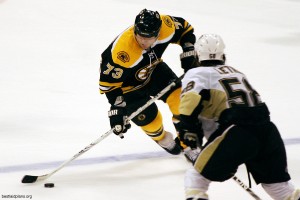 As unlikely as it may seem, that does appear to be the case for the Boston Bruins. Since playing his final game in a Bruin uniform on June 15, 2011, Ryder has left a hole on the depth chart that still remains unfilled.
The "Benoit Pouliot Experiment of 2011-2012" was short lived, and Chris Bourque doesn't appear to be anything resembling an offensive threat. With Boston currently sitting at 21st in the league for goal production, general manager Peter Chiarelli is already on the lookout for a top six forward to add some much needed offensive depth.
Who could be the man to finally replace Michael Ryder? How about…Michael Ryder?
Since signing a two-year, $7 million contract with the Dallas Stars, Ryder's game has risen to another level. Last year he scored a career high 35 goals, and so far this year he has 6 goals and 5 assists in 18 games. With their playoff hopes dwindling, Dallas could be willing to part with #73 for draft picks and/or prospects.
There are some unanswered questions, however.
Would Ryder be willing to accept a more limited role than he's currently enjoying in Dallas? Would Dallas be willing to deal the 32 year-old winger, with 41 year-old Jaromir Jagr and 40 year-old Ray Whitney potentially retiring? Where does Ryder fall in the list of priority re-signings for Dallas, with Brenden Morrow, Jagr, Derek Roy, and Eric Nystrom headed towards free agency?
Another main issue would be the asking price. It's doubtful that Chiarelli would be looking to part with an integral player from Boston's roster for what could be a short term rental, especially with Nathan Horton, Andrew Ference, and Tuukka Rask all standing in line for new contracts at the end of the year.
One person in the Bruins organization who would be happy to have Ryder back in the fold would be head coach Claude Julien. It's been well documented that the two have had a history together, with Julien coaching Ryder in Boston, Montreal, Hamilton (AHL), and with the Hull Olympiques in the Quebec Major Junior league.
Ryder brings just the kind of offensive output Boston needs, and has always had tremendous playoff performances, particularly in Boston's 2011 Stanley Cup run. With a player like Michael Ryder, you know what you're going to get: a streaky goal scorer with a history of coming up big at the right time.
Throughout his tenure as GM of the Bruins, Peter Chiarelli has done a pretty great job of keeping in touch with the pulse of his team, assessing what they need or don't need, and finding the right person for the job. Could Boston complete their 2013 team with the addition of a familiar face? Yes, sir.

—
Wayne Whittaker has been a Boston Bruins Correspondent for TheHockeyWriters.com since 2010. As a Berklee College of Music graduate, and Massachusetts native, Whittaker has been around Boston, the Bruins, and the game of hockey his entire life. His work has also been featured in Sports Illustrated, Huffington Post, CBSSports.com, and Yahoo.com.