The Washington Capitals (6-10-1) snapped a two game losing streak Saturday afternoon in their 5-1 victory over the New Jersey Devils (10-4-4), in hopes of starting a winning streak. The Capitals victory was their first against a team currently in the top eight of the Eastern Conference (1-8-1), as head coach Adam Oates defeated the team he formerly coached alongside Peter Deboer last season.
Captain Alex Ovechkin netted a hat trick along with an assist and goaltender Braden Holtby (5-6, 3.37 GAA) totaled 21 saves on 22 shots. Holtby has become the clear cut starter in the eyes of Adam Oates, as he has ridden the hot hand of the confident Caps net minder. Forwards Eric Fehr and Troy Brouwer also registered goals for Washington, beside Ovechkin's 11th career hat trick. You can view a recap of the game from Japers' Rink and the Washington Post.
Even with the win, Washington sits at the bottom of the Eastern Conference. The NHL trade deadline is quickly approaching and scouts are lining up like dogs on raw meat at the prospects of the Capitals becoming early sellers in the trade market. The Capitals impending unrestricted free agents include forwards Mike Riberio, Matt Hendricks, Wojtek Wolski, Eric Fehr, and Joey Crabb along with defensemen Roman Hamrlik, Tom Poti and Jack Hillen. The Hockey Writers gives their thoughts on who Washington could trade come the trade deadline if the Capitals record stays its pace.
Mike Riberio
Washington holds one big name impending free agent in Mike Riberio, who is also the Capitals leading scorer, averaging over a point per game, with 21 points in only 17 games. Riberio came to Washington during the NHL entry draft last summer, as the Capitals sent forward prospect Cody Eakin and a pick to the Dallas Stars in exchange for Riberio. The 33 year old center holds a five million dollar salary this season, and any deal to resign him will likely cost the Capitals close to six million per season.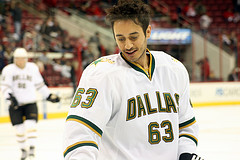 Trade Value: If he's unable to be signed to a new contract in the nation's capital, Riberio will likely be one of the top centers available come the trade deadline, alongside the Anaheim Ducks' Ryan Getzlaf. The Capitals could potentially receive a first round pick in exchange for their second line center and leading scorer, along with a mid-level prospect from a contender.
Roman Hamrlik
The Tampa Bay Lightning's former first overall pick from the 1992 NHL entry draft has found himself a healthy scratch numerous times this season, as the 38 year old defenseman has played in only four games this season. Hamrlik totaled 13 points in 68 games for Washington last season, in his first year of the two year, seven million dollar contract he signed with the Capitals.
Trade Value: There are questions regarding Hamrlik's value in the trade market simply because he hasn't played very much this season. He's more of a shutdown defenseman than an offensively skilled blue liner, and due to his age won't give Washington much of a return. Expect a middle to late draft pick in exchange for Hamrlik if dealt.
Matt Hendricks
This 31 year old forward also has an expiring contract come June, and could be dealt to a team in need of fourth liner to complete their roster. Hendricks offensive game has declined following a 25 point season during the 2010-2011 season, his first year with the team. Following his 25 point season, Washington General Manager George McPhee signed the grinder to a two year, 1.65 million dollar contract. Hendricks posted nine points and 95 penalty minutes last season and has four points through 17 games this season. He's a heart and soul guy and a fan favorite at Verizon Center, but come deadline time he could be traded.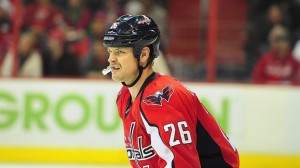 Trade Value: Hendricks could provide valuable minutes on the third or fourth line of a Stanley Cup contender. Teams like the Boston Bruins have won championships because their bottom six forwards and valuable third and fourth lines can keep a team fresh. The Capitals could receive a young prospect that they could develop in exchange for Hendricks.
Wojtek Wolski
Wolski, a former first round pick by the Colorado Avalanche in the 2004 NHL entry draft, signed with the Capitals this season following time with the New York Rangers and Florida Panthers last year. Washington inked the 27 year old winger to a one year deal worth less than a million dollars per season, hoping he could return to his past performance. Wolski's best years came with the Colorado Avalanche, including four straight seasons of forty plus points.
http://youtu.be/Gok_mpCB7FM
Trade Value: Wolski only has four points through 17 games this season, giving him minimal trade value unless his offensive production picks up rather quickly. He'll likely give the Capitals a late draft pick in a possible trade, likely heading to a contender in need of a third line forward.
You can follow Matthew on twitter @m_speck and email him at mspeck21@yahoo.com with any questions or comments.