Hockey is one of the most physical games on the planet, as a result you are bound to see physical contacts between players. Whether it is with a thunderous hip check or a shattering body check, certain players know how to knock skaters on the ice a la Scott Stevens.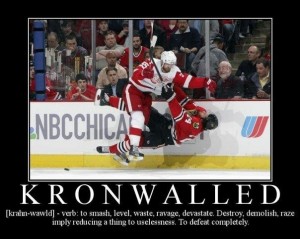 Consequently, when these players are on the ice, you better keep your head up or you're going to fall flat on your back. Besides a great goal, there is nothing a hockey fan loves more than a nice clean and hard hit.
Below you will find a power ranking of the 10 best hardest bruisers in the NHL right now.
Please remember that quantity doesn't necessarily mean quality!
10. Zac Rinaldo, Phildelphia Flyers, 280 hits in 82 games since the 2011-12 season


Despite his rather small frame at 5'11", 180-lbs, the pesky Rinaldo is not afraid to lay a big hit and punish his opponents when they are not careful on the ice.
9. Cal Clutterbuck, Minnesota Wild, 337 hits in 90 games since the 2011-12 season

The league-leader in hits in 2011 (336), 2010 (318) et 2009 (356), Clutterbuck is a hitting machine despite his somewhat smaller body at 5'10", 210-lb.
8. Luke Schenn, Philadelphia Flyers, 339 hits in 99 games since the 2011-12 season

The young Flyers defenseman is a pure hitter and his all-around game has been a pleasant surprise this season.
7. Dustin Brown, Los Angeles Kings, 338 hits in 98 games since the 2011-12 season

You can count on the Kings' captain to always be among the league-leaders every year. Brown, and his 6'0", 200-lb frame, likes to hit his opponents as well as score goals.
6. Steve Ott, Buffalo Sabres, 360 hits in 93 games since the 2011-12 season

The Sabres acquired Ott from the Sabres for his physical edge and two-way play. So far he hasn't disappointed as he currently leads the NHL in hits with 82.
5. Chris Neil, Ottawa Senators, 335 hits in 81 games since the 2011-12 season

On of the most efficient super pests in the NHL, Neil can fight, hit and score some goals. The 6'1", 215-lb, winger can lay the body and get under his opponents' skin.
4. Milan Lucic, Boston Bruins, 259 hits in 95 games since the 2011-12 season

The typical power forward, Lucic, 6'4", 220-lb, doesn't hit as much as the other players included in this list, but his hits are devastating, just ask Ryan Miller.
3. Alexei Emelin, Montreal Canadiens, 296 hits in 85 games since the 2011-12 season
The Russian sophomore has been a pleasant surprise on the Canadiens' blue line, steadily improving his all-around play after coming to North America. The 6'2", 233-lb, who is the only physical Habs' rearguard, likes to hurt opposing players.
2. Matt Martin, New York Islanders, 452 hits in 99 games since the 2011-12 season

Among the league leaders in hits the past two seasons, Martin can certainly give devastating hits thanks to his 6'3", 210-lb frame.
1. Niklas Kronwall, Detroit Red Wings, 150 hits in 101 games since the 2011-12 season

The most punishing hitter in the NHL these days, Kronwall is the master of the hip check and he can also play hockey as shown by his 16 points in 19 games this season.
Notable mentions:
Alex Edler, Ryan Callahan, Douglas Murray, Dion Phaneuf, Anton Volchenkov, Brooks Orpik, Mark Fistric, Troy Brouwer, Matt Greene, David Backes, Zdeno Chara, Johnny Boychuk, Scott Hartnell, Jordin Tootoo, Marc Methot, Leo Komarov
Who do you think is the hardest hitter in the NHL this season?
Follow me on Twitter for more updates on the National Hockey League and hockey in general.