In whichever way the Flames season continues, there has never been so much evidence to support the two-fold identities of Flames fans- the optimists and the pessimists.  For those not local to the Calgary area, the media and the fans are seemingly split on their opinions of the direction of the franchise. This is always evident on talk radio and internet forums, as debate continually rages.
The optimist faction has several defining characteristics: the Flames' "win and make the playoffs" approach despite an aging roster is acceptable; a belief that captain Jarome Iginla should retire a Calgary Flame; are quick to point out how well Jay Bouwmeester is playing in head coach Bob Hartley's system; the Flames have barely missed the playoffs the last 3 years; and that the Flames truly are a few pieces away from being a surprise playoff team.  After all, Los Angeles was 8th last year and they won the cup, right?
The pessimists (but I imagine they prefer the term realists) are almost the perfect foil in every way, and are defined by these views: Jarome Iginla needs to be traded to gather pieces for the future; Miikka Kiprusoff also needs to be traded; the Flames are too inconsistent to be considered a playoff contender; Jay Bouwmeester is over compensated for what he brings; the Flames have missed the playoffs the last 3 years; and that the Flames have virtually entered a period akin to the late 1990s and early 2000s. Sure, Los Angeles was an 8th seed last year but that team had a consistent all-star goaltender and two legitimate top-line centres.
At this point in the Flames season, a convincing case can be made for either side.
The Optimists
The Flames are certainly not the team they were 7 or 8 years ago, but look at where they are in the standings.  They are not only four points out of a playoff spot, they are four points out of sixth in the conference and also have one or two games in hand on some of the teams ahead of them.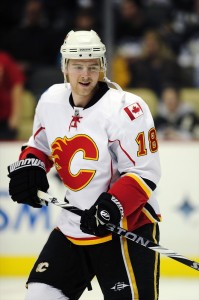 Bob Hartley certainly has implemented some exciting hockey, and this has manifested itself in the form of Jiri Hudler and a defence willing to jump into the play.  There are certainly some creative liberties being taken with the puck, something that has not been seen in practically a decade.  Jarome Iginla may not be the biggest factor on offence anymore, but he still has 9 assists and is on pace for 33 points- not bad for a 48-game season.
Additionally, and perhaps a little too quietly, Calgary has the 7th-best power play in the league as it is clicking 23.2% of the time.  This is a higher rank than some teams that are defined by their offensive prowess such as Tampa Bay, Vancouver, Philadelphia, and Chicago.  Calgary is also 9th in shots per game with 29.9 and 11th in shots against per game allowing 28.1.  These numbers range from decent to above average and are certainly part of a qualified resume for a sixth-eighth seed in the playoffs.
If the goaltending of Danny Taylor and Joey MacDonald can hold out until Miikka Kiprusoff is back from his MCL injury and established players like Iginla and Michael Cammalleri can contribute on a more consistent basis, this team could actually be a tough first round matchup.
The Pessimists (err… Realists)
The Flames  may be four points out of the final playoff spot, but they sit 14th in the conference.  This is otherwise known as second last.  Not only does that mean that the Flames have to leap frog six teams just to finish eighth overall, that would likely mean a first round matchup with the 14-0-3 Chicago Blackhawks who have habitually feasted on Calgary since their resurgence.  This is further complicated that due to the shortened 48-game season allowing for only intra-conference play, 3-point games will make significant jumps in the standings incredibly difficult and highly unlikely.  Not only do the Flames need to win, they need to finish out the season 18-10-4 to have a 94% at making the playoffs IF other teams between them and the final playoff spot have to lose as much as possible IN regulation.  Stranger things have happened, but that is unlikely.
Flames fans all love Jarome Iginla.  They really, really do.  He is Calgary's most recognized face and is virtually universally adored.  His charitable contributions are innumerable, his on-ice performance well documented, and criticism of Iginla throughout his career has been virtually isolated to frustration with his infamous slow starts.  That is, until recently.  Jarome Iginla, to date, has one goal on the season.  Sure, he is on pace for 33 points but that pace also means that only three of those points will be goals.  He showed some spunk when former teammate Rhett Warrener publicly criticized his lackadaisical showing so far this season, but it is unfortunately becoming clear that Jarome Iginla is not a de-facto top-line player anymore.
Because of this, Jarome Iginla needs to be traded if for no other reason than to have a shot at winning a championship.  No one vilifies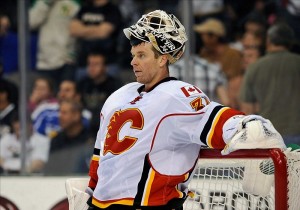 Ray Bourque when he asked Boston to trade him in 2000, and Ray Bourque is still revered in Boston.  Jarome Iginla needs to be traded to a team that can put him with an undisputed #1 centre (and, with all respect to Craig Conroy and Daymond Langkow) for the first time in his career.  His trade value this season has already taken a hit, and it's time to say goodbye before his skill set rather than his contract make him untradeable.
Yeah, the Flames have some decent power play, shots for, and shots against numbers.  However, upon further inspection, there are some troubling numbers.  The penalty kill is 27th (74.5%), they possess the 4th-highest goals against per game (3.25), and also are 5th worst in the league in the faceoff circle.  While their power play surely is clicking, its impact on the overall fortunes of the team will be minimized if the penalty kill and team defence can't keep up.
Finally, the crease situation has never been bleaker for Calgary while Miikka Kiprusoff is on the roster.  In 7 appearances before his injury, Kiprusoff is just 2-3-2 with an ugly .870 save percentage and 3.24 goals against average.  Leland Irving played two decent games but was shelled against Vancouver while Danny Taylor and waiver-claim Joey MacDonald are certainly not to be considered a winning tandem.  When Kiprusoff comes back, there is no guarantee that his porous play this season will cease.
There's clearly reason for optimism and pessimism, and the drama provided by it is almost as intriguing as the hockey itself.