With the 2015-16 NHL season officially on the backend of its marathon climb, I figured it was time to hand out some team awards for the Los Angeles Kings hockey club. Yes, the franchise is playing for much more than a few Pacific Division champion t-shirts and some free games of bowling at Lucky Strike, but it's worth recognizing how strong the first half of the season has gone for L.A.. They've gotten consistent scoring from all of their forward lines, yielded the second fewest goals against in the league (107 total), and have built a sizable lead between the second place San Jose Sharks in their division. And who knows, if the Capitals and Blackhawks decide to believe in curses, the President's trophy might even be in play for the Kings.
It's been a good run through 47 games, and not just by the superstars. Here are my award winners in a variety of categories, all of which has helped drive the Kings to a successful opening act this season.
Best Newcomer – Milan Lucic
Duh. This award is not only the easiest to give out based on production, but also the fact that there was really only one major addition before training camp started (sorry Luke Schenn and the recently resurrected from the dead Vinny LeCavalier, I'm going to need to see more games out of you guys before you qualify). No forward sets more of a tone, creates as much space, or plays the game with such ferocious passion as Milan Lucic. He stumbled out of the gate this year, but as any good thoroughbred trainer would do, Kings coach Darryl Sutter reevaluated his prized possession and gave him the best chance to succeed. That meant playing with Tyler Toffoli and Jeff Carter, and that meant being a key member on one of the most productive forward lines in hockey.
Much like Picasso or any great artist, Sutter is never satisfied. He has since moved Lucic back up to the first line with Anze Kopitar, where the punishing winger continues to be effective. His 12 goals and 17 assists are a much-needed jolt of secondary scoring energy, but his hits are what has made the ultimate difference, accumulating a staggering total of 157. That's good enough for 10th most in the NHL, which I dare say is even more impressive given the amount of puck possession that L.A. is accustomed to.
Lucic is new on the scene, but he is getting more comfortable each game in the black and white sweater. And much like the Grammy Awards, the best new artist in hockey also hardly ever gets messed up. Except for the year Macklemore beat out Ed Sheeran and Kendrick Lamar. That was probably the all-time worst decision involving Seattle, and that says something considering how the Seahawks lost the 2015 Super Bowl.
Most Improved – Jake Muzzin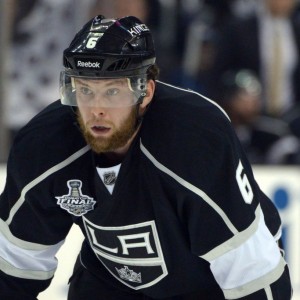 This award probably had the most entries, but I have to go with Muzz Lightyear (and props to whoever came up with that impeccable nickname). Like many, I was blown away by Jake Muzzin's play in the 2014 Stanley Cup Playoffs, when the blossoming defenseman registered 12 points en route to the second Los Angeles Kings Stanley Cup in franchise history. We all just assumed that the 2014-15 season would be his coronation into the big time of NHL defenseman, a formality of sorts. But you can't assume anything in this league. Muzzin struggled with basic defensive principles, and his over-aggressive style resulted in his -8 plus/minus rating when all the games had been played. It was disappointing, perhaps mostly because of the lofty expectations that had been set for him.
The Jake Muzzin L.A. desired a year ago has arrived this season. Muzzin is still accumulating points (5 goals and 20 assists) while providing great decision making on the power play, but he's also gotten back to the basics. His defensive effort, in all sections of the ice, has improved. Case in point, check out this play against the Oilers earlier this year:
Muzzin (and the acrobatic stylings of goalie Jonathan Quick) saved a surefire goal with his stick. Seems simple right? But look closer. Muzzin got position in the corner, beat his man to the front of the net, and tracked the puck the whole way to the goal line. If you think a defenseman can just wing it while being a step too slow with his skates or his vision in the NHL, you are kindly mistaken. This play was a shining example of how far Muzzin has come in his defensive commitment, and yet, it was not the only time he has saved a goal this season (Quick's December 28th shutout in Vancouver was preserved by Muzzin as well). Last year, Muzzin was more prone to pinching or trying to join the offensive rush, while this year he has let the game come to him.
Unsung Hero – Alec Martinez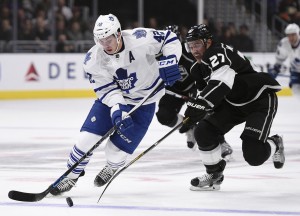 For reasons previously mentioned, Alec Martinez narrowly edges out the Swiss Army Knife that is forward Trevor Lewis. Martinez has given the Kings depth on the blue line, quality minutes in the number two pairing, and the ability to play in every circumstance the game of hockey can dictate. I realize that this is a tad funny and ironic, considering that there is absolutely nothing "unsung' about what he did in 2014. Well these are different strokes in 2016. Consistent reliable play has been Martinez' calling card this season, and without him the Kings would be ultra-thin on the blue line. His name might not show up on the stat sheet each night, but he is a major factor in every L.A. victory.
Best Defensive Forward – Anze Kopitar
For those that watch this team on a nightly basis, this is essentially a no-brainer. Kopitar may be the team's reigning scoring leader for the past eight seasons, but he is equally dominant on the defensive end, which is quite a scary, scary thought. He's willingness to block shots, throw hits, and make the simple plays to avoid turnovers has made him the epitome of a two-way NHL forward. This year has been no different, as Kopitar has pestered puck-carrying opponents like a telemarketer with something to prove.
If you really want to understand how important Anze Kopitar is to the Kings defensive efforts, understand this. Most teams in the NHL have designated low-end forwards for certain roles, which include taking defensive zone faceoffs, penalty killing, and matching up with the opponent's top line. L.A. has its share of role players, but it also has #11. Kopitar does all of the above, a rarity for a team's top scorer at any level of hockey.
Now if we can only get Slovenia to send over a few more Anze Kopitar clones, then the NHL will really be rolling.
Best Defenseman – Drew Doughty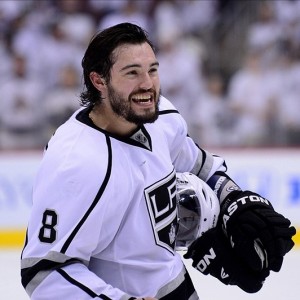 Nothing to see here people. Other than the best two-way defenseman in the game, a power play weapon, a defensive zone warrior, and a maestro at rushing the puck the length of the ice. Doughty can do it all, serving as a one-man fast break in times of duress, and a trustworthy offensive threat when goals are needed. Here are examples of both:
https://www.instagram.com/p/BADvnqBwij6/
And here's an example of what makes Doughty so entertaining. Even when he's falling down all over the ice, it's enjoyable:
Just act cool no one saw anything okay pic.twitter.com/U7cRih2Xcz

— LA Kings (@LAKings) November 6, 2015
Best defenseman in the game, or pretty damn close. Seriously, if you thought anybody else was getting this award, you probably thought Mark Zuckerberg really was giving away free money on Facebook, or that LeBron James had "nothing to do" with the recent firing of his subordinate head coach.
Best Offensive Player – Tyler Toffoli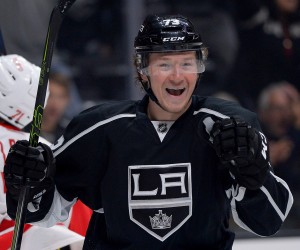 My criteria for best offensive player is simple: who has the most impact on the Kings scoring attack. Obviously there are a few choices, but Tyler Toffoli is the "Top Gun" in this category. And speaking of the classic 80s film about a bad boy fighter pilot, Toffoli reminds me of an F14 every time he enters the offensive zone. His 22 goals are just one shy of the 23 he scored last season, and I think it's safe to assume he'll have a new career high at year's end. Toffoli started off on a mad tear, scoring nine goals in his first 10 games. He's had rough patches and mini slumps that bite all goal scorers at times, but has rebounded and continues to churn out goals and assists when his club needs it the most. Playing with Jeff Carter certainly helps, but make no mistake about it: Toffoli, not Carter, has been the premiere goal scorer this season. Sounds hard to believe, but it is abundantly true in 2015-16.
There's a lot to like about the 23-year old forward's game, but Toffoli's greatest strength as a goal scorer might be his versatility. He can snipe with elite accuracy, has the skating speed to finish on an odd-man rush, and will muck it up in front of the opposing net when duty calls.
And of course, he's got his deke game on point:
Goal scoring has long been Toffoli's calling card, but he is actually an underrated playmaker as well. The more goals he racks up; the more opponents have to respect his scoring touch. And that enables him to set up his teammates, as he did here against Florida:
There's a lot to be excited about in Kings land, but Tyler Toffoli's development might be the most electrifying journey of all.
MVP – Anze Kopitar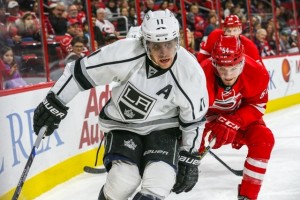 Drew Doughty is great. Tyler Toffoli is lethal. Jonathan Quick is all-world. But Anze Kopitar is the clear-cut MVP of this team in 2015-16, as he has been for much of the 21st century. Earlier I mentioned his elite defense, which is on par with his dazzling offensive skill. But let's not forget that dazzling offensive skill for one second. Kopitar can score goals, but he lives as a hockey player to facilitate for his teammates. Here's a great example of this against the Red Wings:
Kopitar used patience, vision, and his smooth stick-handling to wait out Detroit's defensive efforts and set up Toffoli with the easiest goal of his life. I can't think of many hockey players that would be more fun to play with than #11.
Kopitar leads the team in scoring (again) with 40 points in 47 games, is plus 17, and has won 53% of his face-offs. There's nothing he won't do on the ice for a Kings victory, and he is among the hardest workers in the locker room. If you need one more example of Kopitar's team MVP credentials, there's always the clutch factor. The Kings are 6-1 in games decided in overtime, and the Slovenian forward has three of those winning goals. Some players tighten up when the moments get too big. Kopitar does this:
Just give him the puck and let him break ankles.
On a team made of gold, Anze Kopitar is the crown jewel.
Enjoy the second half of the season everyone.