The 2013-2014 Los Angeles Kings will be remembered for a lot of different reasons. Jeff Carter and Anze Kopitar were point producing machines. Drew Doughty ascended into the upper echelon of NHL defenseman. Marian Gaborik arrived at the trade deadline and instantly made an impact. Jonathan Quick morphed into a goaltending brick wall that denied shot after shot.
But there was one unlikely hockey player that played the most pivotal role of all for the 2013-14 Stanley Cup winning Los Angeles Kings.
Alec Martinez was just another young defenseman. He fought hard to make an NHL roster, withstood countless healthy scratches, and became a cog in a successful, championship winning Kings system. Every player contributes in the game of hockey, but Martinez was viewed as merely a placeholder of sorts. Expendable players are often moved at a frenetic pace, and he was likely to find a new uniform in the near future.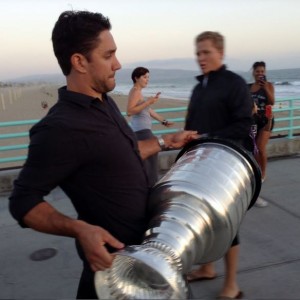 Then 2014 happened. And by 2014, I mean two postseason overtime goals, both series clinching, that cemented Alec Martinez' legacy in Kings lore. The first was a game 7 clincher against the only other team to win multiple championships this decade (Chicago Blackhawks), and the second was a Stanley Cup winning goal against the New York Rangers. Those kind of accomplishments would be listed at the top of any resume in hockey history, and this was Alec Martinez. A month prior he would have gone unnoticed walking his dog in Hermosa Beach.
The story is fairly common in the grand scheme of sports, where unheralded journeyman become legends in the blink of an eye. What sets this tale apart is the aftermath. David Tyree's miraculous catch for the New York Giants in the 2008 Super Bowl will never be forgotten, but it was also his last catch in professional football. Buster Douglas knocked out Mike Tyson to win boxing's heavyweight title, and promptly lost his next match. Alec Martinez became a SoCal hockey folk hero at the age of 26, but a weird thing has happened in the years that have followed.
Martinez hasn't faded away into obscurity, or to Mike Tyson's favorite island of "Bolivian." He's gotten better, in all aspects of his game. He's a respected voice in the locker room, a veteran presence on the ice, and a staple (cheesy pun alert) in the Kings championship core.
How exactly did Martinez get to this position? And is it as improbable as it initially appears? Well if examining hockey items is cool, consider me Miles Davis.
Opportunity Arises
It's not the most popular item to talk about, but the Slava Voynov incident has had so many implications on the state of the Los Angeles Kings franchise. A budding potential defensive superstar was (rightfully) banished from the NHL for conduct unbecoming of a professional, and quite frankly, a man. The Kings were banking on Voynov being their co-anchor on defense alongside Drew Doughty, but those plans were quickly destroyed. L.A. had a sizable hole on their blue line, and were desperate to find any answers.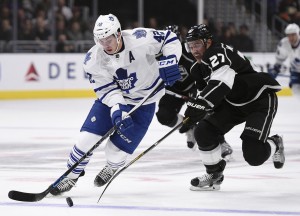 Every hockey player is taught to be ready for your opportunity. There is no way anyone could have seen Voynov's self-destruction coming, but it did open up a top 2-line defensemen door that Martinez walked right through. Much like an injury, a trade, or any other roster shift, Alec Martinez was given a chance to succeed, and he took it. As the numbers point out, Martinez saw a four-minute bump in playing time during the 2014-15 season, and is currently on the ice for over 21 minutes a game. When disaster strikes, you have to take to a long and hard look at who you can count on to right the ship. And the Kings realized that they could count on Alec Martinez.
Staying True to His Game
Trial by fire is one thing, but the Kings are not in the business of rewarding loyalty exclusively. If Martinez was going to play big-minutes for the Kings, he was going to have to show steady improvements in all facets. There's a word for defenseman that is the epitome of a backhanded compliment: solid. Depending on how you look at it, the praise/knock on Martinez was that he has always been just solid. Makes the smart play, doesn't get too cute with the puck, always covers the right man in the defensive zone, just solid.
I'm sorry, but when is doing all the little things correctly a bad thing? I fully understand that every team would prefer to have six Drew Doughty's, but the powers that be have not created that many physically gifted humans yet. The biggest mistake I see in young defenseman is the abandonment of what got them to the larger role in the first place. Martinez didn't move up to the top of the depth chart and start acting like Bobby Orr every time he touched the puck. Instead, he kept making great fundamental plays, limited his mistakes, and trusted his teammates. He even threw hits like this one.
Denying entry into the offensive zone is one of the most underrated skills of a defenseman, and also one of the most difficult tasks in the speed-crazy NHL. Martinez had less than a second to perfectly time his strides to step up on Vancouver forward Sven Baertschi with his head down. He executed a perfectly legal hit (worthy of a gold star on its own in this day and age), and kept the Canucks from swarming the Kings zone. This resulted in a golden chance the other direction for L.A., and perhaps more importantly, it eliminated what could have been two plus minutes of stamina-crushing puck possession at the Kings expense.
Martinez has made these plays since he was representing the brotherhood at Miami of Ohio, and he continues to perform day-to-day defensive tasks to perfection.
Offensive Growth
If you really want to see where Martinez has grown the most, just check out his work in the offensive zone. His point total has never been outstanding, and his 15 (five goals, ten assists) through 43 games this year is adequate for a team built around puck possession and defensive prowess. Where Martinez shines the most though is his decision-making. Crisp passes that jump-start the Kings vicious cycle game might not make their way onto the scoresheet, but they certainly do not go unnoticed. Martinez times his pinches as well as anyone, keeping the puck in the L.A. offensive zones for longer stretches of action. He has become a weapon on the powerplay, and the most consistent table-setter for a Doughty one-timer.
And if ever there was a goal that highlighted offensive improvement, it's this OT winner last month against Columbus:
Despite the 3-on-3 madness that was taking place all around him, Martinez still had the presence of mind to jump up to the front of the net when he did. From there, it was simple execution. Stick on the ice, gather the puck cleanly, and fire it into the net. But if there is any hesitation, any stumble, during any part of this process, it fails miserably. That's the quality that NHL players do not get enough credit for, because they make something so precise and difficult look incredibly smooth. Martinez may not be Picasso, but he's quickly joining a higher tier of skilled NHL defenseman.
Gaining Sutter's Trust
While writers, fans, and spectators might be able to evaluate a hockey player's performance, only the coaches are truly monitoring their every move. It's this basic hockey principle that lead me to write this column about Martinez. Throughout last year's disastrous finish, and this year's initial struggles for the Kings, head coach Darryl Sutter has always been able to trust Alec Martinez. The Martinez/Muzzin defensive pairing meshed together early, as Muzzin's natural aggressive nature blended smoothly with the more conservative style of Martinez. Sutter has yet to waver from this pair, playing them in the biggest moments and most pressure packed situations.
I'll never say Sutter has trust issues, but his old-school approach to ice-time leaves little room for interpretation. Earn it, or you don't get to play on my team. And Martinez has certainly done just that, playing large minutes in all scenarios. Even strength? Penalty kill? Power Play? Sutter has no problem playing Mr. Reliable, #27.
A few years ago, Alec Martinez was a bit part in a large ensemble performance. Now, he's a major player in the biggest rendition to date. I don't know where his career arch will take him, and what his final legacy will amount to in totality. But the myth of him being a one-hit, or even two-hit wonder has been debunked. Alec Martinez is way too dependable for that.