It's official, the Nashville Predators have announced that forward and former captain Mike Fisher is ending his retirement and returning to the team amid their strong season. The news was originally broken by The Tennessean. Fisher spent parts of seven seasons with the Predators between 2010-11 (traded by the Ottawa Senators) and 2016-17. He was named captain after Shea Weber was traded to the Montreal Canadiens prior to the 2016-17 season.
SEE YOU AGAIN.

Mike Fisher is ending his retirement and will play for the #Preds this season. https://t.co/TJ3Si0jAXY

— Nashville Predators (@PredsNHL) January 31, 2018
This news is great for Predators fans who not only get a chance to see a fan-favorite and locker-room favorite return to their team but also get a chance to see a player who still has something in the tank to give at 37 years old after scoring 18 goals and 42 points in 72 games last season.
Morale Boost For Predators
The Predators already hold the fifth-best record in the NHL and the second in the Central Division behind only the Winnipeg Jets. With Fisher back in the mix, the Predators center depth is better than its ever been. With Ryan Johansen and Kyle Turris shoring up the top-six center spots on the team, the Predators can now utilize Nick Bonino and Fisher however they see fit on the team's third and fourth lines.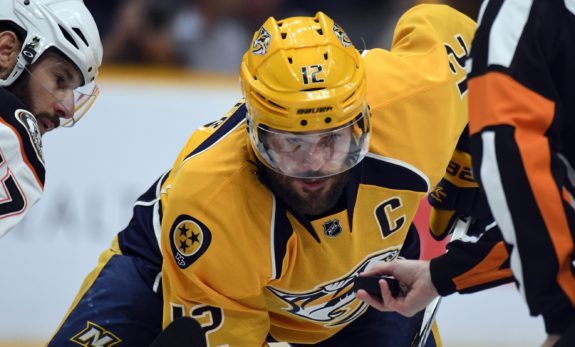 While Fisher will be able to contribute as a secondary-scorer, his value goes far beyond what he can do on the scoresheet. He didn't just stumble into the captaincy by accident; he was a true leader on the team even before he started wearing the "C" on his chest, and with his return, the Predators locker room immediately will receive a huge boost. With the Predators excelling this season and looking at making a deep push in the playoffs once again, Fisher's return only solidifies their chances.
Expected to sign a contract around the Feb. 28 NHL Trade Deadline, Fisher acts as an addition that won't cost any assets to acquire; a good situation for the Predators and a good opportunity for Fisher to win the Stanley Cup.
One More Season
Though he's returning from retirement, Predators' fans shouldn't get too excited about this return being anything more than a one-time deal. As Fisher mentioned, this return will last this season and nothing beyond that. It isn't hard to understand why either as the veteran will be 38 years old in June and has already made it clear that he intends on enjoying the other parts of his life while he still can.
In his original retirement message, Fisher stated the following:
I kept praying for peace about the next step in my life. A peace that said this is God's will for your future. A peace that said whether or not this was the right time to walk away.

I don't believe it came in a single instance or some aha moment, but as time passed, I gradually became certain that it was right for me to retire. I believe God gave me the ability to play hockey, and I was helped by dozens of individuals along the way, so it's not just up to me on when it's time to say goodbye.

Knowing we were so close to winning it all in June only makes it more difficult to leave it behind, but I do so with hope. Endings are always tough, but I believe when something ends, there are new beginnings, new opportunities and new things to be excited for, too.

I believe that this team, that this city, is going to win a championship, and I'm going to be the biggest fan. No one will be happier than I will be to see it happen, because, these fans, they deserve it.
While Fisher may have found peace in his decision last season, the strength of this Predators unit obviously served as too much for him to handle staying away from. There's no timetable on when Fisher will return to the ice, but it'll be fun to see his first home game back with the Predators after such a long absence from the team.
Brandon Share-Cohen has covered the NHL and various professional sports for seven years. Working with The Hockey Writers, Brandon works extensively on covering the Boston Bruins in addition to his role as the News Team Lead.