The Columbus Blue Jackets power play was the talk of the National Hockey League early on in the 2016-17 regular season. Their success rate was sky-high and teams could not solve them. Special teams were key in the Blue Jackets' 16-game win streak and kept them at or near the top of the Metropolitan Division for most of the season.
This season, though, was a different story. In the first 40 games of the season, or until the end of calendar year 2017, the Blue Jackets found themselves at No. 31 overall on the man advantage with a lousy 11.8 percent conversion rate (14 power play goals on 119 opportunities). The next closest team was the struggling Buffalo Sabres, who have been at or near the bottom of the league in the overall standings, with a 12.4 percent power play success rate – also with 14 goals to show for their efforts but with fewer opportunities to do so.
The struggling power play is also a casualty of the Blue Jackets' lack of offense this season. Last year, forwards Alexander Wennberg, Nick Foligno and Cam Atkinson, along with defenseman Zach Werenski, all topped 20 points apiece on the man advantage. Forward Sam Gagner, now with the Vancouver Canucks, also had 18 points to show for his efforts.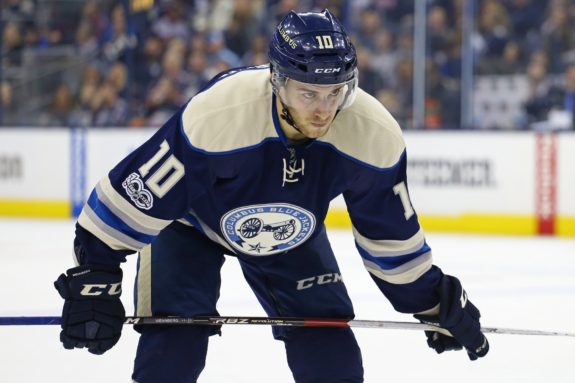 This season, Wennberg, Foligno and Atkinson have a combined eight points through the first 50 games – way off last season's pace.
It's not all doom and gloom for the Blue Jackets, though. In fact, in 2018, the Blue Jackets are now one of the top teams in the league on the man advantage at seventh overall with a 26.1 conversion rate. That's six power play goals in 10 games on 23 opportunities. Again, they had 14 goals on 119 opportunities through the first 40 games of the season.
Additionally, individual players have shouldered the responsibility to right the ship. Blue Jackets defenseman Seth Jones is tied for ninth in 2018 with six power play points (one goal, five assists). Forward Artemi Panarin is not far behind with four points (two goals, two assists) to show for his efforts.
Panarin's teammate Atkinson has been impressed with his power play prowess.
"[What stands out is his] high-end skill," Atkinson said after Panarin scored a power play goal in a 3-2 shootout loss to the Minnesota Wild on Tuesday. "It's pretty crazy to see what he can do with the puck. It's like it's attached to his stick. He's dangerous every time he's on the ice, really. It's fun to watch. It's almost like a super fan watching him because I've never been part of a team with a guy like that, that level of high-caliber of talent. It's pretty special."
Here's one example of Panarin's power play talent from the Jan. 11 game against the Buffalo Sabres:
Sick hands, solid celly. 10/10 @9Artemi pic.twitter.com/5bxfDxLC3W

— NHL GIFs (@NHLGIFs) January 12, 2018
Overall, Atkinson said he has noticed the team's power play units showing more movement, passing less around the perimeter and using better discretion with shot selection, as well as not forcing anything fancy.
"We've really been keeping it simple," Atkinson said. "We're not trying to make any really pretty plays or 'hope' plays. We're taking what they're giving us and shooting pucks. When you shoot the puck, you break down the opponent. That's what we're doing, keeping it simple really."
Blue Jackets forward Brandon Dubinsky, who missed several games with a fractured orbital bone, had the opportunity to watch the shift in power play performance from the sidelines and offered his own input on what the difference is and how the man advantage will help the team.
Related – Is Columbus Even a Playoff Team?
"I think it's confidence," Dubinsky said. "Special teams are going to make a difference for us. They're going to be big as we go down the stretch here. We have to find ways to score goals on the power play as best as we can and keep the puck out of the net on the penalty kill."
Foligno also emphasized how important power play success will be on both a personal and team level.
"We want it to keep going and we want it to keep climbing," Foligno said. "That's going to be a big, big boost for our team as the push for the playoff goes and beyond. That has to be really good for us."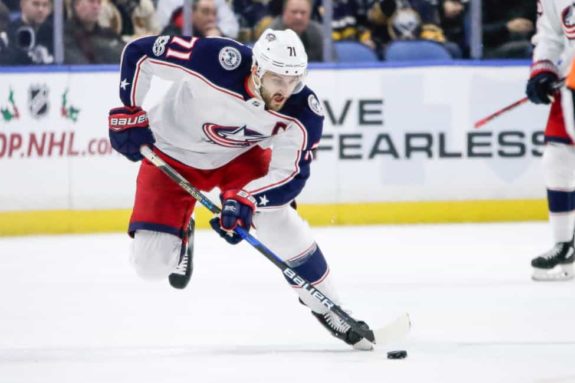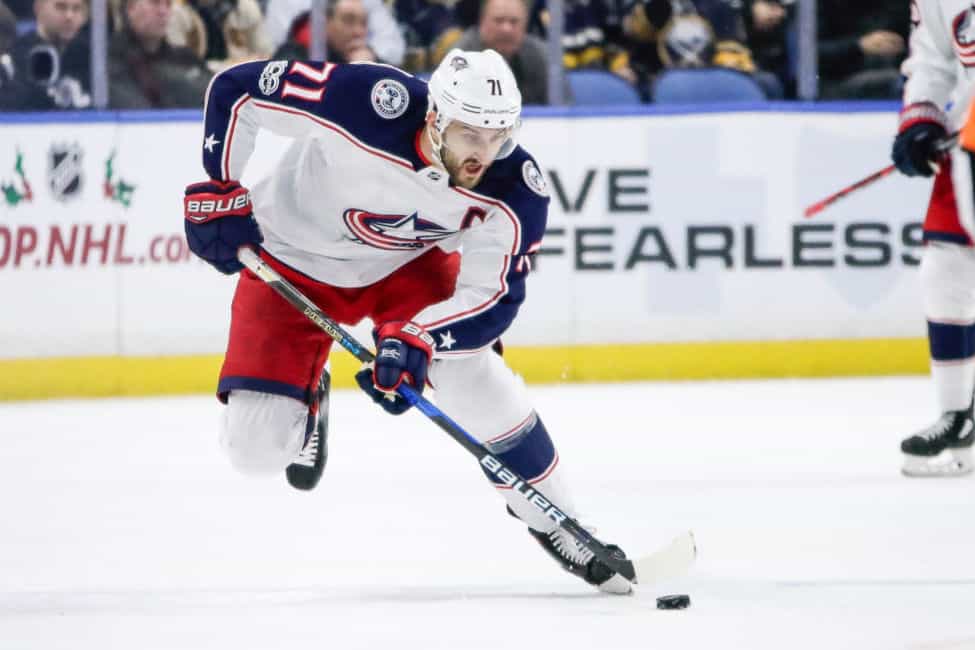 Additionally, Foligno said a big difference between the power play's performance at the start of the year compared to the past month is that the chemistry is coming for the team's units, as well as trying more unexpected things.
"Now, we are starting to understand ourselves," Foligno said. "There's always a feeling out process when you add players like the skill level Panarin brings, and new positions and a new year. Teams scout you and they know what you're doing so you have to find ways to get to the net a little differently and we've done that as of late."
Of course, Blue Jackets head coach John Tortorella has continued his trend of refusing to talk about the power play, for better or worse, dating back to some of the team's greatest power play struggles back in November.
The team has said all season that special teams make or break hockey teams. Now, more than ever, the Blue Jackets have to keep up their power play success down the stretch as the Metropolitan Division standings race heats up and they make a push for the playoffs.
After living in two NHL cities (Orange, CA and Raleigh, NC), Kristyn graduated from Ohio University's E.W. Scripps School of Journalism and worked in the Columbus Blue Jackets' Digital Media department. She currently resides in Columbus and has been an NHL-credentialed reporter since the 2013-14 season.