Mike Hoffman: The Hot Streak is a Mirage
It's easy to fall into the trap. Ottawa Senators forward Mike Hoffman lures you right in.
Scoring pedigree? Check.
Extensive professional experience? Check.
Beautiful release that makes you dream of his 30-goal potential?
Check.
With 11 goals already this season, Mike Hoffman appears to be breaking out. At this pace, Hoffman will score 27 goals this season, 44 points, and a +37 plus-minus rating.
So, what's the problem?
Sadly for fans of the Ottawa Senators, Mike Hoffman's level of play is unsustainable. There are three reasons why.
Mike Hoffman's Inflated PDO
PDO is an analytic that measures how much luck is involved in a skater's performance. For a detailed explanation of PDO, check Cam Charron's article here.
So far this season, Mike Hoffman's been very lucky. His PDO score of 103.4 is the highest on the Senators roster. Hoffman's mark is the 16th highest in the NHL and 11th highest in the NHL among forwards.
Though an inflated PDO for an entire season is possible, ranking near the top ten in the NHL for luck isn't a great foundation for a breakout season.
When Hoffman's luck dries up, his scoring level will dry up as well.
Mike Hoffman's Inflated Shooting Percentage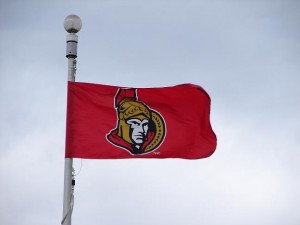 A skater's shooting percentage factors into their PDO score. However, it is still useful to examine Mike Hoffman's shooting percentage on its own.
This season, Hoffman's shooting percentage is a lofty 13.3 percent. The NHL average shooting percentage has hovered around nine percent for the past eight seasons.
Though Hoffman is clearly performing above league average in shooting percentage, that's not strange for a sniper. Hockey's Future calls Hoffman's shot "great" and notes that Hoffman's junior coach compared his shot to Brett Hull's.
Despite the stunning comparison, Mike Hoffman hasn't yet demonstrated that his shot is exceptional at the NHL level.
In his first full NHL season last year, Hoffman posted a shooting percentage of just 4.9.
However, Hoffman's production in the AHL has been solid. In 168 games with the Binghamton Senators, Hoffman registered a 12.7% shooting percentage.
Though the correlation is low, Kent Wilson has shown that AHL graduates tend to maintain about about 79 percent of their shooting percentage when they graduate to the NHL.
For Hoffman, Sens fans can expect a shooting percentage of about ten percent. This is considerably lower than his current percentage and suggests that fans should prepare for some deflation in Mike Hoffman's production.
Mike Hoffman's Offensive Zone Starts
Finally, Hoffman's offensive zone starts have created production inflation.
So far this season, Hoffman is the clear leader in offensive zone start percentage (OZFO%) for the Sens, posting an OZFO% of 38.7 percent.
For regular NHL skaters (more than 20 games played so far this season) Hoffman's OZFO% is 48th highest in the NHL. Though new Head Coach Dave Cameron has yet to even out Hoffman's zone starts, any shift towards less starts in the offensive zone will likely deflate Hoffman's hot start to the season.
In Conclusion…
Mike Hoffman has impressive offensive skills. As he continues to develop in the NHL, fans of the Ottawa Senators have reason to expect solid offense from the young sniper.
For now, Sens fans are best to view Hoffman's great start as a mirage. He has benefited from a strong PDO, inflated shooting percentage, and high percentage of offensive zone starts. As these analytics even out over the course of the season, Mike Hoffman's rate of production can be expected to slow.
What do you think, Ottawa Senators fans? Can Mike Hoffman continue to ride this hot streak or do you expect his production to slow down?
Sean Tierney writes articles about the Sens, working to include analytics whenever possible. He has also written about the Leafs, Habs, Sens, Raptors, and Blue Jays for Fansided and Bleacher Report. He enjoys long walks on the beach and candle lit dinners and definitely isn't the tallest guy in the men's rec basketball league.