In what has become somewhat of a tradition at the World Junior Championships, there will be a New Years Eve showdown between Canada and the USA to decide first place in their pool.
There have been some memorable games, and ones that have provided tremendous excitement for fans of both countries.
This year has some added intrigue and subplot to it as it has been billed as Connor McDavid vs Jack Eichel.
The consensus top two picks for the upcoming 2015 NHL Entry Draft, it would appear as a lock that one of them will go first overall.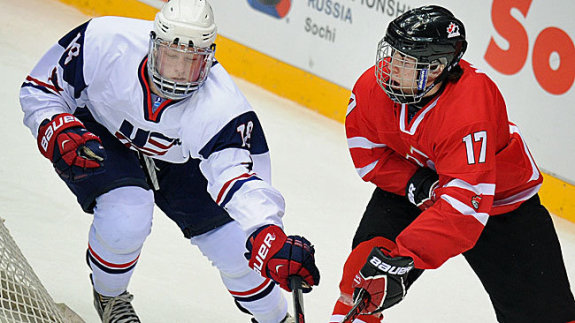 McDavid has held the edge most of the year. A supremely gifted offensive player, McDavid has speed to burn and can do things with the puck few others can. He also has a sixth sense on the ice it would seem with a hockey IQ off the charts.
Eichel has seemingly closed much of the gap recently. He has torn up the NCAA while McDavid has been sidelined with a broken hand, and has pushed it to a 1a and 1b situation.
In contrast to McDavid, Eichel is a more powerful than fast skater and is a more physical presence than McDavid. Where McDavid may take the edge with respect to puck skills, Eichel has a superior shot and plays a better 200 foot game.
No matter the differences between them, make no mistake, both are generational talents who can control the game offensively and can do things on the ice that many other players cannot and will not be able to do.
The hype surrounding both the game and the two headline players is certainly warranted, however for those watching draft eligible prospects, there is more than just McDavid and Eichel to focus your attention on.
Here are the other 2015 NHL draft prospects to look at later today.
Canada
Lawson Crouse, Forward
The big, physical winger of the Kingston Frontenacs is the other draft eligible player for Canada at the WJC.
A surprise addition to the team, he has played well in a fourth line and penalty killing role for coach Benoit Groulx.
At 6'4" and 211lbs he's an intimidating physical presence, and at 17 he's only just getting started.
An excellent skater for a big man, Crouse is very raw and filled with potential. With a good tournament, he could raise his stock to a top 10 pick in the draft.
USA
Noah Hanifin, Defence
The consensus No.3 pick at this point and likely the top defenseman off the board, in any other year people would be talking about Hanifin as a consideration for first overall.
A future top pairing defenseman, Hanifin has all the tools to be an elite player. He's got good size at 6'2" and 200lbs, he's an exceptional skater from the backend and he moves the puck very well. More than that though, he's a complete player who has the ability to excel in all three zones.
Hanifin also has shown hockey sense and a maturity beyond his years. It would take a lot for him to move from his current projected draft position.
All I know is that tommorow Noah Hanifin will show the world he's going to be the greatest #3 NHL draft pick ever. pic.twitter.com/kJZnULRkep

— : (@Pulkkinen56) December 31, 2014
Zach Werenski, Defence
Another American defenseman projected to go high in the draft, Werenski would fall in the second tier of blueliners next to Hanifin.
A projected top 10 pick, Werenski has done nothing but impress with his play both at Michigan and for the US.
A mobile defender who gets up the ice in a hurry, he's also an excellent puck mover and sees the ice very well.
Brandon Carlo, Defence
Currently playing for the Tri City Americans in the WHL, Carlo plays a more defensive-focused game than his two teammates on the list.
What he does have in common is his skating ability, which is excellent and allows him to play a shutdown role and eliminate offensive chances.
At 6'4" and 200lbs he has the combination of size and skating to be a factor at the next level. Currently rated to go sometime in the second round, the only thing holding him back from being a first rounder is his offensive game.
"I want to build upon my offensive aspect of my game this year," Carlo said. "That's something I can bring to my team and something we need."
It's a game that is improving, but a continued work in progress. However with a good tournament and strong second half, Carlo could jump up in the rankings quickly.
__________________________________________
Follow Carl on twitter @CarlTHW for more articles
Carl covers the Edmonton Oilers for THW as well as providing additional prospect coverage. Follow him on twitter @carlTHW, connect on Facebook or contact at carl.maloney@hotmail.com for questions, comments or if you're interested in him writing for you.