With most injured athletes, a timetable back to the line-up can be projected with reasonable certainty. A broken bone heals within six weeks or so, and a muscle pull usually takes a few weeks.
When Arizona Coyotes' goalie Mike Smith tore the core muscle in his stomach in mid-December, the injury, while uncommon, has no direct timetable to heal. During his rehabilitation recovery, Smith's return to hard practices and the rigors of an NHL game depended solely on his comfort level. After he agonized whether to have surgery, the native of Kingston, Ont. decided that was the best course of action. Not injured during any of his 10-year, NHL  career, Smith began an unfamiliar journey.
"There was no set timetable to get back on the ice," Smith said after practice Wednesday in the Gila River Arena. "This depended on how I felt. There was some pain and discomfort, but I'll play through this the rest of the season."
After missing 40 games, Smith returned to the crease last Saturday night in Edmonton. As if he lost not a beat, Smith turned away 44 Oilers shots to record his 29th career NHL shutout. Going forward, Smith will start Thursday night against the San Jose Sharks at home, and then coach Dave Tippett will decide whether to alternate Smith and Louis Domingue.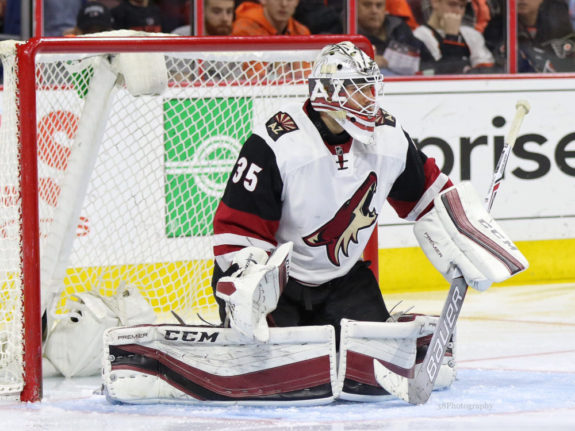 For now, the road back for Smith was long and arduous. While he skated with long-time coach Jon Elkin, whether the Coyotes were home or on the road, Smith said he tweaked a few things of his game. At the same time, he would not reveal which elements underwent adjustments. Still, his return to the ice, and the manner, gives some hope for a competitive run down the stretch.
"What Smith did (Saturday) was the kind of player we envisioned," said Tippett after practice Wednesday. "When a player like misses the amount of games he did, that makes an impression on your club."
While Domingue came in and, at times, looked nearly unbeatable and other times vulnerable, Tippett reminds listeners Domingue is still a rookie in the best league in the world. While his 2.71 goals against average is just ahead of Smith's 2.91, Domingue is expected to share the net-minding duties with Smith for the 13 remaining games.
Returning To The Ice
The difficult part, Smith indicated, was a feeling of helplessness. Despite a strong start personally and the Coyotes rush from the gate as a transformed team from their wretched 2014-15 season, Smith said he felt powerless, and watched a competitive season slip away. When he went down on Dec. 8, the Coyotes 13-14-1. When Smith returned between the pipes last Saturday, the Coyotes had a record of 29-32-7. There was also a stretch between Feb. 20 and March 3 when Arizona lost seven straight.
At the same time, healing of a core muscle is unique.
"Playing the position of goalie is reactionary," Smith said. "When you react to situations around you, you use your entire body. Movements become painful, because it's all reactionary."
While there was some question whether Smith might not return at all this season, the window of opportunity remains his decision. At ease with his determination to undergo the surgery, and retaining a certain comfort level back on the ice, Smith indicated he's ready to move forward.
With those 13 games remaining on the schedule and seven at home, the Coyotes would have nearly run the table to join any Stanley Cup playoff conversation. For now, Smith seems content to just to get back on the ice, and continue to raise an encouraging voice.
Mark Brown is a former sports editor for daily newspapers in the Philadelphia and Cincinnati markets. He was named Best Sports Columnist, honorable mention 2004 by the Associated Press Society of Ohio. He is a contributor to major daily newspapers, including the Chicago Sun Times, Philadelphia Inquirer, Honolulu Star-Bulletin, Milwaukee Journal, Arizona Republic, Nashville Tennessean and the Associated Press. He was a Featured Columnist for bleacherreport.com and covered the Arizona Coyotes.